Vehicle Style: 2.5T 4dr SUV
Body Type: SUV
Body Subtype: N/A
Doors: 4
2021 GENESIS GV80 The evolution of the Genesis brand continues with the launch of the all-new GV80. As the first Genesis SUV, the new 2021 GV80 marks a critical lineup expansion into a vehicle segment that continues to experience growth among luxury-vehicle consumers. Signature design elements include the Crest Grille. The Parabolic Line runs smoothly along the side with precise execution, accentuated by power lines above each wheel emphasizing stance and presence. The Quad Lamps, which flank the Crest Grille, are made possible with sophisticated lighting technology. The all-new GV80 SUV expands the lineup and is designed and engineered to deliver a powerful statement, both visually and from behind the wheel. Helping to deliver that statement are a pair of brand new engines. Buyers can select from either a 300-horsepower, 2.5-liter, turbocharged, four-cylinder engine, or a 375-horsepower, 3.5-liter, twin-turbocharged V6. Both engines are paired with an 8-speed automatic transmission. Comfort inside the all-new GV80 starts with ample space for every occupant, including leading headroom and legroom for 5 passengers. A power folding third-row is optional. An uncluttered aesthetic amplifies the expansive feeling with a balance of simplicity and strength in appearance. Wide, simple shapes, like the slim air vents and available matte-finished wood trim, create an aura of spaciousness and visual ease. The broad 14.5-inch infotainment screen and console controls feature fewer hard buttons than the previous model, reinforcing the minimalist motif. Lighting is key to enjoying any environment and so the GV80 offers an expansive panoramic glass roof to let light in, while power rear and manual side rear sunshades shield precious cargo from the sun.

Pricing
New Car Prices & Values ?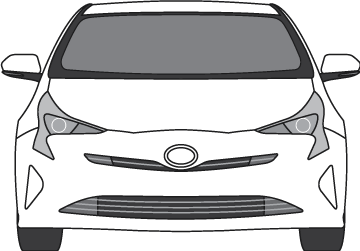 MSRP:

$48,900

Invoice:

$45,820

Destination Charge:

$1,045

Gas Guzzler Tax:

0
New Car Prices & Values
MSRP
The base MSRP listed in our Guide products are our representations of the Manufacturer's Suggested Retail Price, at the time of introduction, with standard equipment only. Our MSRP excludes taxes, transportation, and destination charges.
Gas Guzzler Tax
Manufacturers of new cars that fail to meet the minimum fuel economy level of 22.5 miles per gallon (mpg) have to pay a "Gas Guzzler Tax". The tax is intended to discourage the production and purchase of fuel inefficient vehicles.
Destination Charge
A destination charge is a fee that comes from the cost of delivering a brand new vehicle to a dealership. Cars have to be prepped for transport, delivered, then prepared for sale at the dealer, so destination fees are an attempt to recoup those costs.
Close

Auto Specs

NHTSA Crash Test Ratings
| | |
| --- | --- |
| Front Overall: | 4 |
| Front/Driver: | 4 |
| Front/Passenger: | 4 |
| Side Overall: | 5 |
| Side Barrier Driver: | 5 |
| | |
| --- | --- |
| Side Barrier Passenger: | 5 |
| Sile Pole Driver: | 5 |
| Side Combined Front: | 5 |
| Side Combined Rear: | 5 |
| Rollover: | 4 |
Utility Vehicle of the Year: Finalist
10Best Cars and Trucks
Drivers Choice: Best New Luxury Car
Drivers Choice: Best-Looking New Car - Nominee
North American Utility Vehicle of the Year Finalist
SUV of the Year: Finalist
Best Buy: Midsize Luxury SUV
Top Safety Pick+ - Midsize Luxury SUVs
Best New Cars
Editors Choice Awards: SUVs
Best of the Year: Nominee
World Luxury Car of the Year: Nominee
Automotive Excellence Award
Initial Quality Study (IQS): Top Models
Ideal Vehicle Award: Executive Luxury Crossover SUV
Luxury Utility Vehicle of the Year
Best Family Cars
Luxury CUV of Texas
FREE Vehicle Search
InfoPay, Inc. (dba GoodCar) is an Approved NMVTIS Data Provider