GoodCar Sample Report
If you plan on buying or selling a car, you need to know as much as possible about it. Using GoodCar's Vehicle History Reports, instantly find out about previous owners, any major damage (flood/fire/collision), original or optional equipment installed, title brands, and much more!
View Sample Report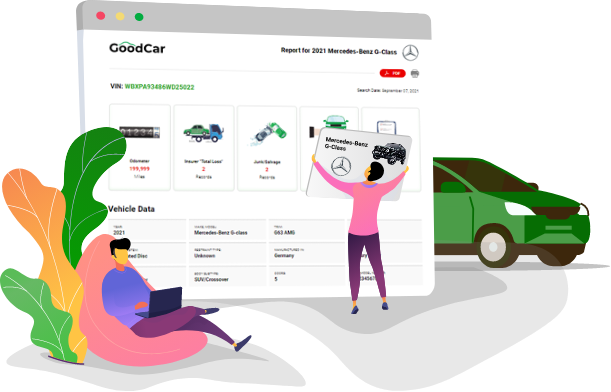 What is Included in Sample Report?
Odometer and Title Records
Performing an odometer and title records search gives you a wide variety of information, including the correct current and historic odometer readings, the VIN, how many owners the vehicle had in the past, locations the title was registered in, and the dates of previous titles. These records can show you where and how the vehicle was driven, which can help you determine what condition the vehicle should be in.
Junk/Salvage Records
Some vehicles were damaged and then later repaired. They may have been in an accident, flood, or another type of natural disaster, or even totaled at some point. From there, they may be given a junk record or salvage title. Knowing if a vehicle has damage from the past that was repaired is vital in understanding how safe it will be to use in the future.
Sales History
To see what a vehicle has sold for in the past, check out the sales history part of our report. You can see information like where a vehicle was sold in the past, what the mileage was at the sale, and how much the vehicle sold for at the time. If you see a vehicle saying it's never seen cold weather or salt damage, now you can see for yourself!
Problem Checks (Title Brands)
When you run a report, you also have access to the title brand that the vehicle has. It will show you if the car was ever totaled, junked, flooded, if it was marked as a lemon, or if anyone ever rolled back the odometer. This part of the report provides you with a lot of information that can help determine if a car is a good purchase or if it is one you should stay away from.
Pricing
In this part of the report, subscribers get a lot of information about the value of the vehicle. We provide a lot of information about market value, residual value, auction values (updated weekly), trade value, loan value, and more! This helps buyers understand if they are getting a good deal or if the seller is asking too much for the value of the vehicle.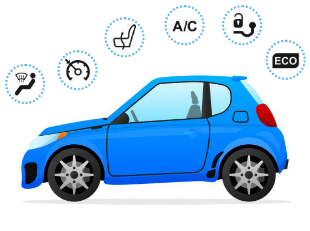 Auto Specs
Vehicle reports are a great way to see what the vehicle's specifications were when it was originally sold. There are times when sellers forget specs that buyers may find vital, so this gives you the ability to see the equipment, trim, and extras the vehicle may have. If you are looking for a vehicle with specific specs, this part of the report is crucial.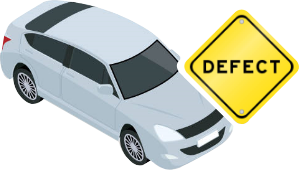 NHTSA Recalls
Worried that the vehicle you are looking at was part of a recall? Then perform a search! You can look into any possible recalls that applied to this vehicle, plus you can get information on if the repairs were made. That way, should you plan on buying a vehicle that had a recall, you know what steps you may need to take to ensure the vehicle is safe.
Owner Information
Want to know information about a vehicle's previous owners? Then search for it! With a vehicle history search, you can find out information about where the vehicle was previously titled, how long that owner had the vehicle, and how many owners the vehicle had in the past. This information allows you to know a lot more about how the vehicle was likely driven, giving you a better sense of security about the vehicle's condition.
NHTSA Crash Test Rating
Buying the safest possible vehicle is a critical piece of knowledge for many buyers. With our vehicle history report, you get access to the safety ratings of any vehicle you run the report on. You will find out the safety rating for the front of the vehicle, driver's and passenger's sides, the sides of the vehicle from all angles, and the rating for a rollover event.
Total Loss Record (Totaled Car)
When a vehicle is totaled, it can sometimes be rebuilt and legal to drive again. However, knowing that information is critical when looking for a safe new vehicle. By using a vehicle history report, you can ensure that the vehicle you want to buy was never totaled in the past. If it was, you can get data on the date and location of the accident, as well as contact information for the source that created the totaled vehicle record.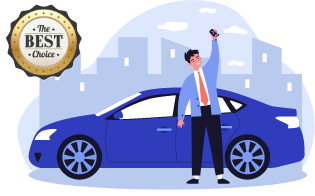 Awards & Accolades
When researching vehicles, knowing what awards and accolades the vehicle was recognized for is a great way to determine which vehicle is best to purchase. You can get information on the award, who gave it, a link to the award, and more! We provide a full list for each vehicle you run a report on.