GoodCar©
Vehicle History Reports
Know the car you own, want to buy, or sell!
Accidents

Values

Title Records

Recalls

Problem Checks

Specs

Sales History

Odometer

Salvage Records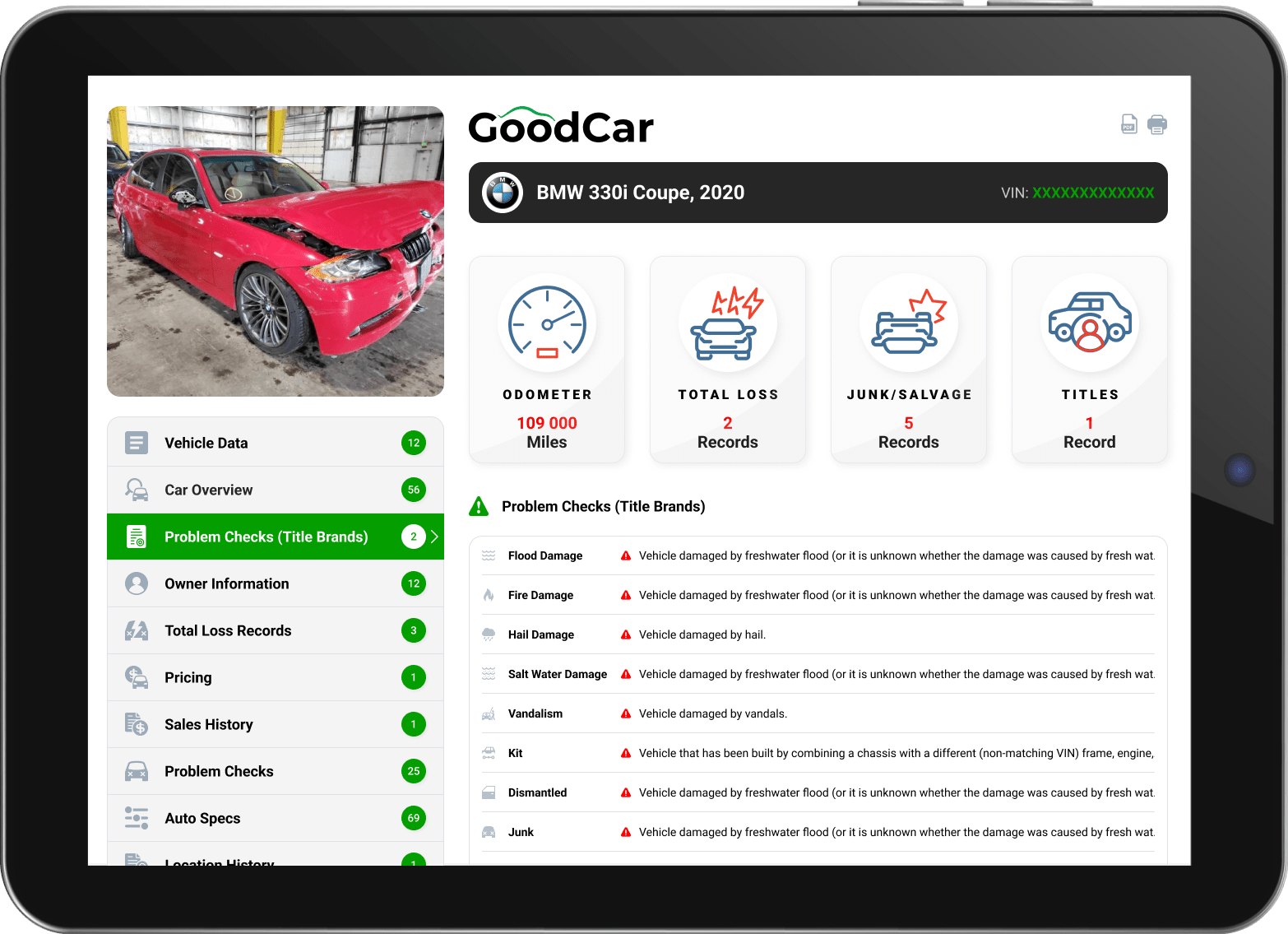 View Sample Report
Great website and great service when needed!
John H.
Had a very good experience with customer service
Alexis A.
Great service and quick
Eric C.
It's exactly what I needed plus it was a reasonable cost and convenient
Debbie
I get all information I needed
Serguei C.
It's was easy to find the vin number information
Jorge
Understand the vehicle you own, wish to purchase, or sell!
If you want to purchase or sell a vehicle, you should take the time to learn everything you can about it. Find out about prior owners, serious damage (such as fire/collision/flood/etc.), original or optional equipment fitted, title brands, and much more with GoodCar's VIN Check!
This information can influence your vehicle's value, safety, and dependability. As a result, it's critical to understand what you're getting into before purchasing or selling a vehicle.
The latest industry standard is VIN checks. We get our information from the most reliable public and private databases. We are also an authorized source for the American Association of Motor Vehicle Administrators' NMVTIS database.
Perform a free VIN lookup to get a comprehensive vehicle history report!
What is Included in VIN Lookup Reports?
When you run a VIN Lookup, you get access to GoodCar's best-in-class reports at an affordable price. You can search with a VIN or a license plate number. Get accessto auto specs, title records, damage and accident history, pricing, problem checks, and so much more. Explore GoodCar records and get access to all this data, when available:
Mileage
Odometer Records
Sales History
Title Brand (Problem Check)
Title Issues
Junk and Salvage
Total Loss
Recalls and Defects
Flood Damage
Theft and Vandalism
Fire Damage
Hail Damage
Accidents
Clunkers Repair
Rebuild Records
Reconstructed
Saltwater Damage
Crashed
Hazardous
Dismantled
Refurbished
Test Vehicle
Collision Records
Warranty Returns
Gray Market
Remanufactured
Police or Taxi
Former Rental
Lien Records
And More!
Trade-In
Retail
Private Party
Residuals
Engine Type
Transmission Type
Standard Specifications
Optional Specifications
Standard Generic Equipment
Entertainment and Technology
Exterior and Interior Features
Optional Generic Equipment
OEM Options
Exterior/Interior Colors
Safety Equipment
EPA MPG (Fuel Economy)
Sales History
Manufacturer Information
Awards & Accolades
NHTSA Recalls
NHTSA Crash Test Ratings
Location History
Performance
Safety & Security
Warranties
$2.95
UNLIMITED VIN and Plate Lookups (7-Day Trial)
A Vehicle Identification Number, commonly known as VIN, is a unique alphanumeric code assigned to every motor vehicle. Serving as a vehicle's fingerprint, the VIN provides a comprehensive and distinctive identification method for cars, trucks, motorcycles, and other types of vehicles. This 17-character code is not just a random assortment of letters and numbers; it holds vital information about the vehicle's make, model, year of manufacture, country of origin, and more. By using a VIN decoder, authorities, manufacturers, and consumers can gather essential details about a vehicle's history and specifications. This comprehensive identification system has become an indispensable asset in the automotive industry, ensuring transparency, accuracy, and efficient record-keeping for vehicles on the road.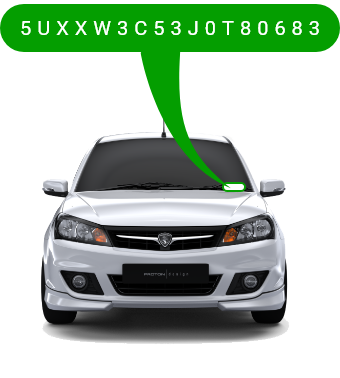 Why Do a VIN Check Before Purchasing a Car?
Performing a VIN lookup before purchasing a car is a smart and essential step in car-buying. It's a precautionary measure that can save you from potential headaches and financial pitfalls down the road. Here's why conducting a VIN number check is crucial before sealing the deal on your next vehicle:
Unveiling Hidden History
Ensuring Title Authenticity
Preventing Fraud
Checking for Recalls
Evaluating Maintenance History
Negotiating Power
Peace of Mind
Avoiding Costly Repairs
Resale Value
Personal Safety
In a world where transparency is key, a VIN check empowers you to make a confident, informed decision when buying a car. It's a proactive step that protects your investment, ensures your safety, and helps you drive away with a vehicle that aligns with your expectations.
Frequently Asked Questions About VIN Check
Our reports include information such as Brand Records, Junk/Salvage/Total Loss, Odometer Readings, Title Records, Prior Theft Records, and much more. We give you all the information you need to make an informed decision regarding a car!
Our VIN checker covers all major makes and models of automobiles registered in the United States. You may perform a VIN search or look the vehicle up by its License Plate.
Our knowledgeable customer service representatives will gladly assist you in locating the information you seek. They are available 24/7 and can be reached at support@goodcar.com or (800) 764-0104. If our search professionals are unable to locate your information, we will refund your purchase!
You can cancel by selecting the "Disable" option on your "My Account" page, or you can contact our dedicated customer service staff by emailing support@goodcar.com or calling (800) 764-0104.
You may run as many VIN checks as you like if you pick our unlimited search subscription! We provide the option of purchasing additional premium data points on a per-report basis for an additional fee.
Yes, our VIN Lookup service is highly accurate and reliable. We source our information from the most reputable public and private databases and are an authorized source for the American Association of Motor Vehicle Administrators' NMVTIS database, ensuring the utmost accuracy and reliability in our service.