Get Comprehensive Car History Reports from License Plate Search
Accidents

Values

Title Records

Recalls

Problem Checks

Specs

Sales History

Odometer

Salvage Records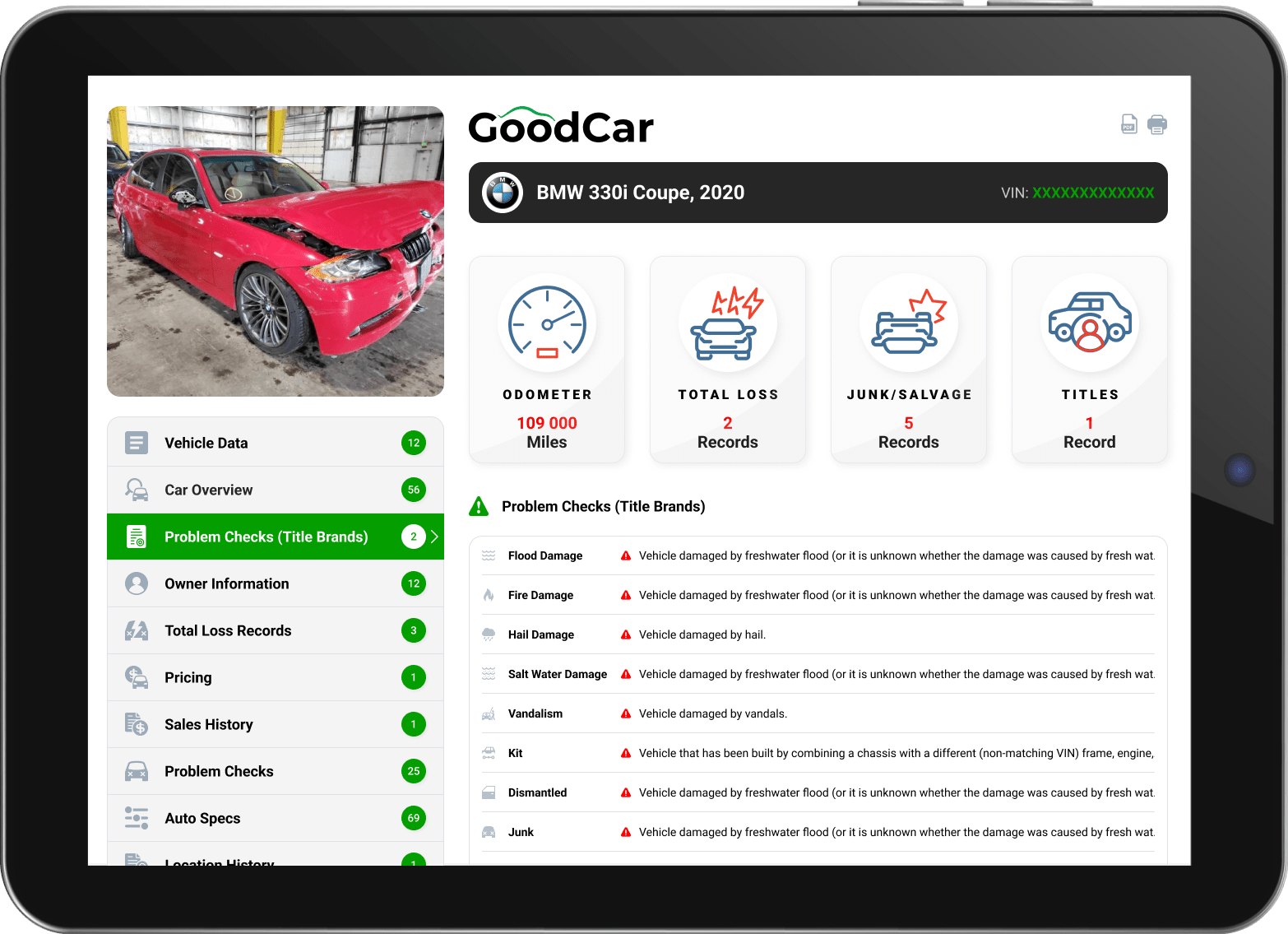 View Sample Report
Great website and great service when needed!
John H.
Had a very good experience with customer service
Alexis A.
Great service and quick
Eric C.
It's exactly what I needed plus it was a reasonable cost and convenient
Debbie
I get all information I needed
Serguei C.
It's was easy to find the vin number information
Jorge
Get Comprehensive Car History Reports from License Plate Search
Look up vehicle license plate numbers and get comprehensive vehicle history reports, including theft and accident records, junk and salvage title status, recalls, other major issues, and much more!
Are you tired and frustrated from searching for vehicle information online? Perhaps, you don't want to spend too much time checking multiple sources to find reliable and comprehensive vehicle history data. If so, GoodCar is your go-to license plate lookup platform, specializing in providing comprehensive and hassle-free access to valuable vehicle information.
Say goodbye to the tedious and irritating process of searching for vehicle records and information manually. GoodCar's license plate lookup service will streamline your search and provide accurate, reliable, and up-to-date information with just several clicks.
We offer car plate search services to make things simple for you. A reverse license plate lookup will help you check a car's history as you can access the following information:
Accidents
Salvage and junk records
Odometer reading/mileage
Title records
Information about recalls
Total loss records
Sales history
Car's specs
And much more
With GoodCar's efficient, intuitive, and user-friendly platform, you can easily search car details by license plate number. This will save you time, effort, and money.
What do You Get out of a License Plate Lookup?
License plates are unique to each vehicle. The information is created, stored, and managed by government offices like the Department of motor vehicles (DMV), Department of Transportation (DOT), and town and city offices.
License plate records are protected by strict Driver Privacy Protection Act (DPPA) laws. With GoodCar, you can unlock a comprehensive and detailed vehicle report using the vehicle's license plate number.
Get access to the history of registration, title records, sales at a salvage auction, any record of sales, accidents, theft, lien, odometer info, rebuilt records, and other potential issues.
Access information about 64 different title brands, including rebuilt, junk or salvage title, flood, fire or hail damage, prior taxi or police vehicle, collisions, undisclosed liens, and much more!
Find basic details like dimensions, type of transmission and engine, and trim, along with other performance-related information.
Find safety scores based on crash tests performed by the IIHS (Insurance Institute for Highway Safety).
Get access to the MSRP of the vehicle, as well as the projected value if the vehicle maintains its current condition and mileage.
Discover if the vehicle has any open recalls or has had work done due to past recalls.
$2.95
UNLIMITED VIN and Plate Lookups (7-Day Trial)
No More Tedious Searching
We eliminate the need to spend valuable hours checking numerous sources of car history information since we compile all the pertinent and useful data you need into a simple and easy-to-read report.
A license plate, also called a number plate, registration plate, or car tag, is a metal or plastic plate attached to a motor vehicle, car, or trailer for official identification purposes. All countries, including the US, require registration plates for road vehicles, like cars, SUVs, trucks, and motorcycles.
There are two main types of license plates: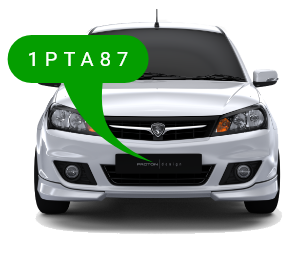 Standard License Plate: This kind of license plate contains basic information that helps identify and verify driver registration as well as vehicle type. The relevant authority issues this plate when an individual purchases a new vehicle. It is also issued if an existing plate is damaged/lost/stolen or to replace any special interest license plates that are returned to the DMV.
Special License Plates: These license plates are usually issued on request. They may be ordered to recognize special achievements, services, status, or occupations that a person or organization wants to highlight on their license plate.
A license plate lookup is extremely useful when you're trying to find detailed and complete information about a vehicle registered in your state.
At GoodCar, we prioritize efficiency and convenience, ensuring that you have a smooth and hassle-free experience from start to finish when searching for a car by the license plate.
Our comprehensive and reliable database can easily and seamlessly connect plate numbers to a VIN and show the car's full history, recalls, accidents, vehicle title records, odometer readings, list of defects, and more.
How Reverse Plate Lookup Works
A reverse plate lookup is a reliable service that allows you to search for information about a car or vehicle by entering its license plate number.
Reverse plate lookups are often used for several purposes, such as:
To research the history of a vehicle
To identify a vehicle or car that has been involved in an accident or crime
To track down a stolen car
To find out if a vehicle is registered in a certain state
To find out car specs
Why Choose GoodCar
With GoodCar, you can enjoy peace of mind and trust that the information you receive is reliable and accurate. Our experts meticulously gather and verify data from various trusted and credible sources, ensuring you have access to the most up-to-date and relevant vehicle records in the most user-friendly format.
Our reports are sourced from the most reputable public and private databases to ensure we don't miss a thing. We are also an approved provider for the National Motor Vehicle Title Information System (NMVTIS), maintained by the American Association of Motor Vehicle Administrators (AAMVA).
GoodCar will give you access to unlimited searches and reports. While other services might charge you for every report you request or be lacking in the information they provide, we strive to be your one-stop car information shop.
Efficiency:
Our platform provides quick and simple access to vehicle records.
Comprehensive Reports:
GoodCar organizes and compiles all the necessary information into a clear and concise report, saving you valuable time and effort.
Free Plate Lookup:
Our free license plate search tool can connect a plate number to a corresponding VIN number and show important vehicle details, such as car make, model, year, and other specs like the car's trim, engine type, transmission info, and drivetrain.
Frequently Asked Questions About Vehicle License Plates
Our License Plate lookup service is powered by top-tier auto data sources, ensuring that our customers have access to the most comprehensive and reliable information in a single, convenient platform.
As an authorized NMVTIS data provider, we adhere to the standards set by the Department of Justice (DOJ) and gather data from Motor Vehicle Departments across the country as part of this mandated program.
With our unlimited License Plate lookup service, you can enjoy unrestricted access to run an unlimited number of reports! Additionally, we provide the option to include premium data points for an extra fee, available on a per-report basis.
Cancellation is a simple process. To cancel your subscription, you have two options:
Access your "My Account" page and click the "Disable" button. This will cancel your subscription.
If you prefer assistance from our dedicated customer care team, you can reach us via email at support@goodcar.com or by calling our toll-free number (800) 764-0104.
They are a unique number and letter combination assigned to each and every vehicle by each state. These unique combinations generally can be anywhere from 5 to 7 characters long in some states following a specific format. Vanity plates can have fewer characters.
Law enforcement, insurance companies, and various other registering agencies frequently use license plates to track vehicles. Each state has its own conventions to follow, making it easy to recognize out-of-state vehicles.
Despite having only been around for a little over 100 years, the very first license plates were introduced in Massachusetts back in 1903. However, they did not catch on until later. They've gone through many changes throughout the years. To make them easier to remember and track, several states make sure not to use the letters O or I to be sure they do not get mistaken for the numbers 0 and 1.
You can run a vehicle history report in order to protect yourself from unwanted risks and hassles when buying a used car. Also, with license plate search services, you can avoid scams when buying a car and save thousands of dollars on unexpected repairs and fixes.