As a vehicle owner, it's up to you to maintain your ride. One of the most important maintenance items for you to complete is to regularly clean your ride. The inside of your vehicle should be cleaned at least once a month if you can do so. Some people bring their vehicles to a car detailer, but hiring a professional for light cleanings can get expensive quickly. Instead, you can handle simple tasks such as car carpet cleaning yourself. By learning what the best car carpet cleaner is, and the best way to clean a car carpet, you can start detailing the interior of your vehicle so it remains cleaner and in better shape in between your professional details. By investing a bit of your time toward this effort, you can keep your car looking fresh and protect the lifespan of your carpet at the same time.
How to Remove Loose Debris to Start Car Carpet Cleaning
The first step you need to take when cleaning the carpets in your vehicle is to remove any dirt and loose debris. For any removable mats and carpets, you should pull them from your vehicle and shake them out to get rid of the bulk of the grime.
Once you've cleared away the most accessible dirt, you can begin cleaning out the remaining items using a vacuum cleaner with a hose attachment, a shop vacuum, or a stiff broom and dustpan.
No matter which of these cleaning tools you have, the process is similar. Start cleaning one side of your carpet and work your way to the other side, removing any loose items as you go. As you work your way through the carpet in your vehicle, you'll pick up a surprising amount of dirt and grime. This cleaning technique is only for dirt and mud and not for wet, caked-on stains. Those will come off later using additional cleaning techniques.
How to Get Stains out of Car Carpet
There are different stains in most vehicles. Different types of stains require different cleaning solutions. By taking the time to learn how to make and apply solutions for things like grease, coffee, and blood, you'll know how to get your carpet as clean as possible once again.
General Stains
For most general stains, you can rely on a mixture of baking soda and warm water. Combine ¼ cup of baking soda with 1 cup of warm water to create the solution. This can be applied as a paste and used to scrub away most tough stains while leaving your carpet fresh.
Coffee
Coffee is more difficult to get out of carpet, and it's one of the most common stains you'll find in vehicles. We recommend using a glass cleaner to remove these stains. Apply a small amount of glass cleaner and carefully blot and scrub the stain to break it down and remove it.
Blood Stains
Blood stains on various surfaces, including leather car seats can be can be effectively removed using laundry starch and dish soap. Mix together laundry starch with cold water and add a small amount of dish soap, and you have a solution that's ideal for treating blood stains. It's most helpful if you apply this solution to fresh blood stains, but you can use it on dried stains as well.
Grease
For grease, you have a few options. First, you can try getting the grease up using common powders that absorb, such as cornstarch or baking soda. Second, you can combine water, vinegar, and baking soda in equal parts and use that to scrub up the stains.
Finally, for a more potent clean, you can use a thinned-out paint thinner mix to scrape up the grease and then apply the absorbent powder of your choice for 12-24 hours. You will repeat these steps until you no longer have any type of grease being pulled out.
Thick Layered Stains
When handling thick, layered stains, you need a cleaning solution that will scour away the layers while also penetrating into the grimy layers. An excellent solution for accomplishing this task is a blend of hydrogen peroxide and regular toothpaste. When you mix together these two substances equally, you end up with a scrubbing solution that breaks down thick layered stains well so you can scrub them away.
How to Get Stains Out of Car Carpet By Hand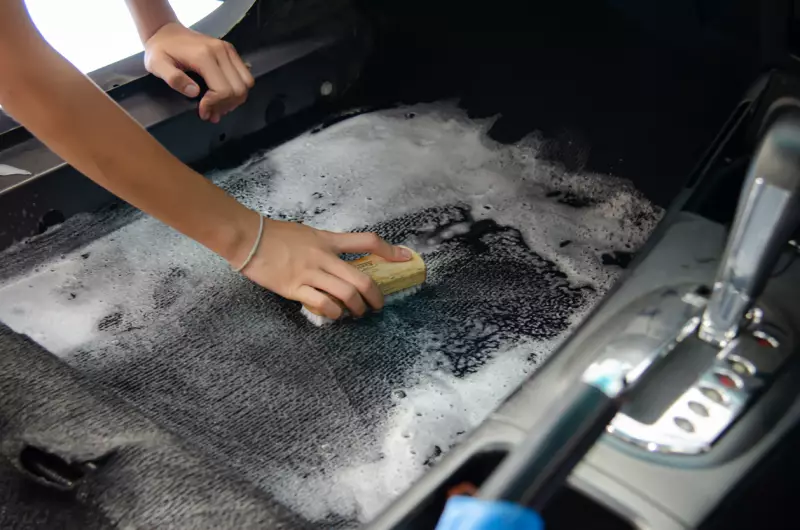 By using a general carpet cleaner made from a slight amount of vinegar, club soda, and a slight amount of dishwashing soap, you can clean the carpets in your vehicle reliably using a scrub brush. Mix together the three ingredients and rub the final solution around with a circular motion to achieve a deep clean. Don't be afraid to scrub the carpeting for an extended period to get the most effective clean. If you use a stiff, bristled brush, you can lift most stains and debris from the carpet in your vehicle to leave behind a fully cleaned final surface.
Use a Vacuum and Shampooer if You Have Them
If you have access to a shampooer and a vacuum, it's best to use these tools for general carpet cleaning tasks in your vehicle. Most people already understand how to use a vacuum, but you also need to know how to shampoo car carpets.
You can scrub and scour your carpets to a deep clean by hand using a scrub brush, or you can rely on your shampooer to do the heavy lifting. Start with a general cleaning solution made of vinegar, club soda, and a slight amount of dishwashing soap. Apply the solution to the carpet using a spray bottle and scrub and blot it away, or scrub it in before rising and lifting it with your shampooer.
You Can Fully Clean a Used Vehicle's Flooring
It can be disheartening to look at a used vehicle with dirty and worn carpeting. While you may consider skipping a vehicle purchase because the flooring looks unkempt, you should know that you can probably restore the car carpet using the techniques described above. If you're willing to put some hard work into care for the vehicle's interior, you can make it look significantly newer and in better condition with hard work.
You should use the state of the car's carpet as an indicator of how well the vehicle was cared for though. If the carpet looks poorly maintained, you can assume other car maintenance tasks were skipped as well. Examine the engine bay, look at tire and brake health, and use this data to help you decide if the car was cared for. You can also look at a vehicle history report for more information about the car's history. All these details work together nicely to help you determine whether a vehicle is worth purchasing or not.
Clean and Protect Your Car Carpet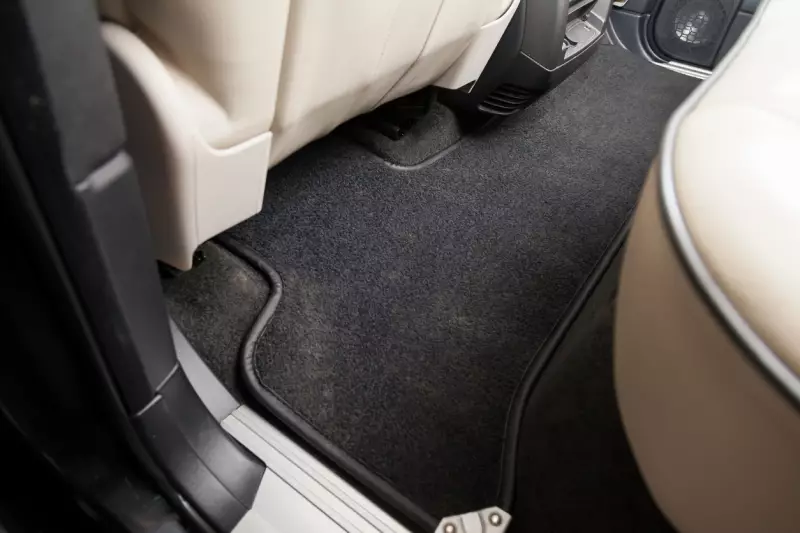 Either way, you can achieve a deep clean by thoroughly cleaning your car carpets by scrubbing and treating them thoroughly. Having access to a vacuum and a shampooer makes the process faster, but you can get the same deep clean using your hands and a scrub brush if you're willing to put in the hard work to do the job well.
When you understand how to safely and completely clean the carpet in your car, you can get a fresh look and protect the health of your flooring at the same time. It's easier than you may realize to clean your car carpets, and whether you have equipment such as a vacuum and shampooer or if you only have towels and a scrub brush, you can achieve a full clean.