Some of the nicest vehicles sold today come equipped with luxurious leather seats. When these seats are new, they're soft, supple, comfortable, and stunning to look at. Unfortunately, when given the chance to wear out, these seats stop looking good over time. Leather seats will crack, wear and eventually fall apart if they aren't maintained. That's why it's so important to care for your seats properly. A reliable leather maintenance routine begins with a deep cleaning. Learn how to clean leather properly, and your seats will age more slowly while looking stunning along the way.
Why Cleaning Leather Seats is Important?
Leather seems like a tough material, and it can be when maintained properly. Unfortunately, if the leather isn't properly maintained, it will crack, split and experience discoloration and excessive wear. That's why it's essential to know how to clean your leather seats and how to care for them properly. When you understand the secrets to effectively cleaning and maintaining your leather seats, you'll enjoy long-term performance and reliability.
The Tools for Cleaning Leather Car Seats
While there are numerous practical tips for cleaning your car, it's essential to give the leather interior a thorough cleaning. Before you begin cleaning the leather seats in your vehicle, you need to know what to clean the leather car seats with. There are specific cleaning products and tools you need to do the job well. Fortunately, most of those items are simple to obtain, affordable and you probably already have some of them. Below is the list of what to use to clean leather car seats with.
Leather Cleaner

Leather Conditioner

Soft Bristled Brushes

Microfiber Towels

Vacuum Cleaner

Air Compressor and Pressure Tip (optional)
Once you have all the tools on the list above, you're ready to start cleaning. You still have to learn the proper cleaning steps and techniques, but it isn't very difficult to learn.
How to Clean Leather Car Seats?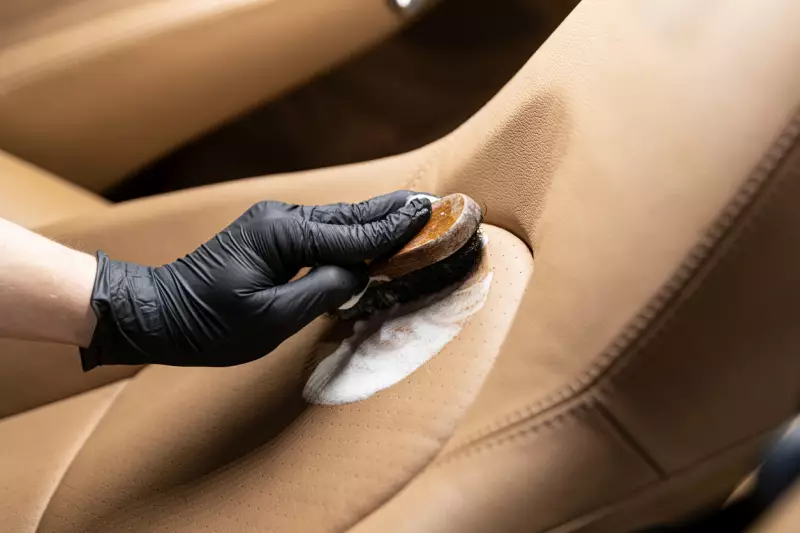 If you are wondering how to clean leather seats in a car, the process is simple. Begin by vacuuming the seat thoroughly to remove any loose debris. Loosen and remove any dirt from cracks and crevices using the air compressor and pressure tip if you have one. Once the seat is cleaned off, it's time to rub it using a leather cleaning product.
Apply the leather cleaner to the seat using a spray bottle and rub it in thoroughly with your soft, bristled brushes. Rub the cleaner into every crevice of the seat to fully break down any built-up residue. Once you've scrubbed every surface, you can wipe it away using microfiber towels.
With the leather seats cleaned off, it's time to apply a high-quality conditioner for long-term protection. Apply conditioner to a clean microfiber towel and rub it into all the surfaces of your seat. Allow the conditioner to sit until the seat stops being as shiny. Once the conditioner sets into the seat material, it's okay to wipe any extra conditioner off your seat to finish up the cleaning procedure. Wipe your seat off thoroughly using a microfiber towel to leave it in good condition.
How to Maintain Clean Leather Car Seats for Longer
When you have a vehicle with nice upholstery, it's essential to know the best way to clean leather car seats and maintain them for long-term performance. The detailed cleaning instructions above explain how to deep clean your seats, but regular maintenance requires more than that. You'll have to lightly clean the seats often and maintain a protective coating that guards against sunlight as well.
Each week you should vacuum your seats to remove any dirt, dust, and debris that could scratch your finish. You should clean your seats approximately once every three to six months, and you should also apply a high-quality leather conditioner with a UV protectant. If you do those things, your seats will hold up better over time. It is a bit of work to keep your leather upholstery looking good, but the effort you put in will leave you with a superior interior and leather that lasts far longer.
How Often Should You Condition Your Leather Seats?
Applying leather conditioner to your vehicle's seats is an excellent way to prolong their lifespan and keep them looking good. The trick to getting long-term protection from the conditioner is to apply it often enough. For vehicle upholstery, you should apply conditioner about once a month. Add new conditioner regularly, and your seats will remain protected over time. You will still have to clean your leather seats occasionally, but if you keep them conditioned, your seats will be more durable.
Are Seat Covers the Answer?
Instead of wondering how to clean black leather car seats all the time because you're sick of them looking filthy, you should consider seat covers as an alternative to constant cleaning. There are many slipcovers, seat pads, and other protective products that make it easy to wrap up your vehicle's seats. Add these covers to your ride, and the seats will be protected from damage when transporting pets, kids, or hauling rough items with your vehicle.
When you have seat covers, you can still enjoy your leather seats in certain conditions. Slipcovers and most other covers are easy to remove when you aren't using them. Pull the covers off to reveal your leather seats when you want to enjoy them and cover them again when you're ready to protect and secure them.
When Choosing a Used Vehicle, the Upholstery Matters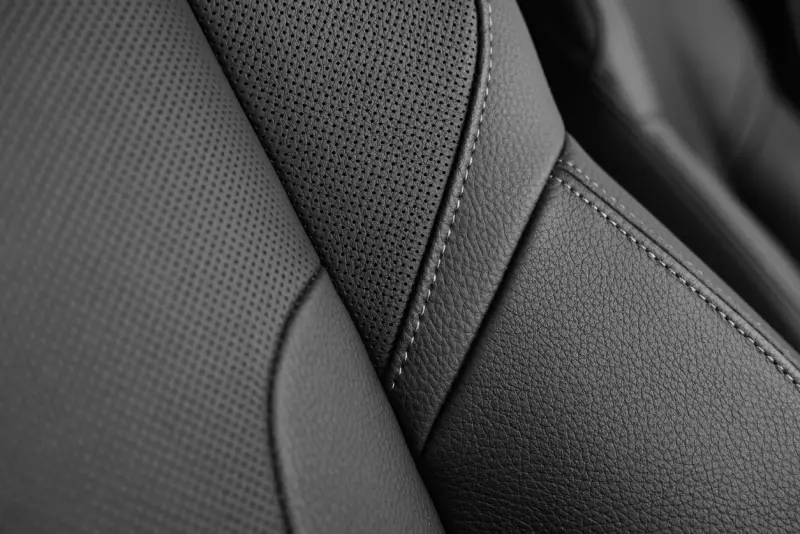 If you're looking at used vehicles, you should inspect the upholstery closely when deciding what you want to get. A car with immaculate upholstery is likely to be in better condition overall than a vehicle with cracked and worn fabric.
Always look closely at the front and rear seats when evaluating a vehicle, and try to avoid options with very poorly maintained upholstery. To learn more about how a vehicle was managed, spend time reviewing its vehicle history report to verify it wasn't in any serious accidents and that it had regular maintenance.
Now that you know how to clean car leather seats, you have the knowledge necessary to keep your car's interior looking good. Follow the steps outlined above, and your car leather will last far longer than it would without proper care.