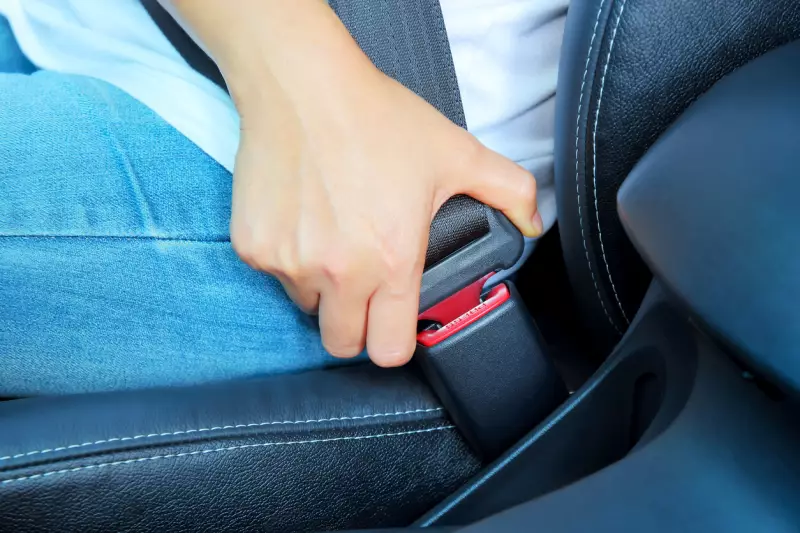 Your car's seat belt isn't just a required piece of equipment that you must legally wear in most states today; it's also what protects you if you get into an accident. That's why it's so important to ensure you get a belt that's working properly. If your belt is stuck, it won't buckle properly, it won't slide in or slide out, and there is a problem that must be resolved quickly. Learning how to unlock a seat belt or how to reset your seat belt is essential if you want to keep your vehicle safe to operate. Spend time getting familiar with the way your buckle works to learn how to fix your seat belt and make it safe and easy to use once again.
Clean a Dirty Seatbelt
One of the main reasons that set belts are stuck is because they are filthy. If your seat belt is locked up routinely, you may need to wash it off. The polyester that most belts are made from gathers dirt and oil over time. Imagine how filthy the belt can become from years of regular use, and you'll start to see how the jam could occur in the first place. A grimy seatbelt isn't going to move around smoothly, but the fix for this issue is a simple one.
If your seat belt is locked up, pull it from its housing as much as possible and place a clip just above where it goes back in to keep it from retracting. With the full seat belt exposed, you can clean it properly. Wipe the belt down using a lint-free rag dipped in a solution of water and laundry detergent. Thoroughly wipe down every part of the belt's surface to leave it clean enough to operate properly.
Once you're done washing off the belt, wipe it down with a towel to dry it as much as possible. Leave the clip in place to keep the belt exposed so it can air dry for at least one day after washing it off. Once it's fully dry, the newly cleaned seat belt should function much more smoothly than it did before. Remove the clip and allow it to retract to see if you resolved the issue. Even if you didn't fix the problem, at least you cleaned off your seat belt, and it likely looks like new now.
What To Do For a Seat Belt that Won't Pull out that's Jammed
If your seat belt won't come out and it feels very jammed, it's likely twisted up or kinked down inside the housing. Learning how to unlock a seat belt that is fully jammed is a skill that will help you keep your seat belts functioning well. To unlock a jammed belt, you only have to pull it out of the housing little by little until you remove the jam.
While pulling out the belt, use some force and make sure the belt isn't twisted up any longer. You may have to pull hard to get the belt to unlock, but you'll know the moment you get the jam removed. Keep removing small bits of the seat belt from its slot until the whole thing frees up and properly retracts again. Once that happens, you've defeated the jam, and your seat belt should perform the way you expect it to again.
How to Deal with a Seat Belt Stuck in the Buckle
The buckle end of your seatbelt is an essential piece of equipment that locks in the belt and ensures you can ride safely. If the buckle doesn't function properly, you end up with a belt that either won't lock into place or that won't unlock when you're ready to get out. The quickest way to handle a seat belt with a buckle stuck is to clean the buckle out using a butter knife. Move the knife around inside the buckle to pry out any grime that's built up inside. With a bit of hard work, you can remove most of the crumbs, dirt, and other items that have become lodged inside the buckle. Once you do that, it should function properly again.
If the buckle isn't repaired by cleaning it out, you may have to disassemble it. With most buckles, you can unclip the latch itself from inside your vehicle and then pry the latch mechanism out of the housing to fully clean it and resolve any mechanical issues inside. If you aren't sure about how to repair your seat buckle, you can purchase a replacement buckle instead and swap it in for the damaged part.
When it's Time to Hire a Mechanic
If you're wondering how to fix a stuck seatbelt and none of the tips here help you resolve your issue, it may be time to hire a professional mechanic to do work on the buckle. You can get a mechanic to fully replace the belt if it isn't functioning properly, and some may attempt to repair your existing seat belt. A seat belt buckle that's stuck, or when the full belt is locked up, you may have to turn to a professional to resolve the problem. Talk with a local mechanic about your belt and get help making your vehicle safe and easy to operate once again.
Whether you need to know how to fix a seat belt buckle or the entire belt, you must make sure your belts are all functioning properly before taking passengers around in your vehicle. One faulty belt could cause someone to get seriously injured. When shopping for a car, you should always test all the seat belts to ensure they work properly. This is one piece of safety equipment you can't skip over, and it's something you must verify because many vehicles don't function like they're supposed to, especially when the equipment is older. Use a vehicle history report to find out if the car has been in any accidents, and double-check all the belts to ensure you have a safe and functional vehicle to drive around in. Take those measures to protect yourself before purchasing any vehicle, or you could end up with issues that keep you and your family from being safe.