If your car has ever had a dead battery, you know how irritating it can be. It always seems to happen at the most inopportune time, too, like when you're running late for work or have a date night. No one wants to be stranded on the side of the road, but it happens. The good news is, if you find yourself in this situation, we're going to make sure you know how to jump-start a car.
Materials Needed
In terms of how to properly jump-start a car, you will need the following materials:
Jumper cables and portable jump starter
A working car with a good battery (not required with a portable jump starter)
Safety goggles
Gloves
First, make sure to turn off both vehicles. Positive jumper cables have red handles, and negatives have black handles. Next, you will want to connect the positive cable to the uncharged battery's positive terminal. Then, you will want to connect the opposite end of the cable to the positive terminal of the running car's good battery. After that, you will want to connect the negative cable to the charged battery's negative terminal. Finally, you will want to connect the other end of the jumper cable to a metal ground on the dead car.
Once all the cables are connected, you can start the charged car and let it run for a few minutes so it has enough power to power the dead car. Then, try starting up the dead vehicle. If it starts up, disconnect all the cables backward from how you connected them and put everything away.
The Differences Between Jumper Cables and A Portable Jump Starter
Jumper cables provide a temporary boost to a car's battery, while a portable jump starter is a self-contained unit that can jump-start car batteries without needing another vehicle. Both jumper cables and portable jump starters have advantages and disadvantages that should be considered before using either.
Jumper Cables
Advantages:
Inexpensive
Can be used multiple times
Can be stored in a vehicle for emergency use
Disadvantages:
Require another vehicle with a working battery to provide the boost
May be difficult to use if the vehicles are not positioned close together
Cables can become tangled or damaged over time
Portable Jump Starter
Advantages:
Self-contained unit – does not require another vehicle to provide the boost
Can be easily transported and stored
Simple to use – just attach the clamps and let the unit do its job
Disadvantages:
More expensive than jumper cables
Requires regular charging in order to maintain its power
Step-by-Step Instructions on How to Jump a Car Battery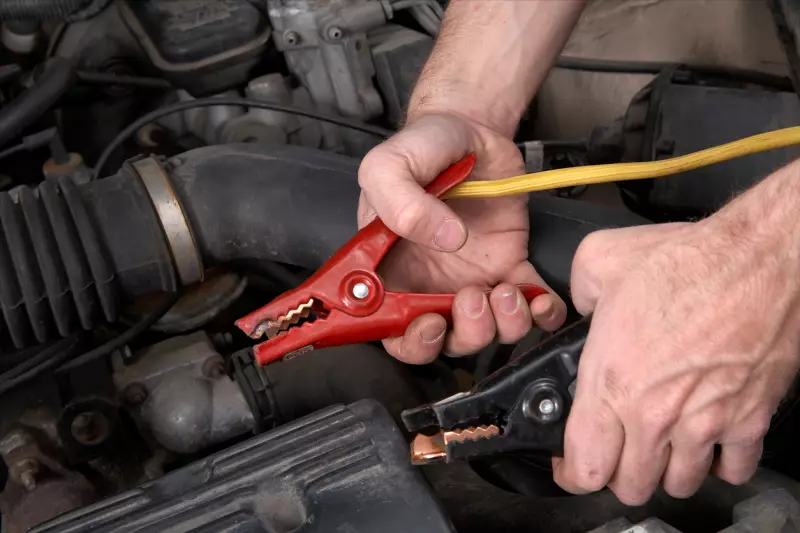 If you find yourself in a situation where your car won't start, you may need to jump-start it. Jump-starting a car is a relatively easy process, but it's important to do it correctly to avoid damaging your car. For the following example, GoodCar is going to explain how to jump a car with jumper cables:
Make sure that the battery in the jump starter pack is fully charged.
Connect the red cable, which is positive, to the dead battery's positive terminal.
Connect the opposite end to the positive terminal of the charged battery.
Connect the black cable, which is negative, to the good battery's negative terminal.
Finally, connect the opposite end to a solid metal ground on the car with the dead battery (such as a bolt on the engine block).
Once all cables are connected, turn on the jump starter pack and let it run for a few minutes before starting your car. This will allow the dead battery to charge up enough to start your car.
Start your car and let it run for a while before disconnecting the jumper cables in backward order (disconnect black from the ground first, then negative from the good battery, etc.).
If you have ever wondered, how long does it take to jump a car, with these simple tips, it should take you between 10 and 15 minutes. Just remember, you should leave your car running for at least 30 minutes before shutting it off. Driving is better than sitting idle, but both will help the battery recharge somewhat, so you are less likely to have to jump your car again later.
Dangers Of Jumping Your Car Improperly
One of the biggest concerns of not knowing how to jump-start a car with cables is the risk of damage or injury. If you jump-start your car improperly, you run the risk of causing serious damage to your car. If you do not connect the jumper cables correctly, you could cause a spark that could ignite any flammable liquids in your car, such as gasoline. This could lead to a fire that could seriously damage your car or even injure you. Additionally, if you do not use the proper jumper cables, you could damage your car's battery or electrical system.
Safety Precautions
If your car battery dies, you may need to jump-start your car. Follow these safety precautions when jump-starting a car:
Make sure that the batteries in both cars are in good condition. If the battery in the donor car is also dead, don't attempt to jump-start the car.
Do not allow the clamps to touch each other or any metal surfaces on either car. This can cause a spark that could damage the batteries or ignite flammable materials.
Be careful not to overload the electrical system of either car. If the donor car's engine runs too fast, it could damage your car's electrical system.
Make sure that all lights and accessories are turned off on both cars before starting. Otherwise, you may damage the alternators.
Tips and Tricks
If your car doesn't start, it might be time for a jump start. Follow these tips and tricks to get your car up and running again:
Make sure the battery is properly connected. You should look at the terminals to see if they're corroded or loose. If they are, clean them with a wire brush and reconnect them.
If the battery is dead, you'll need to replace it. Be sure to get the right type of battery for your car.
Once the new battery is in place, connect the positive terminal to the positive post on the starter (usually marked with a + sign). Then, connect the negative terminal to a metal ground on the engine block (not the negative post on the battery).
Have someone else turn on the ignition while you hold down the accelerator pedal. The engine should start and run for a few seconds before shutting off again. If it doesn't, check all of your connections and try again.
At GoodCar, we understand that owning and taking care of a vehicle is no small task, and we want to assure you that jump-starting a car is not as difficult as it may seem. You can do it in no time if you have the proper tools and know-how. Just be sure to follow the steps we outlined above, and you'll be back on the road in no time.