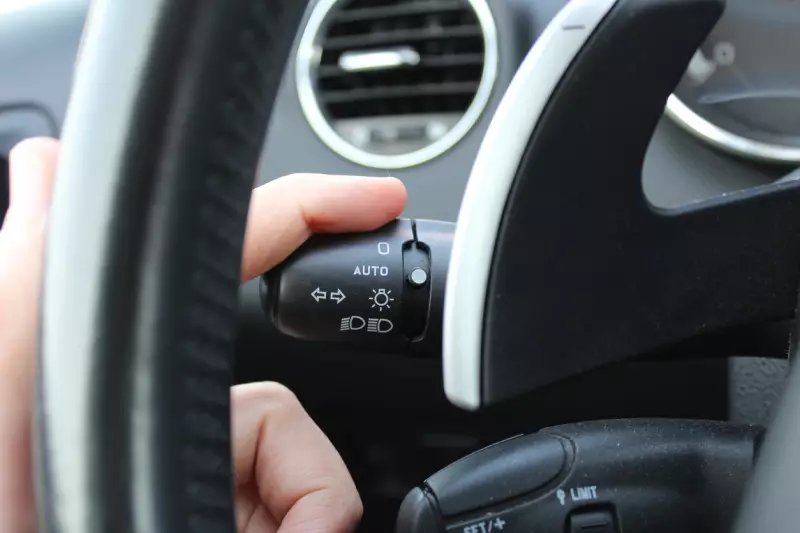 As a newer driver, one of the first things you should work on understanding is how to use the turn signals properly. Turn signals are your way of informing the other drivers in what direction you're going to move your vehicle when turning, changing lanes, parking, and merging. If you don't use your signals, the other vehicles won't know what you're planning to do, and you could get into an accident. Signal properly, and you'll be safer as you travel around the roads.
How to Physically Use Your Turn Signals
In most vehicles, there is a stick to the side of the steering wheel with arrows pointing left and right. Locate this stick before you start driving so you understand how to signal your turns. Pressing the stick downward turns on your left turn indicator, and lifting the stick up turns on the right turn indicator. Moving the stick back to the middle turns the indicator off again, and so does turning your steering wheel far enough and then turning it back. Before making any turn, you should put the appropriate signal on, and after your turn, you should ensure that the signal is off.
When on, you'll see a blinking arrow inside your car, and you'll hear a clicking noise. If you don't see either of these signs, you can assume that your turn signals aren't activated.
When Turning, You Should Give the Proper Signal
When turning, it's essential to turn on the proper indicator for the turn you're going to take. In most vehicles, up is a right turn, and down is a left turn. You must look at the position of the signal stick in your vehicle though and test how to indicate to the left and to the right. Once you understand how to indicate each direction in your vehicle, use the left indicator to indicate you're about to move left. Use the right indicator just before you move your vehicle to the right. The indicator explains where your vehicle is going to move, so keep that in mind when using it.
How Far From Your Turn Should You Signal?
Driving involves a lot of questions, such as, when do you want to turn?, and, how far from your turn must you signal? Knowing the answers helps to keep you safer when driving on most roads. It's essential for you to signal at least 100 feet before you reach your corner. This gives other drivers enough time to react to the fact that you're turning. You don't want to signal too early, though. You must try and signal so that it's clear where you're turning. If there is another turn before the one, you wish to take, try and signal after that corner or as close to that corner as possible so it's more clear that you're taking the next corner. Keep in mind that before you make a turn, use your turn signals with enough space for the drivers around you to react, and you'll be fine.
What Signal Should You Give Before Changing Lanes in Traffic?
It's important to think about what direction you're going to move in before changing lanes. Once you know whether you're moving to the right or moving to the left, you can activate the proper turn indicator to inform the other drivers around you of your intentions. If you're moving left to the next lane over in that direction, use your left signal indicator. If you're moving into the right lane, use the right indicator. Using your turn signals properly becomes intuitive with enough practice, so try and remember to do it each time you plan to make a turn.
How to Merge Into Traffic Using Turn Signals
Just as you signal when changing lanes, you should signal in the direction that you'll be merging into traffic to inform other drivers that you're planning to move in that direction. If you're merging with traffic to your left, use your left indicator first. If the traffic is to your right, use your right indicator and then slowly move into the lane when there is an opening for your vehicle. By signaling early, you provide an opportunity for other drivers to get out of your way and give you the space you need to merge safely.
Signal When Parking Near a Curb
When parking next to a curb, you should use your turn signals to let others know what you're doing. Parking on the curb can be dangerous if other drivers don't know what you're doing. When parking, turn on your right turn signal a little before you reach your parking spot and slow down. Now carefully park your vehicle on the right. The other drivers should leave you enough space to park since you're signaling to them what your plans are.
How to Make Turn Signals with Hands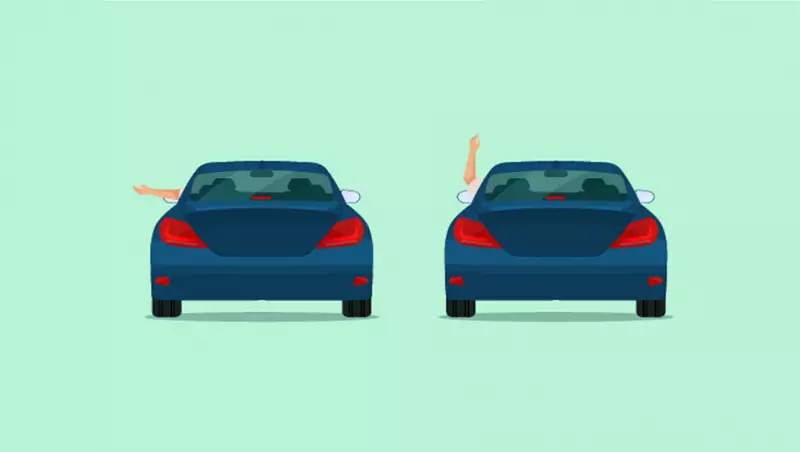 If the turn indicators on your vehicle stop functioning properly, you should make arm signals for turning instead. There are two turn signals you should learn so you can still inform other drivers about what you plan to do.
Hang Your Left Arm Out the Window
When signaling, you should know that you'll be putting your left arm out the window for others to see. You must have your window down to do this properly. Hang your arm out as far as you can so your signal is clear to the other drivers around you.
A Left Hand Turn Signal
Making a left signal is as simple as it gets. To indicate that you're planning on turning left, put your left arm straight out the window and keep it flat and straight so that you're pointing left. This is the sign for a left signal, and most other drivers will know what you mean if you do this.
A Right Hand Turn Signal
To make a right signal, put your arm straight out the window and then bend at your elbow, raising your hand straight to the sky to create a 90-degree angle. This is the signal for making a right turn, and many other drivers will know what you mean when you do this.
All modern vehicles come equipped with turn indicator lights today, but some have more lights than others. If you want to stand out as much as possible when turning, you should look for a vehicle with large LED indicators on the front and the back. You should look closely at the features of a vehicle and look at the car history report for the vehicle to make sure it's safe to drive and that it has the features you want before making a purchase. It also allows you to see all the safety ratings a vehicle has, so you can be sure you're picking a vehicle that will meet your individual needs.