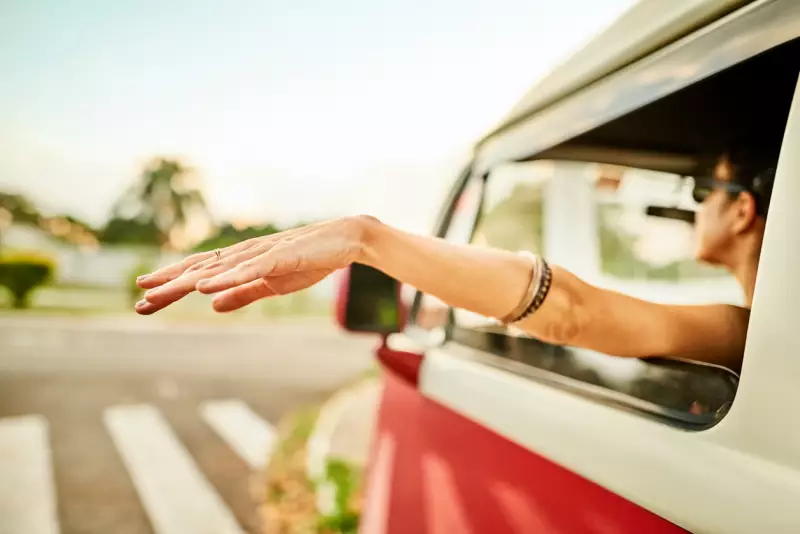 Driving is an ever-evolving skill that takes time and practice to perfect. As much as we like to think of ourselves as modern drivers, some things are still very much the same; one of these being hand signals. Arm signals for driving have been around since the days of horse-drawn buggies, and they remain an important tool for drivers today.
Take the time to learn the most common hand signals for driving and their importance in road safety. You never know when you may need to rely on these simple signals to keep you, or those around you, safe.
Why Are There Hand Signals for Driving a Car or Truck?
There are several reasons why there are driving hand signals. First and foremost, they are a safety measure, and you can avoid potential accidents by communicating with other drivers through hand signals.
Secondly, they can be used when verbal communication is impossible, such as when driving in a loud or windy area. Finally, you can use them to communicate with non-verbal cues, such as if you are deaf or have a hearing impairment. Now, what are the hand signals for driving?
Left, Right, Stop Hand Signals
Hand Signal for Right turn
The right turn hand signal is simple. If you are driving in the United States, you will use your left arm, stuck out the driver's side window, to signal a right turn. To do this, extend your arm to the side, bending your elbow so your hand extends up towards the sky. Your palm should also face forward.
Hand Signal for Left turn
Extend your left arm straight out the driver's window and point with your index finger when making a left turn. You can also extend your left arm straight out the window and open your palm, facing forward, to signal a left turn.
Common Hand Signal for Stop
While many hand signals are used to drive, one of the most important traffic hand signals to know is what the proper arm signal for slowing or stopping is. Should your brake lights ever fail, this can keep cars behind you aware of what is going on, so they do not hit you from behind.
Put your left arm out the driver's side window to signal a stop, bending at the elbow. Your hand should be down towards the ground, and your palm should be open. Fingers should be straight and also pointed towards the ground.
Are There Any Other Not-As-Common Hand Signals?
There are a few other hand signals for driving that are less common. Here are some and when you should use them:
Apology: If you inadvertently cut someone off, putting your hand up with your palm facing them is often seen as an apology. It is polite to do this to show you did not intend to harm them in any way. Some people also make a "V" with their fingers to show they intended peace.
Pull over for an emergency: Should you be passing a car that has a flat tire, open trunk or engine, or other significant problem, you should signal to them to pull over. For this signal, you want to point to the area of the problem and signal a thumbs down to them. Repeat this if they do not see the full signal.
Warning: While this is not a hand signal, it often goes with other hand signals. When a problem is ahead, such as an accident or debris on the road, drivers flash their headlights to alert oncoming traffic.
Problem with your lights: Another not-so-common hand signal drivers should know is the one that tells another motorist they are having a light problem. This problem may be a broken head, tail light, or even a left-on blinker. To signal this, you should repeatedly open and close your hand toward the other driver, ideally having your thumb and fingertips touch when your hand closes.
When Should You Use Hand Signals?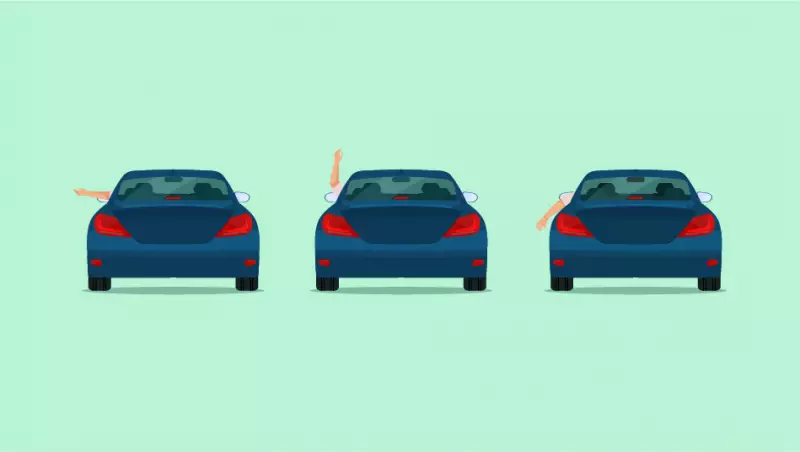 Hand signals are an important part of nonverbal communication between drivers. You can use them to communicate various messages, from indicating a turn to asking for help. There are a few different times when hand signals can be particularly useful for driving:
When you can't see the car behind you: If you can't see the car behind you in your rearview mirror, stick your arm out the window and point in the direction you're turning. This will let the driver know which way you're going.
When you're changing lanes: If you're changing lanes, put your hand up in the air to signal that you're moving over. This will let other drivers know what you're doing and help them adjust accordingly.
If you suspect your blinkers or brake lights are out: if you even have the suspicion that your brake lights or blinkers have failed or are intermittent, it is essential that you use hand signals. This may be the only way that other driver's on the road know that there is a problem or that your car may make sudden moves.
When you want to thank someone: Sometimes, another driver will do something nice for you on the road - like letting you into their lane or giving you some space. If this happens, put your hand up to wave and say thank you. It's a nice gesture that could make someone's day.
Ways Technology is Helping Make Hand Signals Less Essential to Remember
Technology is helping to make hand signals less essential to remember in several ways. Here are some of the most prominent:
Car scans: Today's cars can run scans on themselves, alerting you if there's a burned-out light or problem that would require someone to signal an emergency to you.
Blind-spot detection: Many vehicles have cameras around them to let drivers know when someone is nearby, so instead of using hand signals, they can use the devices in the vehicle to keep everyone around them safe.
Technology: The advance of technology allows people to communicate problems using voice activation or digital analysis that can tell drivers if someone around them is using hand signals they may not see.
GoodCar is Here to Help You Remember More Than the Fundamentals
Whether you are a seasoned driver or just about to take your first driving test, knowing hand signals is a useful skill. To learn more about your vehicle or about how to stay a bit safer on the road, lean on GoodCar. We are here to help!