Honda and Toyota are leading Japanese companies that manufacture and sell various trucks, cars, and SUVs to meet customers' needs. The two firms have been in the car industry for decades. Honda and Toyota are known for quality cars, safety, and reliability. Here's a comparison between common models of Hondas and Toyotas from the experts here at GoodCar. See what you think and if you agree!
Toyota vs. Honda Car Models
Honda Pilot and Toyota Highlander: The SUV Comparison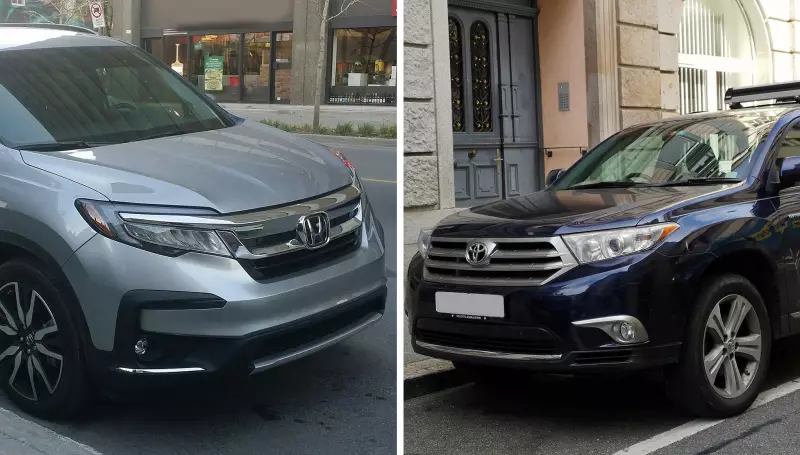 Shopping for SUVs can be challenging, especially when you're interested in safety, affordability, roomy interior, comfort, and fuel efficiency. However, picking the right car model can be a challenge. Stiff competition between Honda Pilot vs. Toyota Highlander has led to massive production of these midsize SUVs.
Both models feature comfortable seats, three seating rows, and incredible tech. So, which is better when you compare Honda Pilot vs. Toyota Highlander?
Here's the comparison. While Honda Pilot is modestly large and more spacious than Toyota Highlander, they're similar on many fronts. A V6 engine powers both vehicles. In addition, Toyota offers a hybrid Highlander for consumers seeking excellent fuel-efficient cars.
In terms of pricing, Toyota wins because its starting costs are about $36,000 compared to Honda Pilot, which starts at around $38,000. Nonetheless, both car models deliver great features and value. They also have luxury features and advanced tech.
Pilot and Highlander are spacious and comfortable; however, Pilot offers comfortable space to accommodate eight people. The Pilot comes with heated and ventilated front seats made from cloth upholstery. It also contains a Panoramic roof. Highlander features eight seats, but the third row cannot hold adults. It also comes with a sliding second-row seat.
Honda Odyssey and Toyota Sienna: The Minivan Comparison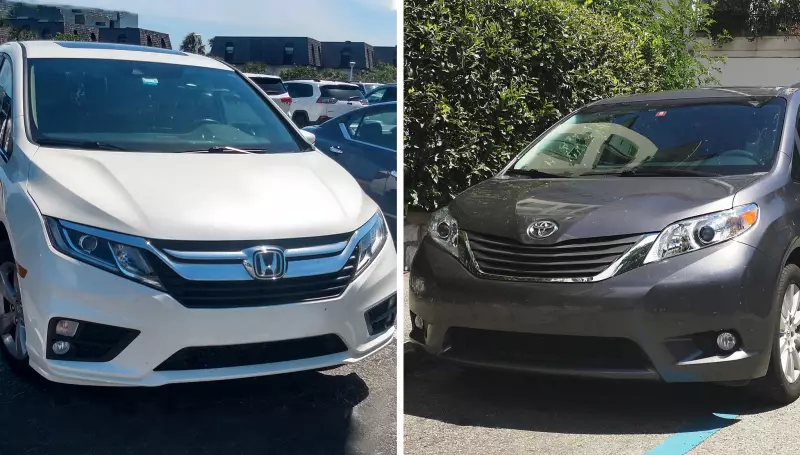 Honda Odyssey and Toyota Sienna are more than your standard minivans. They're not only comfortable but also affordable, luxurious, reliable, and spacious.
So, when considering Honda Odyssey vs. Toyota Sienna, which is better? Although both models are big and can hold up to eight passengers, Odyssey is the least costly at $32,090 vs. Sienna at $34.460.
Furthermore, Honda Odyssey and Toyota Sienna have three spacious rows and a leather interior with heated seats. Both feature roomier second-row leg room, but Sienna is more comfortable with rear heated seats and footrests for rear passengers.
Toyota RAV4 vs Honda CRV: The Compact SUV Comparison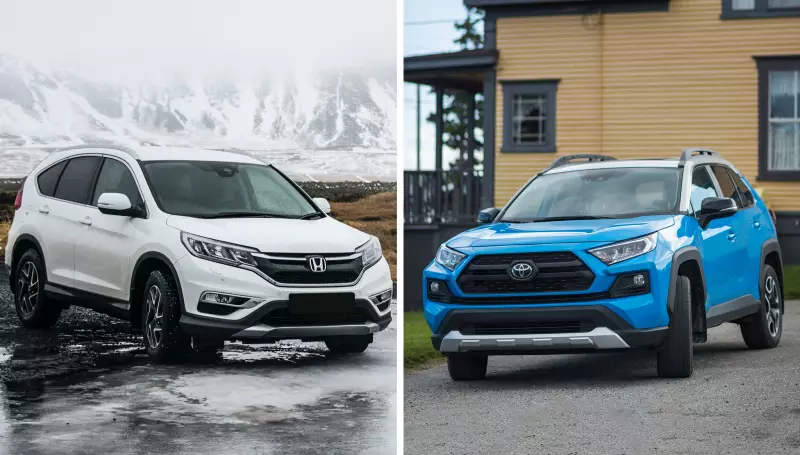 Toyota RAV4 and Honda CRV are popular compact SUVs. Both SUVs have features customers want, with a good safety rating, fuel efficiency, and reliability. Additionally, the compact footprint makes them easier to maneuver and park.
However, RAV4 is less expensive than CRV. RAV4 and RAV have comfortable seating for five individuals, adequate leg and head room, and standard cloth upholstery. But CRV is more comfortable than RAV4 thanks to spacious front seats with good back support.
Honda Accord and Toyota Camry: The Sedan Comparison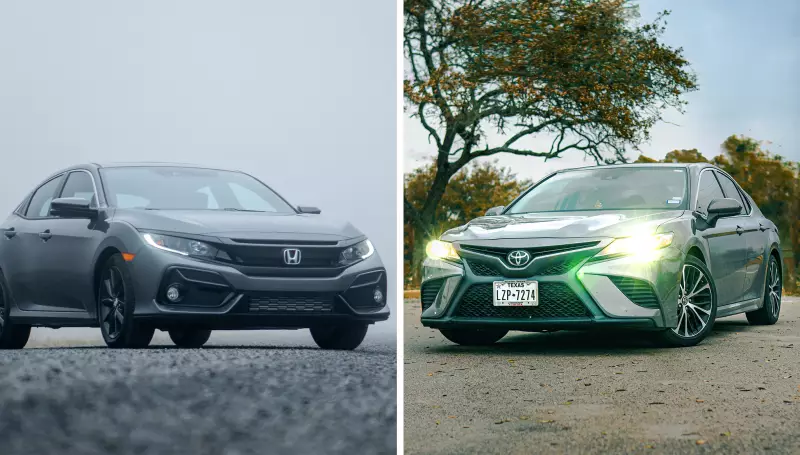 Honda and Toyota are two of the most popular car manufacturers in the world. Their products are highly regarded for their reliability, efficiency, and affordability. When it comes to sedans, both Honda and Toyota offer a number of great options. In this article, we'll be comparing the Honda Accord and the Toyota Camry, two of the most popular sedans on the market.
The Honda Accord is a midsize sedan where everyone gets plenty of space while still having enough room for cargo. It has a 2.4-liter four-cylinder engine that produces 185 horsepower. The Accord is available with either a six-speed manual transmission or a continuously variable transmission (CVT). Fuel economy is approximately 27 mpg in the city and 36 mpg on the highway with the CVT.
The Toyota Camry is also a midsize sedan, though it offers slightly less passenger and cargo space than the Accord. It has a 2.5-liter four-cylinder engine that produces 178 horsepower. The Camry is available with either a six-speed automatic transmission or an eight-speed automatic transmission. Fuel economy is approximately 29 mpg in the city and 41 mpg on the highway with the eight-speed transmission.
Both the Accord and Camry are great sedans that offer plenty of features and amenities for their respective price tags. The better choice is going to come down to which you think feels and drives better.
Is Honda Or Toyota More Reliable?
Toyota emphasizes reliability and dependability, which implies that it takes time to introduce the latest technology and integrate cutting-edge features. However, some of Toyota's redesigned models have electronic and mechanical issues.
On the other hand, Honda's models, such as Insight and Civic, are fuel-efficient, offer expansive cabins, and have solid safety ratings. Honda's reliability in the small car segments is higher than Toyota. However, Toyota wins over Honda on longevity and general dependability
Toyota Avalon leads among large cars powered by a V6 engine and have all-wheel drive. Avalon features include Amazon Alexa, Apple CarPlay, a Wi-Fi hotspot, a 9-inch user-friendly touch screen, and satellite radio. In addition, it has advanced safety features, including an automatic braking system and adaptive cruise control.
Choosing between Toyota vs Honda
Choosing between Honda vs Toyota can be challenging. However, the answer is going to depend on what you prefer and need out of a vehicle. You may sit in one make and feel more supported than you do in the other. The choice is deeply person depending on who is buying the vehicle.
Ultimately, there are a lot of factors to consider when choosing between Toyota and Honda. Both are great brands with a long history, and both have their own unique selling points. Here are some things to think about when making your decision:
Quality: Honda is known for being extremely reliable, while Toyota has a reputation for being high-quality.
Price: Honda vehicles tend to be more affordable than Toyota vehicles.
Fuel efficiency: Toyota is typically more fuel-efficient than Honda.
Safety: Both brands place an emphasis on safety features, but Honda may have an edge here.
Resale value: Toyota has consistently higher resale values than Honda. Check for yourself with our residual value checker!
These are just some of the considerations you'll need to keep in mind when choosing between Toyota and Honda. Ultimately, it's up to you to decide which brand is right for you.
GoodCar Reminds You to Pick What You Love If Choosing Between Honda and Toyota
Here at GoodCar, we know there are many cars that just feel fantastic to sit behind the wheel. If you have your choice narrowed down to Honda vs Toyota, then test out both. Figure out which feels like the better fit. Don't forget to run a vehicle history report on the cars you narrow down your list to before buying. It's always best to know what your new vehicle has been through before you sign on the dotted line!