One of the administrative tasks of buying a new car is getting a new license plate. Each state is different, so it is important to know how to get a new license plate when you need one.
What is a License Plate?
To drive legally in the United States, you need to register an approved vehicle, get it insured, and install one or two license plates on the front and/or rear fender (depending on state laws). You also need to have a valid, legal driver's license and carry it with you whenever you drive. License plates are called "tags" in some areas of the country.
A license plate is a metal plate with numbers and letters embossed upon it. It is a unique identifier used by the Department of Motor Vehicles (DMV) or other state agency that handles motor vehicle records. Law enforcement uses them to identify drivers when they are stopped for driving violations. Using onboard computers, an officer can run a plate number and have tons of data about the driver within seconds, including contact information in case of emergencies. A license plate is like an ID card for your car.
In most cases, the state issues each person a unique license plate number. However, some people choose to pick their own license plate message. These personalized plates cost more than regular license plates. They are sometimes referred to as vanity plates.
When you purchase a new or used vehicle from a dealership, they may affix a temporary license plate to your car. However, it is usually only valid for a few days before you must get permanent plates and replace them. Some states allow you to reuse plates from one vehicle to another.
Reason You Would Need to Get a New License Plate
Whenever you purchase a new or used vehicle, you must register it and get plates for it. After inspection, the state-approved mechanic or body shop will apply stickers or decals to the license plate showing that it passed inspection and is safe to drive on the roads.
If your vehicle was stolen, you might also have to replace your license plates. In some cities, thieves actually steal the plates right off a car or truck, which would be another reason you might have to get a new license plate.
If your vehicle was in an accident or your plates were damaged, you might consider replacing them as well. Replacement license plates do cost money, though. The plate fee will vary from state to state, but typically they run about $4-$15.
State Laws Regarding License Plates
During the vehicle registration process for a new car, you must pay the registration fee and license plate fee. With a registration renewal, you will only have to pay the registration portion, not a plate fee, unless you need to replace them for some reason. However, you may have to pay additional fees with your registration or renewal. Some states offer discounts for registration and plates for people who have joined the military service.
Each state has a specific agency that handles motor vehicle issues and management. In many states, this is called the Department or Division of Motor Vehicles. They will have a website (which ends in .gov). Some states like Colorado use their Department of Revenue for all motor vehicle services. Illinois and other like-minded states have all their motor vehicle services run through the Secretary of State's office. Georgia's agency is the Department of Driver Services.
Only nineteen states require only one license plate affixed to the rear of your vehicle. Those states are Alabama, Arizona, Arkansas, Delaware, Florida, Georgia, Indiana, Kansas, Kentucky, Louisiana, Michigan, Mississippi, New Mexico. North Carolina, Oklahoma, Pennsylvania, South Carolina, Tennessee, and West Virginia. The other thirty-one states require front and rear license plates. There is quite a bit of debate over whether anyone needs to have a plate on the front.
Most states require that you must report any lost or stolen license plates to law enforcement, not just the DMV.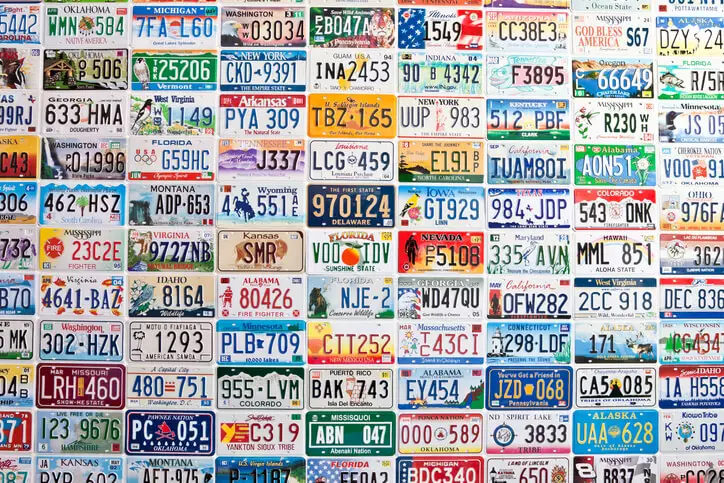 Steps to Get a New License Plate
First, you must register your vehicle in the state and county where you live (or work if a business vehicle). The state may offer various ways to register and obtain plates. Some have online services, others require that you visit the office in person, and some do it through the mail. A lot of renewals are processed online and through the mail. A few states like Massachusetts allow you to order plates by phone.
Gather together the information about your vehicle. This may include a title application, title, and bill of sale. You will also need the year, make, model, and manufacturer of the vehicle, along with the VIN.
Some states require you to have the vehicle inspected before you register it and get plates. Bring the receipt with you from the inspection and the passed sticker. New Hampshire requires registration before the inspection.
Make sure you have the proper fee.
You can often visit the state's website and choose a specialty or vanity plate design. Most states offer just one style, though.
Have your identification card or driver's license handy. You will need to produce it before they give you new license plates. If you have an old set of plates, the state may require you to surrender them before assigning you a new set. You must be the vehicle owner to register the vehicle.
If you are getting a replacement plate, you may need to fill out an application and explain the reason for the new plates. This is because license plates are strictly regulated, and the state needs to know precisely what happened to each and every one.
If you are applying for new registration, fill out a plate application and hand in your old plates.
Visit your state office, fill out the paperwork, pay the fees, and choose the new plate style. You can choose from the standard license plates or specialty license plates. Vanity plates are another type of special license plate that take longer because they have to be made to order. If you want vanity plates bring your completed form with you with your chosen lettering selected.
These rules apply to other vehicles as well as cars such as motorcycles, mopeds, trailers, and other recreational vehicles.