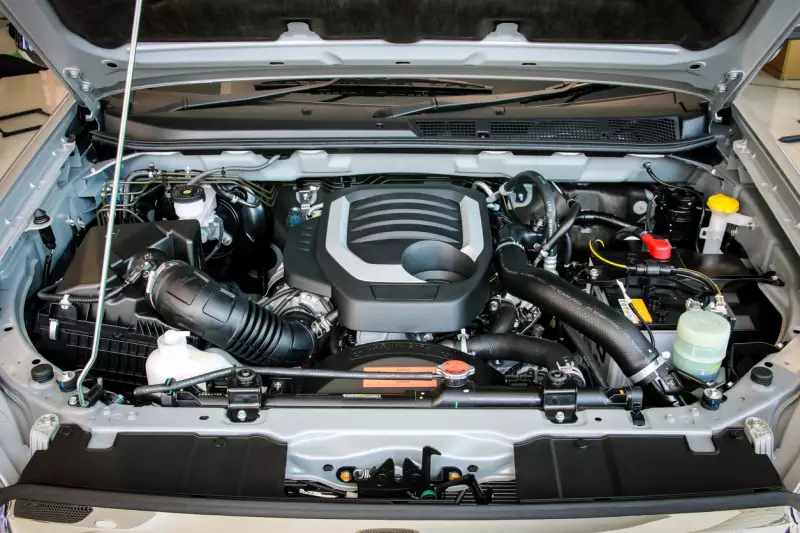 Every vehicle is full of multiple components that each serve a purpose, such as the hood. It's important that you know how to open it properly. You'll have to open your hood to change your oil, jump your battery, replace fuses, and more. That's why it's essential for you to learn the process right now.
How to Open the Hood of a Car
Whether you want to change your oil, swap the air filter, or just look at your engine, you need access to your car's engine bay. To get access, you must lift your hood up and out of the way. This is easy to do, but if you've never done so on your current vehicle, there is a learning curve. It's best to learn how to open the hood of your car while looking in your owner's manual, but even if you don't have one, you can probably learn the process to raise your hood. Follow the steps explained below to learn how to pop, unlatch, raise, and lock your hood in place properly.
How to Pop the Hood of a Car
Before you raise your car's hood, you need to know how to pop it. Learning how to pop the hood of a car is simple and fast. To do so, look inside your vehicle on the driver's side near the floor. You should see some sort of lever with a car symbol that has a raised hood. Press or pull the lever until you hear a popping or clunking noise. That is the sound of your hood releasing, enabling you to then unlatch it and raise it from outside. Without going through this initial step, you cannot unhook your hood and raise it from the outside.
How to Open the Car Hood From Outside
After you pop the hood, it's time to unlatch it and lift it up. You must locate the latch hook to release your hood before you raise it. Many vehicles have a small hook or latch just underneath the front of the hood. You should be able to slide your hand in the tiny opening and engage the latch to release your hood. If you cannot feel a latch under the hood, you may have a small release in your car's grille that you're supposed to grab. If you aren't sure about operating your vehicle's hood latch, look in your owner's manual for details about how to do it.
Propping Up Your Hood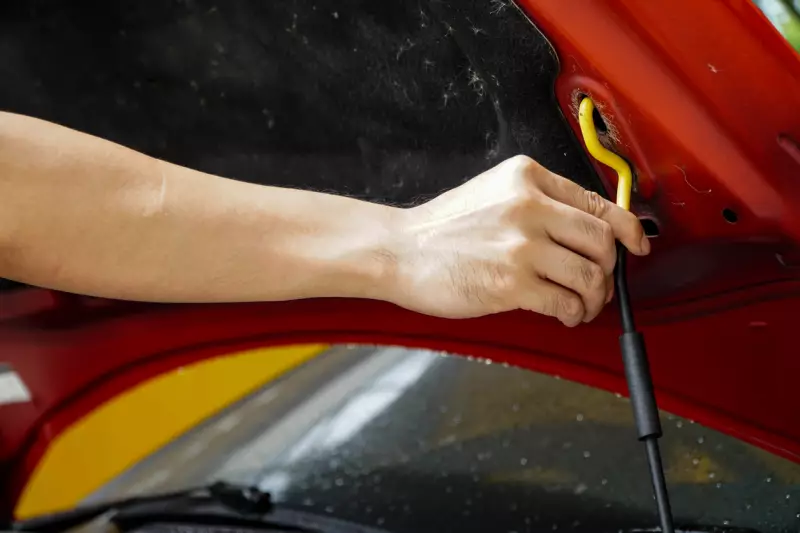 Once the hood of your vehicle is released, lift it up to gain access to your vehicle's engine bay. With some new vehicles, your hood will support itself with a strut. Others depend on you latching a rod to give you the support you need. If your hood doesn't immediately lift itself, you will have to locate the prop rod and lock it in place. Raise the rod up and lock it into a latch mounted on the underside of your car's hood to hold it up.
How to Open the Hood of a Car That's Stuck
Sometimes your hood will get stuck, making it difficult to open. This is especially true for vehicles that have been sitting for a long time. Follow these easy steps to release a stuck hood.
Shake the Hood: If you have a hood that doesn't want to release, the first thing you should do is lightly press down and then lift up your hood again and again. By slightly moving the hood around, you can release any rust and corrosion that's accumulated on your hood latch. You'll also force the mechanisms holding your hood in place to move, which could get things moving enough to unlatch your hood.
Hold the Release While Lifting: Sometimes, a car's hood latch just gets rusty and grimy. This is especially true if your vehicle is older and you don't raise the hood much. If your hood seems stuck, have a friend hold the hood release inside your vehicle while you pull up on the hood from the outside. If something is stuck, you will likely release it by using this technique.
Warm Your Engine Bay First: If it's really cold out, it's possible that your hood is frozen shut. You can fight against the ice, or you can make things easy on yourself and warm up your hood. To warm your hood start your vehicle and allow it to run for several minutes. As your engine warms up, it will warm your engine bay and melt any ice on your hood latch. If you have somewhere to drive, you should take the trip and attempt to open your hood once you arrive. The longer you operate your vehicle before attempting to open the hood, the warmer things will be.
Grease Your Hood Latch: Once you get your hood open, apply some silicone lubricant to your hood latch to keep it from getting stuck again in the future. A little silicone goes a long way and should leave you with a hood that opens easily. If your latch is heavily coated in corrosion, you should wipe it off using a wire brush before applying any new lubricant. Try to get the latch as clean as possible, then lubricate it, and it should perform well.
How to Open a Car Hood without the Release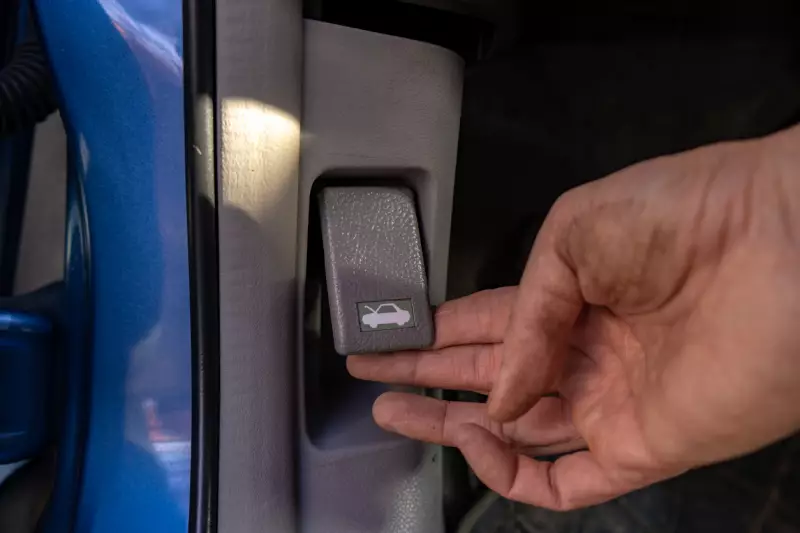 If your vehicle's hood release has been damaged, you'll have to follow special steps to unhook and raise your hood. It's possible to release the hood latch without using the release lever. To do this, crawl under your vehicle, and locate your hood latch up above. You can manually release the latch, but pressing a thin pry bar on the latching mechanism and moving it to the side. Do this, and your latch will release, giving you access to your engine bay.
When your hood is released, you should take that opportunity to replace your hood release cable before latching your hood again. The cable is inexpensive and simple to replace.
Always Check the Engine Bay When Buying a Car
Use your new knowledge of how to raise the hood of a car to help you evaluate any used vehicle you're thinking of buying. Before you purchase a used vehicle, release and raise the hood to look in the engine bay. Look at the oil condition as well as the coolant level and the overall health of the engine bay. You can learn important details about a vehicle by looking under its hood.
Raising the hood of a vehicle is a simple process, and it's something that everyone should know how to do. If you've never raised your car's hood, go out to it right now and try to learn the process. If you ever have problems with your vehicle, you can use this knowledge to help you examine the engine bay, see your fuses, apply jumper cables to your battery, and more. You should also get a car history report for the vehicle to help you learn about its maintenance history and any accidents it has been in. This data will help you make the best decision when purchasing a vehicle.