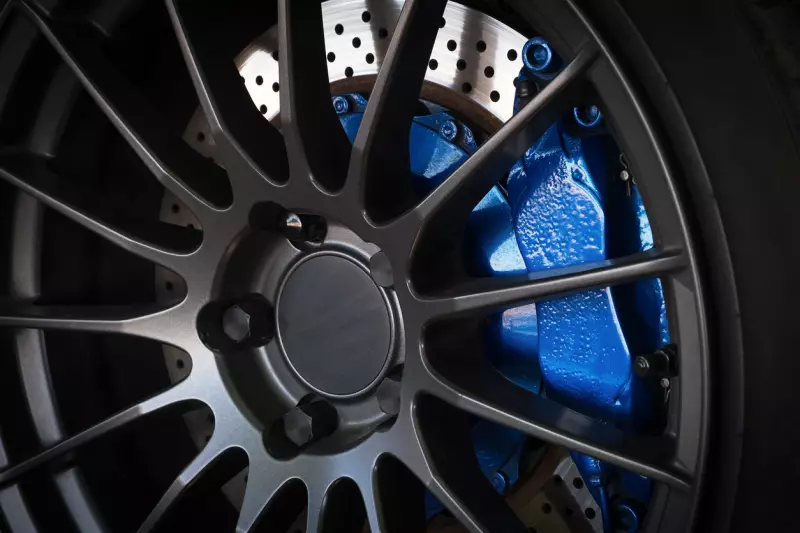 Powder coat wheels are highly durable and enjoy a smooth finish of any color you desire. When you understand how to powder coat wheels, you can take any set of wheels for your car, change their appearance and make them much more durable at the same time. The steps to achieve a uniform powder coat finish are simple, but they require skill, several specialized tools, and lots of practice to get it right.
Prepare The Wheels
Preparation is the most important step when powder coating wheels. You must fully clean away any rough spots, the clearcoat, grease, and other substances on the surface of your wheels. To achieve the deep clean that's required to effectively apply a powder coat finish, you need a sandblasting cabinet large enough for one of your wheels.
Insert the wheel into the cabinet and thoroughly sandblast every part of the wheel's surface until it's clear of any blemishes, any clear coat finish, and is only bare metal. Take your time with this step, and hit every surface of the wheel thoroughly. Any missed patch on your wheel could result in an uneven coating or a blemish on the finished product.
Once you're finished sandblasting your wheels, rinse them off thoroughly with plain water and allow them to air dry completely or dry them using a lint-free rag made from microfiber before moving on.
Apply the Powder Coat Finish
Set up a powder coating booth, fill your spray gun with the powder coating medium, and hang your wheel freely in the booth before attaching your electrical lead to the hanger. Spray every part of the wheel other than the indented section where the tires will sit. This section won't benefit from a powder coating, and you can avoid it to save on materials. Spray the powder in light layers until the wheel is fully coated and no additional powder will stick. You're coated wheels are now ready to cure.
Cure Each Wheel
Place the finished wheel into your curing oven that's been preheated to 400 degrees Fahrenheit. Allow the wheel to cure for between 18 and 22 minutes to get a nice hard finish. Avoid curing the wheel for much longer than 22 minutes, or you risk over-curing it and making it brittle. You'll know when you've cured the coating for too long because it starts to lose its glossy finish and may take on a yellowish tone.
If the wheel isn't fully cured, the coating will rub off when you apply methyl ethyl ketone solvent. Apply the solvent by wiping it on the wheel repeatedly, and if the coating rubs off, you didn't complete the curing process properly.
Cool the Wheels
Allow your finished wheels to cool fully, and they'll have a tough finish that's ready to stand up to regular performance demands. Set each finished wheel aside until it comes to a complete cool. The powder coating will keep moisture away from your wheels and help prevent rust and corrosion over time.
How Does the Powder Coating Process Work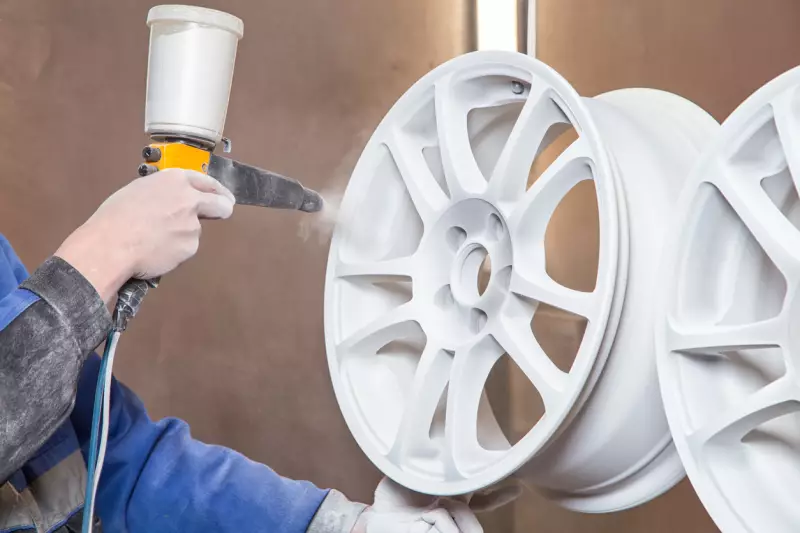 Now that you know the steps behind powder coating a set of wheels, you can effectively protect your wheels with enough practice. Knowing how to achieve an even powder coat finish doesn't explain how the process actually works, though. Learn to understand how the process works, and you'll be able to achieve even better results.
Powder coating is an interesting finishing process that's achieved by combining special polymers together through a heating process to create one finished protective layer. The wheel is grounded, and the powders get a special charge applied to them that attracts them to the grounded metal. That means once you spray the coating powder over your grounded wheel, the powder will stick to any non-coated section of the wheel to create a uniform layer. The coating process is simple, and it relies on science to make a nice uniform layer.
Once the coating is applied, the wheel is placed in a hot oven where the different compounds react with one another to form one cohesive layer. This is the final powder coat finish you're familiar with, and it's the protective layer you can count on to keep your wheels safe.
How Long Does it Take To Powder Coat Rims?
On average, it takes approximately two hours to powder coat a single wheel. Most professionals can coat a full set of wheels within a single day and even faster when using equipment large enough to accept several wheels at once.
When you're new to working with powder coating and you're doing your first set of wheels, you should expect to spend more time than what professionals require. Take your time sandblasting each wheel fully and achieving a complete powder coat finish in the spray booth. You must carefully time the curing process properly, but all the other steps will likely take you longer to complete, and that's okay as long as you finish each step properly.
How Long Do Powder-Coated Wheels Last?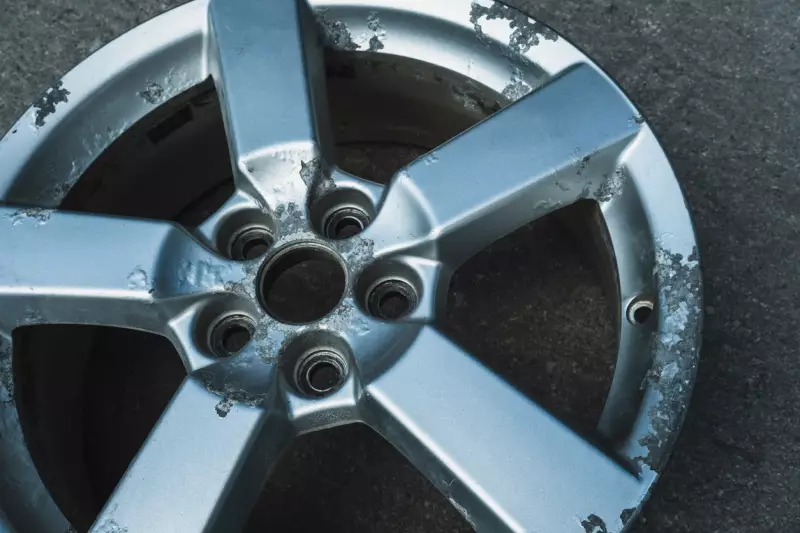 On average, you can expect powder-coated wheels to last three times longer than a wheel's standard paint finish. Most experts agree that the maximum lifespan you can expect from a set of powder-coated wheels is 20 years. Wheels that are used in harsh environments won't last the maximum amount, but no matter how you intend to use your new wheels, they will hold up better with a powder coat finish than they would otherwise.
Knowing how to powder coat wheels properly enables you to change the color and style of your wheels whenever you want to. The process is straightforward, but you'll likely have to practice through many small applications before you're prepared to treat full-sized wheels. Try coating small parts and work your way up to your vehicle wheels for the best results.
Not everyone can achieve good results with powder coating wheels, and some people decide to leave the process up to the professionals. Powder-coated wheels are an excellent upgrade to make to a used vehicle. If you're considering purchasing a specific vehicle, but don't like the wheels, think about how powder coating the wheels for a new finish. While researching the vehicle, you should consider a vehicle history report as well to help you avoid poorly maintained vehicles or cars that have been through major accidents.