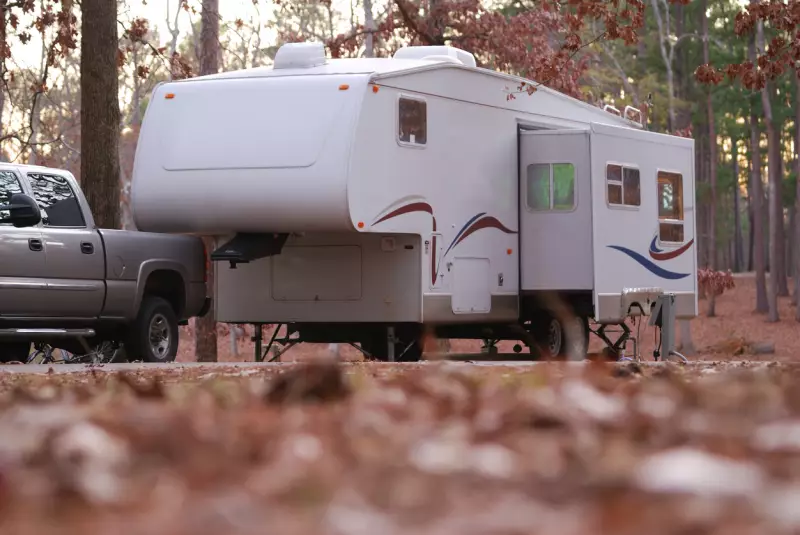 While you may not be familiar with the name of them, you've probably seen the huge trailers being towed behind pickup trucks, especially during the summer months. These trailers are called fifth wheels, and they're comfortable living spaces that many families are using to camp now. If you're interested in camping in different locations, and you want to do so comfortably, a fifth wheel could be the perfect traveling home for you and your family. If you're still wondering "What is a fifth wheel trailer?" or "Why is it called a fifth wheel?", keep reading and learn all the specifics about these impressive camping trailers.
What is a 5th Wheel?
If you're wondering, "What is a fifth wheel camper?" the answer is a huge trailer that gets towed by a pickup truck or similar vehicle equipped with a specialized hitch. The hitch must be installed in the bed of your pickup truck, and it connects to the trailer at a special connecting point known as the kingpin. These huge trailers are often luxurious, and they feel more like small apartments on wheels than they do like campers. A well-equipped fifth wheel will make you feel like you're bringing home with you on the road, and some families live in their fifth wheels year-round with good results.
Why is it Called a Fifth Wheel?
If you're wondering, "What's a fifth wheel?" You're probably actually wondering, why do they call it a fifth wheel. Like many other things, fifth wheels have their name for historical reasons. These large trailers are called fifth wheels because the heaviest horse-drawn carriages had to be equipped with a fifth wheel configured horizontally to enable them to turn effectively. A modern fifth wheel doesn't actually have the horizontal wheel, but it has a fifth wheel hitch that serves as that extra pivot point, just like the wheels on horse-drawn carriages. The concept is very similar, so it makes sense to bring the name forward in these luxury travel trailers.
What are the Main Benefits of a 5th Wheel?
Having a large luxurious travel trailer to hop in when you're ready to take a trip is extremely convenient. You have your own living space equipped with furniture and supplies that you're used to. You already know what the living space is like, so you'll feel at home no matter where you travel. Fifth wheels are allowed at most camping sites and RV parks, giving you many locations to stay. Some of these massive trailers provide up to 500 square feet of living space, making them feel like small apartments you can take with you everywhere.
Is a Fifth Wheel Better than a Motorhome?
If you're thinking of getting a fifth wheel, you've likely probably also considered a motorhome. Motorhomes give you the vehicle and the living space in one, but they can be more costly to purchase if you already own a capable towing vehicle. If you need to purchase a truck as well as a fifth wheel, a motorhome may be the more affordable alternative for you. Motorhomes come with another downside that many people don't consider, though, the need to tow a vehicle along as well.
With a motorhome, you'll either have to travel to grocery stores and do your everyday driving with the motorhome itself, or you'll have to pull a vehicle behind the motorhome during your travels. When you use a fifth wheel, you have your trailer and your auxiliary vehicle both as standard. This also means that when you want an upgrade, you can swap your truck or your trailer individually and aren't required to upgrade the whole setup all at once. While some people prefer an RV for its simplicity, many people enjoy having a separate trailer and truck and the flexibility that offers.
Determining if Your Vehicle Can Pull a Fifth Wheel Travel Trailer
Fifth wheels start off as light as 2,400 lbs, but some of the largest can weigh upwards of 24,000. If you're seriously thinking about investing in one of these trailers, you must verify you have a strong enough truck to tow them. Get accurate data about your truck's towing capabilities by searching its specifications using your VIN number. Once you know exactly how much tongue weight and towing weight your pickup can handle, you can move on to choosing a trailer that's within those limits.
Start by verifying the fifth wheel you want won't put too much tongue weight on your pickup because this is often the limiting factor with modern trucks. You should choose a trailer that isn't more than 80% of the maximum tongue weight that your pickup can handle. Do the same for the towing weight figures your truck offers, and you'll know you can handle the fifth wheel when it's loaded with your valuables.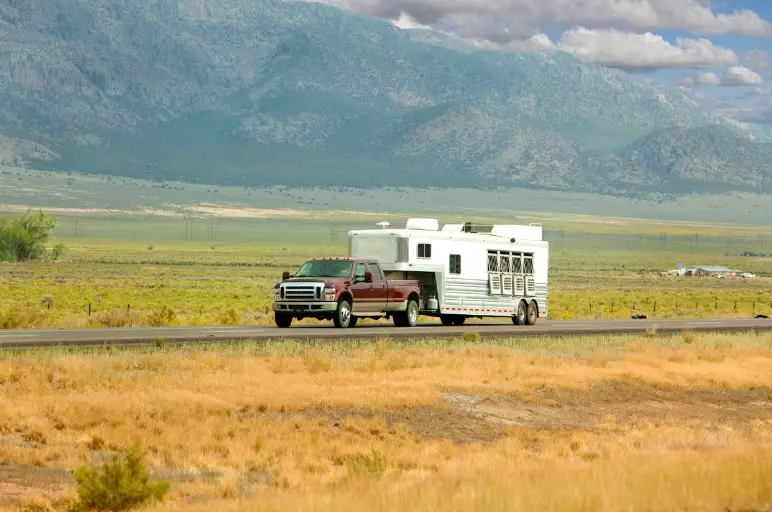 If your current vehicle can't handle the weight of a fifth-wheel trailer, it may be time for an upgrade. You'll likely want to get a dual pickup truck or a truck that has two sets of wheels at the rear to help it handle more towing and tongue weight. When looking at the different truck options in your area, look closely at all the towing specifications for the vehicle, check that regular maintenance tasks are being completed on the vehicle, and look at a vehicle history report to be sure you're getting a truck that hasn't been in any serious accidents. If you do your research carefully, you can get a truck that's capable of towing the type of fifth wheel you want, and that is in good condition.
Common Fifth Wheel Trailer Maintenance Tasks
While you'll want to wash your fifth wheel down regularly using a pressure washer, and it will take work to maintain your tires, the most important maintenance task you'll face is for the hitch. You must wipe off excess grease over time and regularly apply specialized lubricant to allow your trailer to swivel properly as you drive. Maintaining the hitch is essential or your fifth wheel could become dangerous as you drive.
A fifth wheel is a significant investment, but one of these trailers will give you a comfortable place to stay when you're at a campground or even when you're relaxing in a field. Carefully choose the fifth wheel you like best, and enjoy a more comfortable type of traveling and camping.