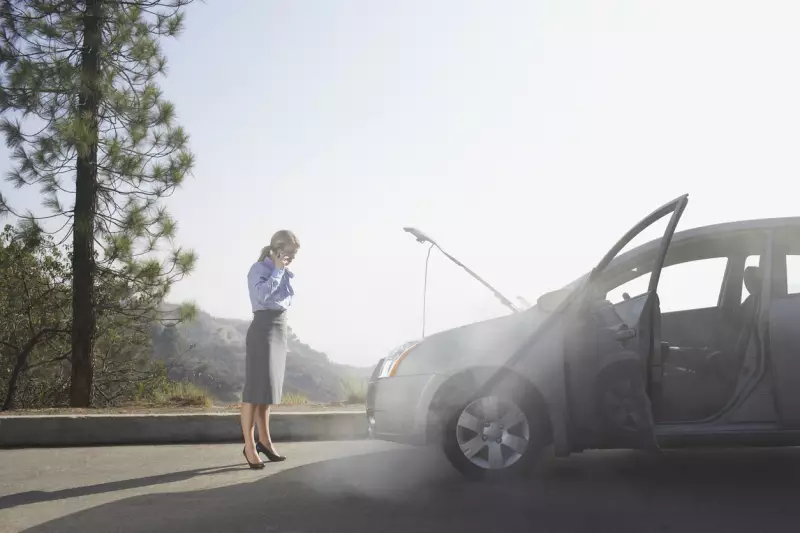 Car engines rely on a process known as combustion, which is essentially a controlled explosion to move around. This process generates an incredible amount of heat, and that heat can do damage to your vehicle if it isn't managed properly. That's why vehicles are equipped with a cooling system that keeps the engine from getting too hot. Unfortunately, those systems can fail, and when they do, your car will be left with an engine that's overheating and won't function properly any longer. Learn what to do in that situation and how to react if you have an overheating vehicle.
Causes of Car Overheating
There are several reasons that cars overheat. If you want to know why do cars overheat, you have to look at the engine and cooling system. If there is a problem with the cooling system, your engine will rapidly overheat. These systems are complicated and rely on many moving parts, and any of those parts could lead to an overheating issue.
The coolant level is too low
The water pump is broken or malfunctioning
Your vehicle's belts or hoses aren't working properly
The heater core is full of gunk
The radiator is broken
The oil level in your vehicle is very low
Any of these issues could be causes of your car overheating. A few of these problems you can attempt to resolve yourself, but many should be handled by a professional. Either way, you should now have at least a basic understanding of the answer to the question, why do cars overheat?
What To Do If Car is Overheating
There is an engine temperature gauge in most vehicles that lets you know how warm or cold your engine is. If the gauge goes up into the red, then your engine is overheating and may suffer damage or stop functioning. This is a serious situation that indicates an engine or cooling system problem, and it's something you must react to as soon as you notice the issue.
Pull Over Immediately If You Can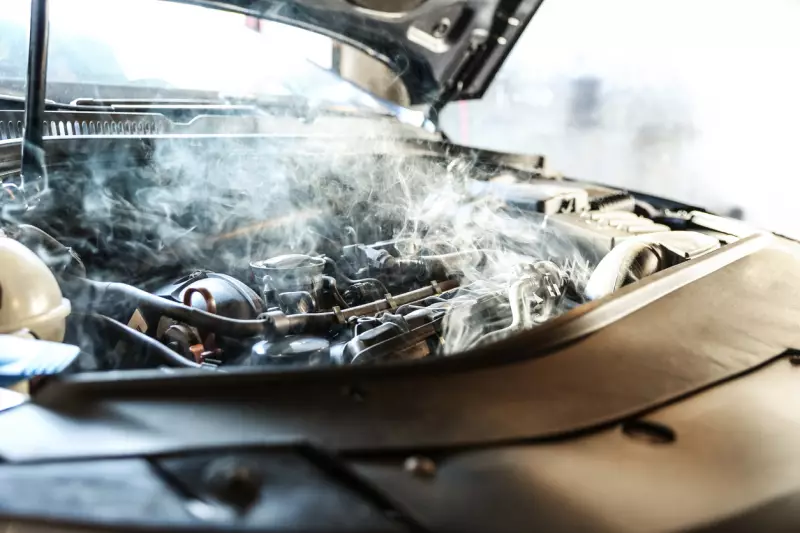 If your engine is overheating, it's likely operating dangerously and could even take damage. Chances are good that your engine will shut off on its own, but if you notice the engine temperature rising to the red, you should pull over as soon as possible so you can evaluate your vehicle.
Check Oil and Coolant Levels
Both the oil and coolant levels should be in the appropriate range to keep your vehicle functioning properly. To check the oil level, you must remove the oil dipstick from under the hood of your car, wipe it off, reinsert the stick, and pull it out before looking at it. Look at the readings on the stick closely in sunlight to see where the oil level reads. It should be at the full line. If there is some oil on the stick, but it doesn't reach full, it's slightly low. If there is no oil on the stick, your oil level is dangerously low, and you need to add oil and look for a leak immediately.
How to Add Oil to a Car
Adding oil to your vehicle is easy, and you can do it with your engine warm if you like. Begin by raising the hood of your vehicle. Now unscrew the oil fill cap close to the oil dipstick. Insert a funnel into the filler neck and begin pouring the proper oil type into your vehicle to raise your level to where it needs to be. The hatch marks on the dipstick indicate how much oil you must add. One quart will raise the stick height from the bottom of the hatch marks to the full line, so add part of or an entire quart of oil to get your oil level high enough.
How to Add Coolant to a Car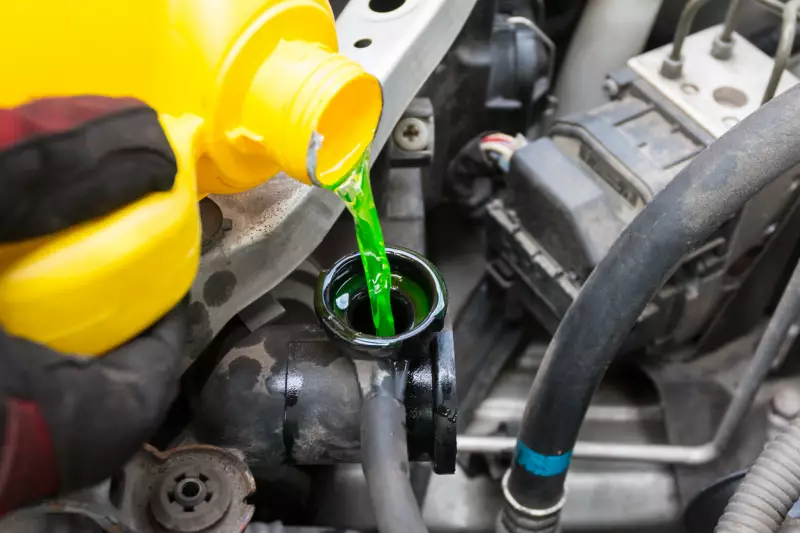 If you determine that your coolant levels are low, you must add more coolant to get your system functioning properly again. Let your vehicle sit off for long enough for your engine to cool fully. Once it's cool, you can slowly open the coolant reservoir cap and release the remaining pressure in your cooling system. Now, use a funnel to pour in a 50/50 coolant solution into your reservoir until the level reaches the cool line. This is where your coolant should be to function properly.
Turn on the Heater Inside
If your car is struggling to get rid of engine heat, you can help by turning the heat as high as it goes and turning on all your blowers as much as possible. Your vehicle's heating system takes heat from the engine and uses it to warm up your vehicle's interior. By turning the heat up, you remove some of the heat that's building up in your engine, and you help cool things down. Just running your heaters at full blast isn't likely to be enough to keep your overheating engine cool, but it should help a bit.
Open All Your Windows
Along with turning the heat on fully, you should open all the windows of your vehicle too. Having your windows open makes it easy for any of the released heat to escape out of your vehicle quickly. You'll probably want the windows open anyway to keep the interior of your car from getting too hot if the heating system is working well.
Go See a Mechanic
If you aren't sure why your vehicle is overheating, but you're dealing with overheating issues each time you try to drive, you have a serious problem that must be resolved soon. Talk with a local mechanic about your engine temperature warning light and the possible problems you may be facing. The mechanic should be able to tell you who is my engine overheating so you know what repairs need to be made. The mechanic will give you a price quote and repair the issues for you as long as you can pay for them.
Learning Why Cars Overheat Can Help You Avoid Problematic Vehicles
By learning how to spot when a vehicle's engine is overheating, how to react immediately after you notice the issue, and some potential problems that lead to engine overheating, you can handle the issue effectively. If you're shopping for a vehicle and you notice that it's overheating, you should avoid purchasing it at all costs.
You can learn a lot about a car based on the warning lights that are on, and you should consider attaching an OBD-II tool to the vehicle while test-driving it to find out more information about it. You can also look at a car history report to find out who owned the car, some information on how it was cared for, and if it was in any accidents. All this information will help you handle an overheating car and help you avoid purchasing a vehicle that may regularly overheat.