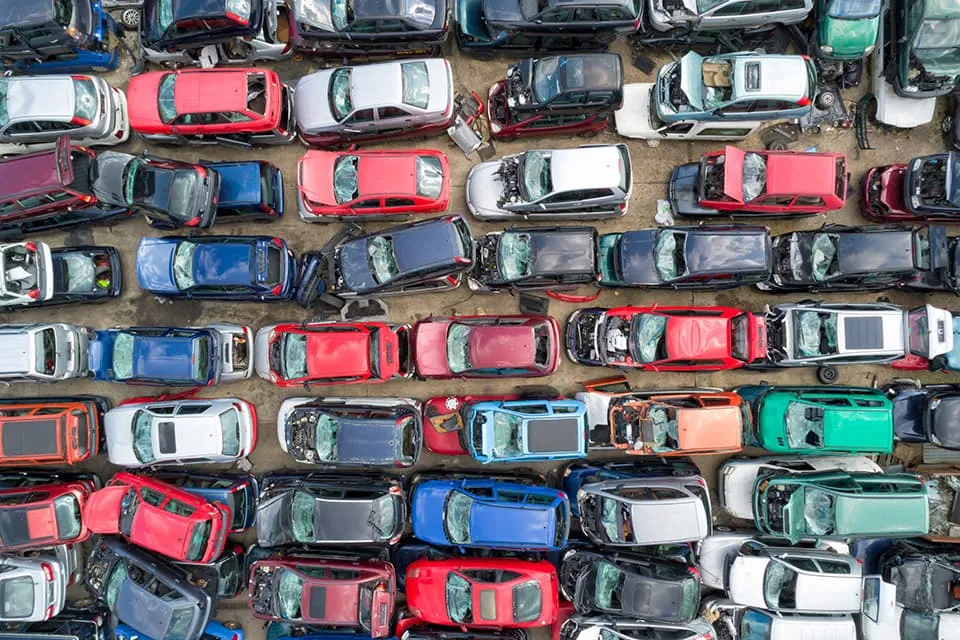 Title brands are notations on a vehicle's title indicating that it has suffered some sort of damage or event, making it less than perfect. A clean title means the car has never been in a serious accident, deemed a total loss, or been branded by the state.
Typically, when a car suffers damage that exceeds the car's value (75-90%) depending on the state, the Department of Motor Vehicles (DMV), or a similar state agency, will issue the vehicle a branded title. An insurance company usually determines if it would cost more to repair the car than it is worth.
Before buying a used car, it's essential to know about all different types of title brands and which ones to stay away from. Some vehicles with title brands may be a great deal, while others might cause you problems for years.
Below is the complete list of branded titles that you will see on GoodCar vehicle history reports.
Flood Damage
Fire Damage
Hail Damage
Saltwater Damage
Vandalism
Kit
Dismantled
Junk
Rebuilt
Reconstructed
Salvage / Damage or Not Specified
Test Vehicle
Refurbished
Collision
Salvage Retention
Prior Taxi
Prior Police
Original Taxi
Original Police
Remanufactured
Warranty Return
Antique
Classic
Agricultural Vehicle
Logging Vehicle
Street Rod
Vehicle Contains Reissued VIN
Replica
Totaled
Owner Retained
Memorandum Copy
Recovered Theft
Undisclosed Lien
Prior Owner Retained
Vehicle Non-conformity Uncorrected
Vehicle Non-conformity Corrected
Vehicle Safety Defect Uncorrected
Vehicle Safety Defect Corrected
VIN Replaced
Gray Market: Non-compliant
Gray Market: Compliant
Manufacturer Buy Back
Former Rental
Salvage / Stolen
Salvage / Reasons Other Than Damage or Stolen
Disclosed Damage
Prior Non-Repairable / Repaired
Crushed
Hazardous
Odometer Not Actual
Odometer Tampering Verified
Odometer Exempt from Odometer Disclosure
Odometer Exceeds Mechanical Limits
Odometer May be Altered
Odometer Replaced
Odometer Reading at Time of Renewal
Odometer Discrepancy
Odometer: Call Title Division
Odometer Exceeds Mechanical Limits Rectified
Pending Junk Automobile
Junk Automobile
Inoperable Vehicle
Export Only Vehicle
Parts Only
Some of the most common vehicle branded titles and their descriptions are:
Flood Damage - When a vehicle is submerged in water for a specific length of time, usually due to a flood, it may receive a flood-damaged title. Water damage can lead to mold, mildew, and corrosion of electrical parts. Therefore, it is usually best to steer clear of flood-damaged vehicles.
Fire Damage - Whenever a vehicle suffers damage by fire, the state DMV office may give it a fire-damaged branded title. The damage may be light or extensive.
Hail Damage - Hail is a problem throughout the U.S. and can cause a lot of damage to a vehicle, depending on the severity. However, typically, hail damage is only cosmetic, and these cars could be a great deal because you may pay for a well-running vehicle that has a few dents.
Vandalism - After a vehicle is stolen and held for a specific number of days, even if it is returned, the state may give it a vandalism title because the owner may never know what damage was done to the vehicle during its absence.
Lemon - Whenever a new car has a severe defect, and the owner takes it in for service but it cannot be fixed, the vehicle may be deemed a lemon. Each U.S. state has specific laws about what constitutes a lemon car. Usually, the car must be disabled for a certain length of time, and the owner has to bring it in for repairs three or more times without resolution.
Rebuilt - After a serious accident, an insurance company may deem a vehicle a total loss. Once they do that, a mechanic could potentially rebuild the car bringing it back to usable condition. After the repairs are completed, the state agency (usually the DMV) will have to inspect it, and that agency will issue a rebuilt title so it can be driven legally on the roads.
Salvage - A salvage title means that a vehicle suffered such extensive damage that it can no longer be driven legally. It can only be used for parts. Usually, these cars and trucks end up in salvage yards.
Odometer Rollback - When you see a car with an odometer rollback or other odometer branded title, it means the odometer was tampered with or replaced, and there is no way to know precisely how many miles are on the car. Because the mileage affects value, it could be impossible to evaluate the vehicle properly. According to the NHTSA (National Highway Traffic Safety Administration), there are more than 450,000 vehicles on the road today with incorrect odometers.
Junk - Unlike a salvage title vehicle, a junk car must only be used for parts and may never be rebuilt, repaired, or driven legally again.
Pros and Cons of Buying a Branded Title Vehicle
There are many pros and cons to buying branded title vehicles. Some common pros include:
Pros
It can be much cheaper to buy a branded title vehicle. If you can find one with minimal damage or enjoy fixing up cars, you could end up with a great deal.
Some brand-new cars stored outdoors may be hail damaged, and you could afford a new (slightly dented) vehicle rather than having to buy used.
Some cons to be aware of include:
Cons
Branded title cars are not great for resale, they aren't worth as much, and you may have trouble finding a buyer.
You may also have trouble insuring it or getting financing to buy a branded title car.
Even though the car may run and look fine, there could be severe mechanical, electrical, or other issues lurking beneath the hood.
You could end up spending more fixing a branded title car than buying a perfect car with a clean title.
How to Search for a Branded Title
When shopping for a new car, the first step is to thoroughly check it out using a VIN search. You can use the free tool with the National Insurance Crime Bureau (NICB) to see if the vehicle has been stolen or received a salvage title.
Before buying, you can use GoodCar to review a full vehicle history report, including problem checks, branded titles, odometer readings, accidents, sales history, value, specs, pricing, and much more!
Finding out if the vehicle has a branded title can save you more than just money; it can give you peace of mind.
Title Brands Frequently Asked Questions
What is a Branded Title on a Vehicle?
A branded title is a title that indicates that the vehicle was deemed a total loss by the insurer or was stolen, tampered with, or altered in some way, making it less than perfect.
What Does a Branded Title Mean on a Vehicle?
A branded title means that the car or truck suffered extensive damage in an accident, by weather, or another event and is not "clean". It may have undeclared damage that you cannot see and may not be a good option to purchase.
Is Branded Title the Same as Salvage?
A salvage title is a type of branded title. There are dozens of others, including fire, flood, hail, lemon, junk, salvage, rebuilt, and total loss.
What are the Types of Titles?
There are many different types of titles. Consult the list above to see all the available types of branded titles and what you might see on a GoodCar vehicle history report.
What is Title Washing?
When a vehicle suffers damage and has a branded title, sometimes criminals transport the car across state lines and register it clean with a new title. This practice is called "title washing", and it's illegal. Each U.S. state has different criteria to determine a branded title. Some damage in one state would mean the car would be labeled salvage, but it may not in another.
How to Avoid Buying a Car with a Branded Title
Always perform a VIN check before you buy a used vehicle. Find out all you can about its history and any brands, accidents, or other issues with it. You should also have a trusted mechanic look over the vehicle thoroughly before you make your decision to purchase. A good mechanic can easily spot issues you may miss. Only buy from a reputable, trusted dealer and stay away from private sales with branded titles.
Is it Safe to Buy a Branded Title Car?
It depends on the vehicle. Some may be less expensive but a good deal because the damage is only cosmetic. In other cases, the car may look fine from the outside but have serious mechanical or electrical issues. You want to be as careful as possible and arm yourself with as much information as you can before making a purchase decision.
FREE Vehicle Search
Accidents
Problem Checks
Title Records
Recalls
Values
Specs
InfoPay, Inc. (dba GoodCar) is an Approved NMVTIS Data Provider