It's important to dive into an essential skill every driver should have in their toolbox: changing a car battery. Whether you've experienced the frustration of a dead battery or want to be prepared for the unexpected, learning how to change your own car battery can save you time, money, and headaches. So buckle up and get ready to power up your knowledge on this vital automotive task!
Why Do Car Batteries Die?
Many ask why car batteries die or when to change a car battery that is acting up. Car batteries can die or act odd for several reasons, and understanding these factors can help you prevent them in the future.
One common reason for battery failure is as simple as age. As time passes, the chemicals within the battery break down and lose their ability to hold a charge. This is why replacing your car battery every few years is important.
Extreme temperatures can also take a toll on your battery's performance. Cold weather can cause the chemical reactions inside the battery to slow down, making it harder for it to start your engine. On the other hand, hot weather can lead to increased evaporation of fluids inside the battery, resulting in reduced capacity.
Another factor contributing to battery failure is leaving lights or other electrical devices on when your vehicle is not running. This drains power from the battery and reduces its overall lifespan.
Short trips or infrequent use of your vehicle can also lead to a drained or weak battery. When you don't drive regularly, your alternator has less time to recharge the battery fully.
To avoid experiencing a dead car battery unexpectedly, consider implementing proactive maintenance practices such as regularly checking for corrosion on terminals and ensuring they're clean and tight. Additionally, keeping track of how old your current battery is will give you an idea of when it may need replacement soon.
How to Tell if Your Car Battery is Dying
One of the most frustrating situations a driver can find themselves in is being stranded with a dead car battery. To avoid this inconvenience, it's important to be able to recognize the signs that your car battery is on its last legs.
One telltale sign that your car battery is dying is if you experience difficulty starting your vehicle. If you notice that it takes longer for your engine to turn over or if it doesn't start at all, this could be an indication of a weak or failing battery.
Another clue that your car battery may be dying is if you frequently need to jump-start your vehicle. While needing a jump-start once in a blue moon might not raise any red flags, having to do so regularly suggests that there may be an underlying issue with the battery.
Pay attention to how well your electrical components are functioning. Are the lights dimming or flickering? Is the radio cutting out unexpectedly? These could all point towards a weakening car battery.
If you notice any of these signs, it's time to get your car's battery tested by a professional. They will be able to determine whether it needs replacing or if other issues are contributing to its decline.
Tips for Maintaining Your Car Battery
When it comes to your car battery, a little maintenance can go a long way in ensuring its longevity and performance. Here are some essential tips to help you keep your car battery in top shape.
First and foremost, make sure to regularly check the battery's terminals for any signs of corrosion. If you notice any build-up or dirt on the terminals, clean them with a mixture of baking soda and water. This will help prevent any potential electrical issues caused by poor connections.
It's also important to keep an eye on your battery's fluid levels. Most modern car batteries are sealed and require no maintenance, but if you have an older model that requires topping up, be sure to use distilled water only.
Extreme temperatures can take a toll on your car battery's performance, so try not to expose it to excessive heat or cold for prolonged periods. If you live in an area with extreme weather conditions, consider investing in insulation for added protection.
Another tip is to avoid leaving accessories or lights on when the engine is off. This can drain the battery unnecessarily and shorten its lifespan.
If you don't drive your car frequently or plan on storing it for an extended period of time, it's advisable to invest in a trickle charger or disconnect the negative terminal altogether. This will ensure that your battery stays charged during periods of non-use.
The Basics of How to Change a Car Battery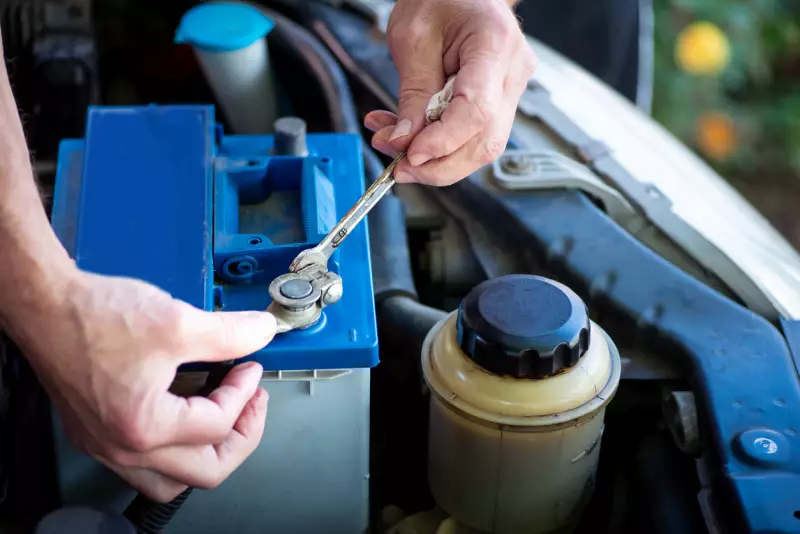 Changing a car battery may sound intimidating, but it's actually quite simple. With just a few basic tools and some careful steps, you can easily replace your old battery with a new one.
First, make sure the engine is turned off and the keys are out of the ignition. Park your car in a safe location away from traffic. It's always best to wear gloves and safety goggles for added protection.
Next, locate the battery under the hood. Most batteries are located near the front of the engine bay. Once you've found it, identify which terminal is positive (+) and which is negative (-).
Using a wrench or socket set, loosen and remove the nut or bolt securing each cable to its respective terminal. Start with the negative cable first (usually black), followed by the positive cable (usually red). Be careful not to touch both terminals at once with any metal objects.
After removing both cables, carefully lift out the old battery from its tray or holder. Dispose of it properly at an authorized recycling center as car batteries contain hazardous materials that should not be thrown away in regular trash bins.
Now it's time to install your new battery! Place it into position in reverse order - start by connecting the positive cable first (red), followed by the negative cable (black). Make sure they're securely tightened onto their respective terminals.
Once everything is connected properly, double-check all connections before closing your vehicle's hood. Congratulations! You've successfully changed your car battery!
Remember that proper maintenance plays an important role in prolonging your car battery's life span. Regularly inspect for corrosion on terminals and clean them if necessary using baking soda mixed with water.
In addition, try to avoid leaving electronics plugged in when your vehicle is turned off as this can drain power from your battery over time. If you ever need further guidance, GoodCar is always here to help!
How Long Does It Take to Change a Car Battery?
Changing a car battery is a relatively simple task that can be done by most people with basic automotive knowledge. But one question that often arises is, "How long does it take to change a car battery?" Well, the answer may vary depending on several factors.
Your experience level plays a significant role in determining how quickly you can change a car battery. If you have never done it before and are unfamiliar with the process, it might take you longer to complete the task compared to someone who has changed batteries multiple times.
The type of vehicle also affects the time required for this task. Some vehicles have easy access to their batteries and require minimal effort to replace them. On the other hand, certain models may have more complex setups or hidden battery compartments that make removal and installation more time-consuming.
Additionally, external factors such as weather conditions and available tools can impact how long it takes to change a car battery. For example, if you're working in extreme temperatures or don't have all the necessary tools readily available, it could slow down the process.
Changing a car battery should not take more than 30 minutes for someone with average mechanical skills and standard accessibility. However, keep in mind that unexpected complications or difficulties during installation can extend this timeframe.
If you're unsure about changing your car battery yourself or want some guidance through each step of the process, there are numerous online tutorials and videos available that can help walk you through it visually.
How to Prolong the Life of Your Car Battery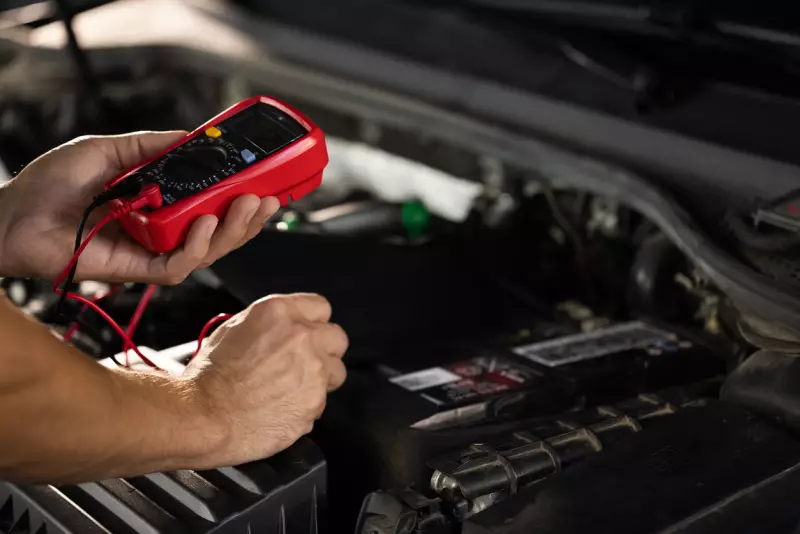 One of the key factors in prolonging the life of your car battery is proper maintenance. Regularly inspecting and cleaning your battery can help prevent corrosion and other issues that could shorten its lifespan. Start by visually checking for any signs of damage or leakage. If you notice anything out of the ordinary, it may be time to replace your battery.
To keep your battery functioning optimally, ensure it's securely fastened to prevent excessive vibration. Loose connections can lead to poor electrical contact and decrease the efficiency of your battery.
Extreme temperatures can also take a toll on your car battery's performance. Park in shaded areas when possible during hot summer months to reduce heat exposure. In colder climates, use engine block heaters or consider investing in a cold-weather battery that's designed for lower temperatures.
Another tip is to limit short trips as much as possible. Frequent starts without giving enough time for the alternator to recharge the battery can drain its power over time.
If you plan on storing your vehicle for an extended period, disconnecting the negative terminal from the battery will help prevent any slow energy drains while it's not being used.
Let GoodCar Help You Learn to Buy and Maintain Your Vehicle for Life
When it comes to car maintenance, knowing how to change a car battery is just the tip of the iceberg. GoodCar understands that owning a vehicle is a long-term commitment, and we are here to help you every step of the way.
Our team of experts is committed to providing you with valuable resources and advice on buying and maintaining your vehicle for life. Whether you need tips on choosing the right model, understanding financing options, getting a reliable vehicle history report, or learning about routine maintenance tasks like changing a car battery, GoodCar has got you covered.
So why wait? Let GoodCar be your go-to resource for all things automotive. Join us and make sure that buying and maintaining your vehicle becomes an enjoyable experience rather than a daunting task! Together with GoodCar's expertise by your side, you'll be cruising smoothly down the road for many miles ahead!