Many people talk with a mechanic only to learn that they need a tire alignment. This process is basic and quick, but how much time should you expect overall? If you've never had this work done, you're likely wondering, "How long does a tire alignment take?". With most alignments, it takes approximately 60 minutes to finish the job. 60 minutes isn't always what you'll wait, however, because there are extenuating circumstances too. Find out about the different alignment types and signs that you need an alignment.
What is a Tire Alignment?
The tires on your vehicle are carefully angled to provide the perfect contact with the roads you drive on. Most tires aren't perfectly straight up and down but set at an angle for improved cornering, grip, and overall handling. These angles get messed up with time and eventually cause your vehicle to stop performing well. If you notice that your tires have worn out beyond what a tire alignment can fix, it's important to consider when to replace your tires. When you get a tire alignment, professionals are carefully adjusting your wheel angles to get each of your tires facing how they were meant to be.
Now you know what an alignment is and that you'll need them sometimes. With that info, you're probably wondering, "How long does a tire alignment take?". Learn what time you can expect and other important details about alignments below.
How Long Does a Front-End Alignment Take?
When you're wondering how long does a tire alignment take, the answer is about one hour. This is what you should expect for front-end alignment jobs. They are the most common type, so it's a good rule to follow. If you need a thrust alignment, which involves a rear solid axle, the time will be about the same, but you may spend a bit more on the service. Either way, expect to wait one hour to have your wheels properly aligned.
How Long Does a 4-Wheel Alignment Take?
When you need a 4-wheel alignment job, you'll wonder how long does it take to do an alignment involving all four wheels. The truth is that it takes about the same amount as any other wheel alignment, 60 minutes. If you don't have suspension or steering issues, a single hour is all that's required. If there are other issues, you'll wait longer.
What Are the Three Types of Tire Alignment?
Before considering how long does a car alignment take, you should understand the different types of tire alignment. Different vehicle types require different alignments. You should learn which type is going to work best for your vehicle before you have work done. There are three alignment types you should know about, a front-end alignment, a thrust alignment, or a 4-wheel alignment; each is meant for a certain type of vehicle.
1. Front-End
When you have a two-wheel drive vehicle, you can often only get a front-end alignment with good results. This will come at a lower cost and should still give you good results. A front-end alignment only works on the two wheels connected to your front axle.
2. Thrust
A thrust alignment is the best type for vehicles with a solid rear axle. A thrust alignment aligns your two front wheels along with your rear axle, getting them nice and straight.
3. 4-Wheel
A 4-wheel alignment gets all four of your vehicle's wheels aligned with one another. This is the type of alignment to get for a 4-wheel drive vehicle. You'll wait one hour to have a 4-wheel alignment done, but you'll spend the most because it's the most difficult type.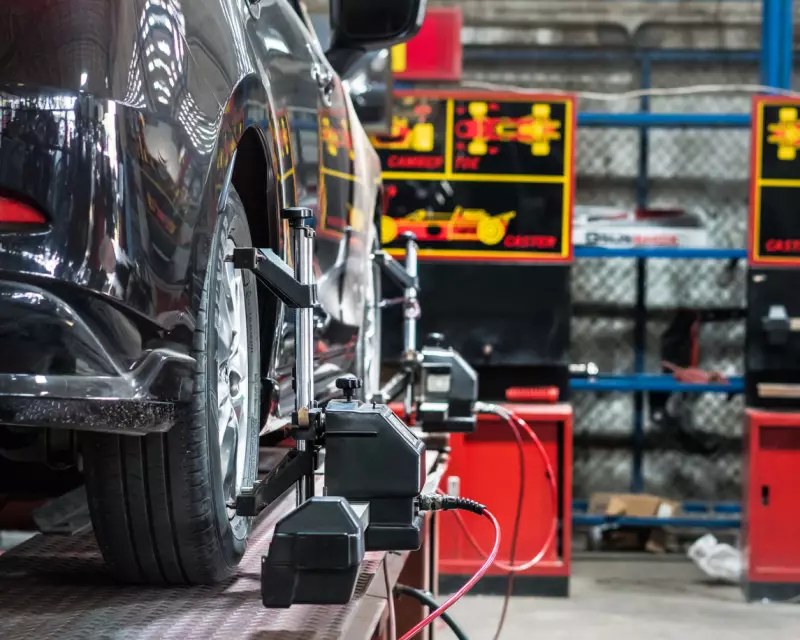 Factors that Slow Down the Alignment Process
Most standard wheel alignments take 60 minutes. You should wait the same time for 2-wheel and 4-wheel alignments, but you need to consider additional factors. If there are any problems with your vehicle, that's going to slow the process down substantially. Your vehicle may have excess wear, forcing the mechanic to make additional repairs and part replacements to your wheels themselves. In addition to these factors, maintaining proper tire pressure is crucial to ensure the success of your alignment. Proper tire pressure not only affects alignment but also plays a significant role in overall tire performance and longevity.
It's also possible you have damaged components in your suspension system or your steering system. If there are problems with either of these systems, the problems must be resolved before you get your alignment. Usually, you'll get a call from your mechanic explaining the additional issues and the cost and time involved in repairing the problem. Add this time to your initial 1-hour time for performing the alignment, and you'll have your new total for the project.
How Often Should You Get an Alignment?
For most vehicles with standard wear and tear, you won't need to get an alignment more than once every two years. You should have your alignment tested at least once a year, though, to avoid wearing your tires out prematurely or doing harm to the rest of your steering or suspension system.
Signs of Poor Wheel Alignment
The most obvious sign of poor wheel alignment is your vehicle pulling to the side, but you may also notice your tires wearing unevenly and shaking or weird vibrations as you drive. If you have problems like poor handling or uneven wear, you need to consider an alignment.
The Dangers of Misaligned Wheels
Driving your vehicle with poorly aligned wheels for an extended period can cause all sorts of issues and may put you in danger.
Vehicle pulls

Shaking while driving at high speeds

Bumpy driving conditions

Uneven tire wear

Rapid tire wear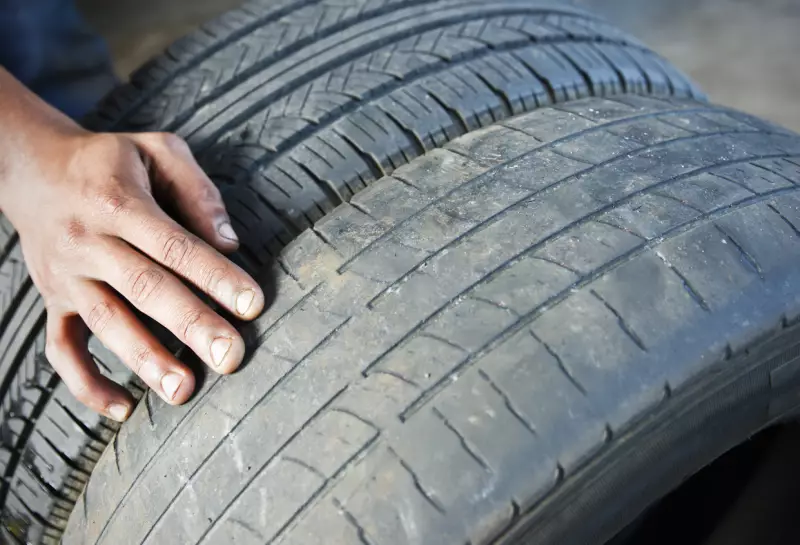 Driving with a poor alignment will wear your tires faster and cause them to wear in a strange pattern. You'll notice a bumpy or shaky ride in some instances, and your steering will pull to the side of the road as you drive. Eventually, you could do damage to your steering system because of poor alignment, or you could experience a tire blowout. Driving with a poor alignment is unpleasant and could become unsafe as well if left untreated for long enough.
Keep Your Wheels Aligned for Long-Term Reliability
Whether you're caring for your own vehicle or picking out a used car, it pays to look for signs of poor alignment. When testing used cars feel for pulling in the steering, and look for uneven tread wear when evaluating the vehicle. These are signs that it has a poor alignment and hasn't been cared for well. You should also look at a car history report to learn more about what work has been done on the vehicle and any potential accidents it's been in. Whether you're buying a used vehicle or you're taking care of your car, the tire alignment matters. Care for your vehicle's alignment and prevent steering and tire damage and excessive wear.