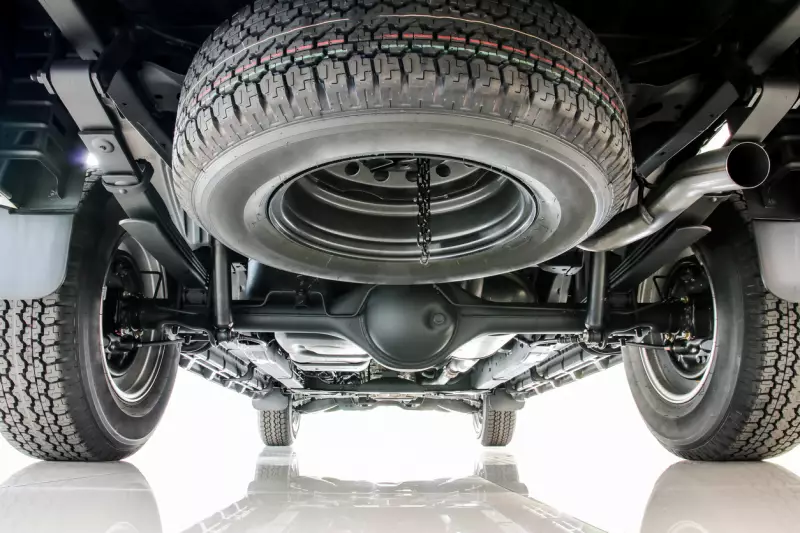 When engaging in the necessary research associated with the important decision of what car you should buy, it is important to be aware of the different options you may encounter. This awareness will allow you to make the best choice for you and your family. One choice you might encounter are rear-wheel drive (RWD) vehicles. RWD cars transmit power from the engine to the ground through the rear wheels.
In contrast, front-wheel-drive (FWD) vehicles send power to the front wheels. RWD automobiles have been around for more than a century and have long been a favorite among enthusiasts because of how well they handle. The main characteristics, advantages, and disadvantages of RWD vehicles will be covered in this article.
What is Rear Wheel Drive?
Rear-wheel drive (RWD) is a type of powertrain system where the car's rear wheels get power from the engine. While the front wheels are in charge of guiding the car, the rear wheels are in charge of power transmission. Front-wheel drive (FWD), on the other hand, transfers engine power to the front wheels.
The transmission and drive shaft are found at the back of RWD vehicles. This equalizes the weight distribution of the car's front and back, which may result in superior handling qualities.
Rear-Wheel Drive vs Front-Wheel Drive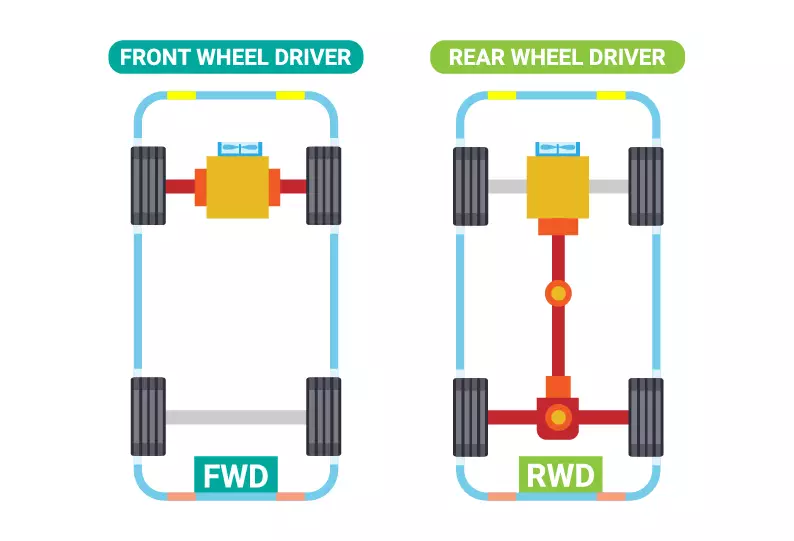 The way power is distributed to the wheels in RWD and FWD vehicles varies. In FWD vehicles, the front wheels receive power from the engine. Both power transmission and steering are carried out by the front wheels, which can lead to a more compact drivetrain and higher fuel efficiency.
On the other hand, RWD vehicles are renowned for their better handling qualities. Better grip and control may result from the weight of the vehicle being divided more equally between the front and back axles. RWD vehicles also have larger wheelbases, which can increase stability during maneuvers at high speeds.
The fact that RWD vehicles might be more enjoyable to drive is another benefit. Power is transferred to the back wheels, which may provide for a more dynamic and thrilling driving experience. Since they may offer faster acceleration and greater peak speeds, RWD automobiles are also appreciated by performance buffs.
RWD vehicles, however, might provide more of a challenge to drive in some circumstances. In slick terrain, such ice or snow, they may be more difficult to steer as the rear wheels may lose grip more quickly. RWD vehicles can also cost more to produce because their drivetrains require more intricate parts.
Benefits of Rear-Wheel Drive Cars
1.Superior Handling
RWD automobiles' greater handling abilities are one of the main advantages. Better grip and control are made possible by the weight distribution between the front and rear wheels of the vehicle, which can also enhance handling during maneuvers at high speeds. Moreover, the larger wheelbase of RWD vehicles helps increase stability and lessen body roll when cornering.
2. Better Acceleration
Compared to FWD vehicles, RWD vehicles may accelerate more quickly. The front and rear axles of the automobile are more uniformly loaded, which can improve traction and allow more power to be delivered to the wheels. Faster acceleration and higher peak speeds may result from this.
3. More Fun to Drive
Because of their performance potential and fun-to-drive nature, RWD vehicles are frequently favored by enthusiasts. Power is transferred to the back wheels, which may provide for a more thrilling and dynamic driving experience. RWD vehicles may also be more receptive to feedback from the driver, further improving the driving experience.
4. Durability
RWD automobiles are renowned for their dependability and longevity. Compared to FWD automobiles, the drivetrain parts are often more durable and long-lasting. Over the course of the vehicle's life, this can lead to cheaper maintenance expenses and fewer repairs.
5. Better Towing Capacity
As a result of their greater weight distribution and improved traction, RWD vehicles are frequently used for towing. The front and rear axles of the automobile carry the weight of the vehicle more equally, which helps increase control and stability when hauling large loads. While towing a trailer, the improved grip the rear wheels give can also minimize slippage and wheel spin.
6. Better Performance
RWD systems are frequently found in high-performance automobiles like sports cars and muscle cars. RWD cars can perform better during high-speed driving and track racing because of their improved handling and balanced weight distribution. In addition to having stronger engines and better braking systems, RWD automobiles frequently offer superior handling as well.
7. Classic Styling
RWD vehicles frequently have traditional style and design. During their histories, several recognizable automobiles, such as the Ford Mustang and Chevrolet Corvette have been RWD models. RWD vehicles frequently have long hoods, short decks, and low-slung profiles, which may give them an aggressive and sleek image.
8. Better Resale Value
RWD vehicles frequently retain their value better than FWD vehicles. This is due to the fact that RWD cars are frequently linked to high-performance and luxurious automobiles, which have a long value retention history. Also, RWD vehicles may sell for greater money since enthusiasts may find them more appealing.
Challenges of Rear-Wheel Drive Vehicles
As outlined, RWD vehicles come with numerous advantages, but they also have some significant drawbacks. On slick terrains like ice or snow, RWD automobiles might be more challenging to manage since the rear wheels can lose grip more quickly. RWD vehicles often feature larger, more intricate drivetrains, which contributes to their higher average fuel consumption.
The price of RWD vehicles is another issue. Drivetrains with RWD need more intricate and pricey parts, including a separate transmission and differential. This may raise the price of producing and buying RWD automobiles.
Maintenance of Rear-Wheel Drive Vehicles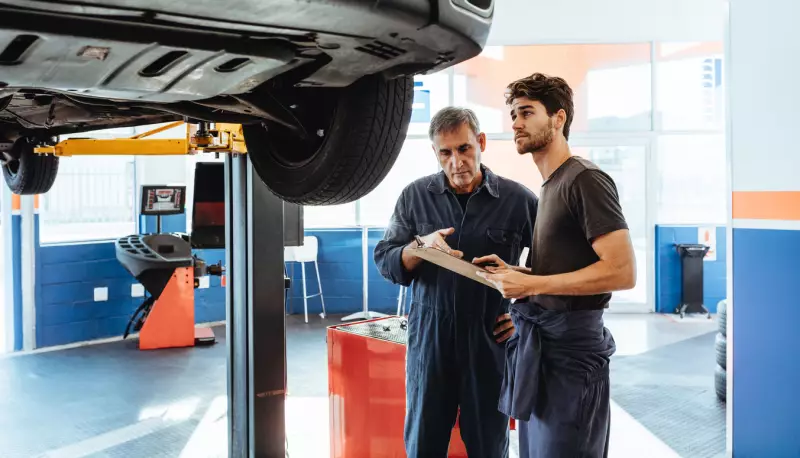 For RWD automobiles to run well and last a long time, proper maintenance is essential. The following maintenance procedures will keep your RWD car in top condition:
Regularly change oil: Frequent oil changes are necessary to ensure that the engine and drivetrain are properly lubricated. You should replace your car's oil every 3,000 to 5,000 miles.
Check and replace fluids: Fluids should be regularly inspected and replaced as necessary. Check the gearbox, differential, and brake fluid levels.
Tire rotation: To guarantee even wear and improved handling, rotate your tires often.
Brake inspection: Consistently check the braking calipers, rotors, and pads for wear and replace them as necessary.
Suspension inspection: Examine the suspension system for wear and damage, and replace any deteriorated or worn-out parts.
Keep the car clean: Maintain the cleanliness of your vehicle by regularly washing and waxing it to protect the paint and stop corrosion.
Let GoodCar Help You Learn More About Rear Wheel Drive Cars
RWD vehicles have various advantages, such as better handling, quicker acceleration, and more exciting driving. RWD cars might keep their value better than FWD cars since they are frequently linked with high-performance and luxurious automobiles. RWD vehicles do, however, come with some significant drawbacks, such as increased fuel consumption and a harder time managing in slick conditions.
Owners should routinely check and replenish fluids, rotate tires, check the brakes and suspension, and maintain the car clean in order to ensure the longevity and performance of RWD vehicles. Please take this all into consideration when choosing the right vehicle for you and your family. If you have any questions, contact us here at GoodCar today!