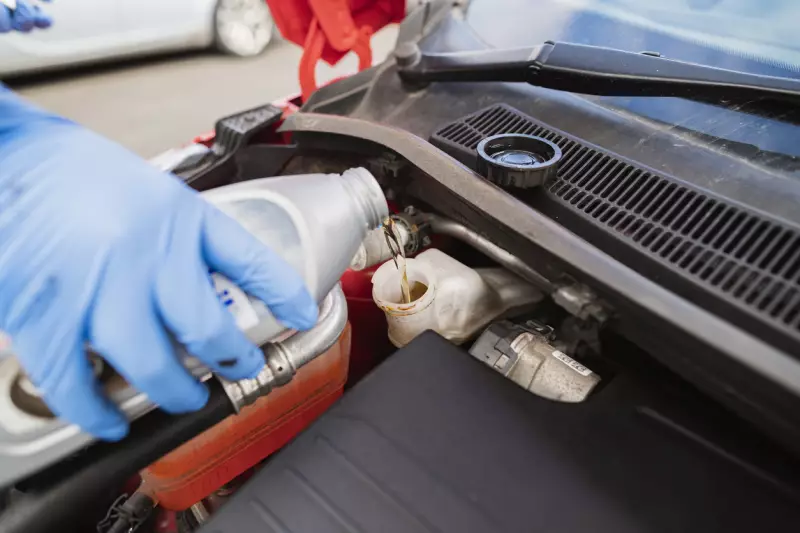 Brake fluid is an essential liquid that runs throughout the brake system in your vehicle. This fluid is essential for stopping your vehicle, but there is more to know about it than that. Take some time to learn how to check your brake fluid levels and refill your vehicle's brake fluid to stay safe while driving your vehicle.
What is Brake Fluid?
If you've ever wondered what car brake fluid is, the simple answer is that it's a hydraulic fluid used to convert mechanical pressure created when you step on the brake pedal into hydraulic pressure that presses your brake pads into your rotors or drums and slows your vehicle.
Brake fluid is made of toxic liquids such as diethylene glycol or polyalkylene glycol ethers and is designed to handle extreme temperatures without evaporating. The fluid is clear, odorless, and slightly sweet, though you should never taste it.
If your brake fluid is low, you cannot stop effectively, and you'll notice your brake pedal dips down to the floor without giving you the pressure you need. Low brake fluid is a common issue that many vehicle owners face, but you can avoid most brake issues with regular inspections and maintenance. Learning how to check if you have low brake fluid and how to refill brake fluid is the first step in this maintenance journey.
Check Brake Fluid Levels Regularly
Try and get into the habit of checking your car's fluid levels regularly. These checks should include oil levels, coolant levels, brake fluid, and windshield washing fluid. If you begin checking these levels at least once monthly, you'll notice potential problems before they have a chance to harm your vehicle seriously.
If you're asking, "But where does brake fluid go?" you aren't alone. Many people don't understand how the braking system works and how to maintain fluid levels. Look for a plastic reservoir with a triangle and "!" on it, as well as a circle with curved lines on either side that is used as a brake symbol. You may also see DOT 3, DOT 4, or another DOT designation on the cap of the container. When you see some of these symbols on the reservoir, you can safely assume it contains brake fluid. You'll also notice the fluid is clear in color.
If you have an older vehicle, you may see a metal reservoir with a metal lid on top. You should still see some symbols mentioned above on the cap or the reservoir itself. This is where the brake fluid resides in your vehicle.
Once you locate the reservoir, it's time to learn how to check your brake fluid level. On newer plastic reservoirs, there is a full line on the outside, and you should be able to see the fluid level easily. On older metal reservoirs, the full line is inside, and you can verify the level by looking inside. Either way, you should add the proper brake fluid for your vehicle until the level reaches the full line once again. This is the optimal level for you to drive your vehicle at.
Add the Proper Brake Fluid
Before you add any brake fluid to your vehicle, make certain that you purchase the right kind of fluid. On most vehicles, the brake fluid reservoir cap lists the type of fluid you need. For most vehicles, it's either DOT 3 or DOT 4. If you cannot find information about the fluid you need under your vehicle's hood, check your owner's manual instead. You should be able to get the data you need quickly. Do not purchase brake fluid until you know which type is right for your vehicle. Once you know which type of fluid you need, purchase a small container of it and add it to your ride until the brake fluid level reads just below full again.
How Much Brake Fluid Do I Need?
If you're only adding brake fluid to top up your vehicle, you can get it by purchasing the smallest amount of brake fluid available. If you want to replace the fluid in your vehicle fully, you likely need about 32 ounces of fluid to do the job.
How to Fill Brake Fluid
If you check your brake fluid level and you notice that it's lower than it should be, it's essential to know how to add brake fluid to a car. Fortunately, the process is simple. To do this job, you need the proper fluid type for your vehicle and a funnel that fits your fluid reservoir inlet. Once you have those two things, you're ready to do the job.
Begin by locating your brake fluid reservoir and unscrewing and removing the cap. You may have to depress a clamp to remove the top on old reservoirs. Either way, get that cap out of the way and insert your funnel into the inlet. Slowly pour your replacement brake fluid into the funnel and watch your fluid level until it reaches Full. Once you have enough fluid in your vehicle, close the top of the reservoir, store your funnel and brake fluid somewhere safe, and lower the hood of your vehicle to complete the job.
Signs You Have Low Brake Fluid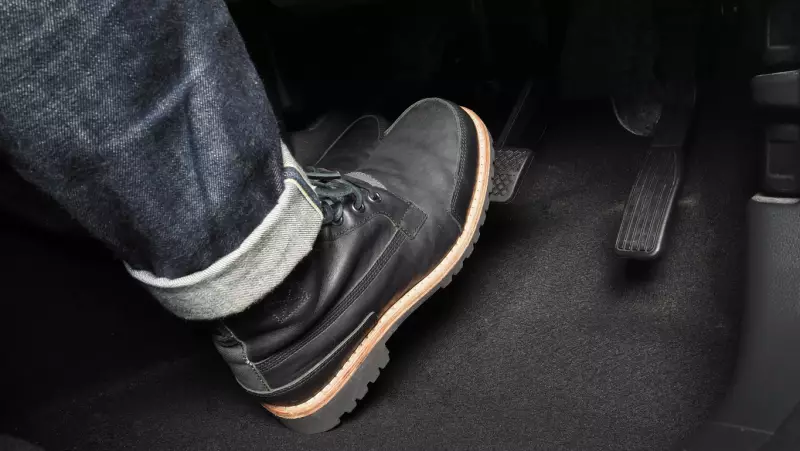 If you are low on car brake fluid, you'll notice immediate signs of the problem. Knowing how to check your brake fluid level will enable you to troubleshoot the issue quickly and determine if you have a leak or another related brake problem.
If your brake fluid level is slightly low, you'll notice your brake pedal presses lower to the floor, and stopping your vehicle is more difficult than it once was. You may also have this issue if you get too much air in your brake fluid lines, in which case you need to bleed your brakes to resolve the problem. When the brake fluid levels get very low, your brake pedal will no longer work, and you won't be able to stop your vehicle using your standard brakes any longer. If this happens, use your emergency brake to stop, and don't drive your vehicle again until the issue is resolved, and your brake fluid is replaced.
Check the Brake Fluid on Any Used Vehicle
If you're considering purchasing a used vehicle, you should always test the brakes thoroughly. Stop at low speeds, high speeds, and while going downhill if you can. Press and hold the brake pedal to see if you notice any grinding, clicking, or rough pulsating. You should also look closely at the brake fluid level of the vehicle to be sure it is topped up fully. These are all simple tests you can do to evaluate the brakes of a used vehicle and be sure you're getting something worthwhile. Also, consider buying a car history report to help you determine if the vehicle has been in any serious accidents and what sort of maintenance schedule the previous owners followed. Doing these things will help you avoid vehicles with serious brake issues.
As a vehicle owner, you need to understand how brake fluid works, how to check fluid levels, refill your brake fluid, and more. By knowing simple maintenance and inspection skills like these, you can keep your vehicle in good working order and avoid some common brake-system issues in the process. Hopefully, this guide has given you the knowledge you need to handle brake fluid checks and refills.