Paint on your car can be a frustrating sight, whether it's from a careless driver's door ding, bad timing when passing a construction site, or an unfortunate encounter with a graffiti artist. But fear not!
At GoodCar, we'll take the time to explain how you can remove paint from your vehicle. With a few simple steps and a little bit of elbow grease, you'll have your car looking as good as new in no time.
Common Ways Your Car May Get Paint On It
Road accidents, debris from other automobiles, and paint overspray from nearby construction sites are some of the most common ways your car may get paint on it. To fully restore the paint work once the extra paint has been removed, clean the car's surface, get rid of any existing dirt, and remove any scratches or dents.
After completing these steps, a primer should be placed to the car's surface before the actual paint is applied. This will assist to guarantee that the paint job is even and lasts a long time. You can repair your car's paint job and make it appear like new again using the right procedures.
1. Assess the Damage
Before you begin the process of removing the paint, there are a few things you should consider. The first step is to determine the level of severity of the damage. Can you identify whether this paint scuff is a little scratch or a full-fledged paint splatter? Understanding the severity of the problem will help you to select the best solution.
2. Gather the Right Tools
You'll need a few essential tools in order to be able to successfully remove paint from your vehicle. These include:
Clean microfiber cloths
Automotive paint thinner
Clay bar
Mild car wash soap
Automotive rubbing compound
Polishing compound
Wax/sealant
Before you start trying to figure out how to remove paint from your car, make sure you have all these accessories nearby. Ideally, you want them all within arms reach so when you start the process, you can get it done quickly.
3. Test the Paint Thinner
If your car's paint isn't factory-finished, try the paint thinner on a tiny, inconspicuous area first. This will prevent the paint thinner from damaging the original paint. Proceed with caution and follow the instructions on the paint thinner container. Paint thinner is a strong solvent that can harm the paint if not applied properly. As a result, it is critical to test the paint thinner on a tiny area before applying it to the entire vehicle to ensure that it will not harm the original paint.
4. Apply Paint Thinner If Safe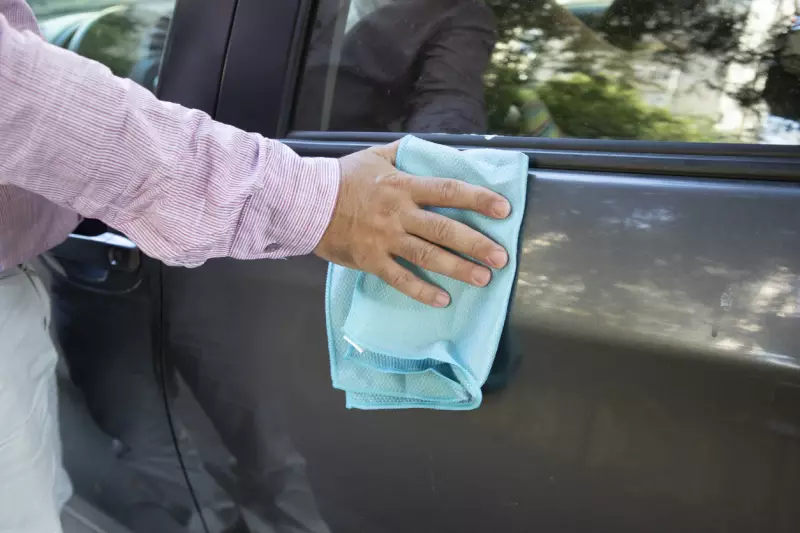 Using a clean microfiber cloth, apply a small amount of paint thinner to the affected area. Gently rub the cloth in a circular motion, working the paint thinner into the paint. This will help break down the paint particles and make removal easier. Once you have finished rubbing, use a damp cloth to wipe away the paint thinner and residue. Dry the area with a clean cloth, and you should be left with a clean, paint-free surface.
5. Use a Clay Bar
For more stubborn paint stains, a clay bar can be a game-changer. Wet the affected area with mild car wash soap and water, then gently rub the clay bar back and forth. The clay bar will pick up any remaining paint particles, leaving your car's surface smooth and paint-free. After finishing, rinse off the area and dry it with a clean cloth. To further protect the surface, apply wax or another protective coating.
6. Apply Rubbing Compound
When the majority of the paint has been removed, it's time to deal with any leftover residue. Use a clean microfiber cloth to gently wipe a tiny quantity of automotive rubbing compound over the afflicted region. This can help remove any persistent paint stains and restore the shine to the paint on your automobile. Use a hose to rinse the area and a clean microfiber towel to dry it. When the paint is dry, apply a layer of wax to preserve it.
7. Polish and Wax
To finish the paint removal process, use a polishing compound to buff the damaged region. This will aid in the restoration of the luster and smoothness of your car's paint. Finally, add a coat of wax or sealer to the freshly cleaned surface to preserve it and prevent further damage. To remove any excess polish, wipe the area with a clean, dry cloth. Finally, use a soft cloth to buff the area to bring out the shine and conclude the paint removal procedure.
How to Remove a Scuff from Your Car
What happens if the paint is a simple scuff? Then your job is even easier. Wipe away any excess wax and buff the surface with a clean, soft cloth. The paint scuff should be revealed once the wax has been wiped away. Buffing the area with a soft cloth helps smooth out any remaining imperfections so that the car's surface is even and looks like new. Enjoy the results of your work and the newly cleaned car scuff.
How to Remove Spray Paint from a Car
When it comes to removing spray paint from a car, the procedure performed might vary widely depending on things like the type of paint used, the quality of the car's finish, and the extent of damage inflicted. A high-quality solvent-based graffiti remover formulated for automotive usage is an excellent way to handle this issue.
Begin by carefully washing the afflicted region with a mild soap and water solution, ensuring that any loose dirt or debris is removed. It's important not to use dish soap, as it can be too harsh for car paint.
When the paint is dry, apply an even coating of graffiti remover to the painted surface while wearing protective gloves. Allow it to sit for a few minutes, but not long enough to completely dry.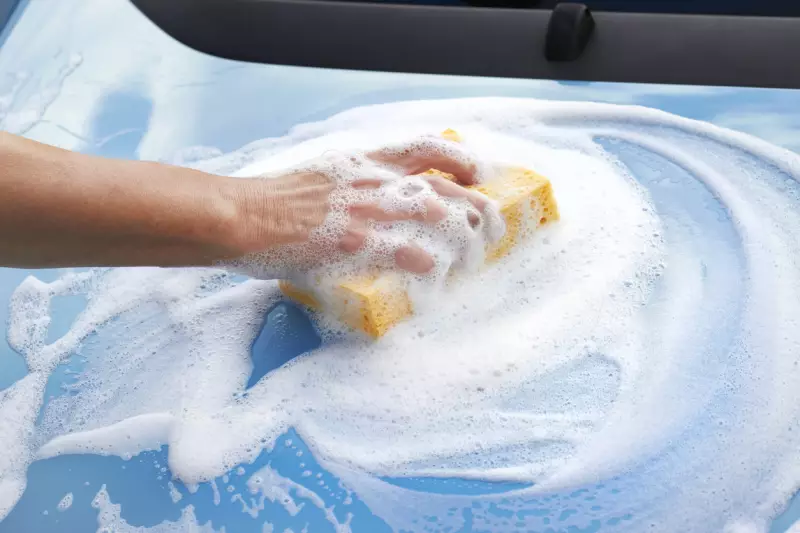 Scrub away at the spray paint in circular motions with a soft-bristle brush or sponge, working from one side to the other. If necessary, continue this procedure until a noticeable improvement is seen, but avoid aggressive scrubbing, which may harm your vehicle's clear coat or underlying paintwork.
Rinse well with clean water and carefully check. If traces remain after multiple tries or on delicate surfaces such as plastic trim or window rubber seals, consider getting expert assistance to guarantee safe removal without additional damage.
Enjoy the Benefits of a Cleaner Car
Learning how to get paint off a car may seem like a daunting task, but with the right tools and techniques, you can pretty easily get the job done. Remember to gauge the damage, gather the right supplies, and proceed cautiously. If you want to restore the original color to your vehicle, you can always run a vehicle history report and look at the original specs so you know what color to find.