Nearly everyone has some dish soap lying around the house. That makes it a convenient option when you want to wash your car. You're probably wondering, "Can I use dish soap to wash my car?" and the answer is no. If you choose to use dish soap as a car wash, you will harm the finish of your vehicle and leave your vehicle more susceptible to future damage. There are better options, and you should use a specialized soap meant for vehicles instead. Learn more about what soaps to use and car wash specifics to care for your vehicle's finish properly.
Why Washing Your Car with Dish Soap is A Bad Idea
If you're planning to wash your car with dish soap, you're going to hurt the wax finish protecting your vehicle. Your car should always have a layer of wax covering its clearcoat finish. The wax guards against most abrasives like dirt and small stones and regularly waxing it helps maintain that protective layer. If the wax layer is fully removed, your vehicle is more likely to take damage from any debris that comes along. Dish soap has specially formulated chemicals that cut through grease and will fully remove your wax layer, exposing your clearcoat to damage.
If you're wondering if you can wash your car with dish soap, you should choose a product that's meant for use on vehicles instead. You can select a cleaning product formulated for cleaning vehicles and get an excellent clean without scrubbing away any protective layers in the process.
What is the Best Household Soap to Wash a Car?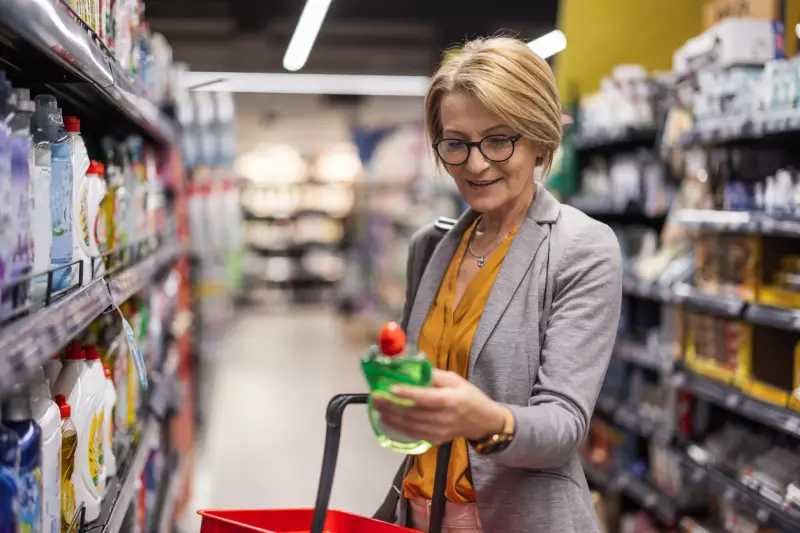 If you absolutely do not want to go to a store and purchase car wash soap, there are some alternatives you can safely use you may have at your home. We want to start by saying NEVER use dish soap or laundry detergent on your vehicle! Both soaps are a bad idea and should be avoided. You can likely use gentle hand soap as an alternative to automotive soap.
Most hand wash soaps have a gentle formulation that is designed to avoid drying out hands. This gentle formula works well on vehicles as well. It's important to note that hand soap is likely going to be more expensive when used to clean a vehicle versus automotive soap and that you won't get the same deep clean you otherwise would with the right product. You aren't likely to harm your vehicle using hand soap, though, so if you're in a hurry, you can use it as a substitute.
If you don't have hand soap available, you can rely on shampoo to do the job. If you use a liquid shampoo, you should be able to clean your vehicle without damaging its finish. Shampoo is the same as hand soap, though it isn't highly effective. If you're searching for a way to wash your vehicle efficiently, you must use a specialized product for the job.
What Kind of Soap Can I Use to Wash My Car?
You should always choose an automotive or car wash soap for your vehicle. For a reasonable price, you can purchase a full gallon of soap, and you'll be ready to wash your vehicle approximately 128 times if you create a 1-gallon soap solution to clean your vehicle each time. When you look at the per-ounce price of most auto soaps, it's a very reasonable amount of money, even for bottles smaller than one gallon.
The next time someone asks you what soap should be used to wash your car, tell them that only automotive soap gets the job done properly. Hand soaps can be used as well, but they aren't ideal and they're more expensive too, when you consider how much you need to use to clean a vehicle.
Additional Car Washing Tips
Washing a vehicle seems like a simple process, but there are several steps you can get wrong if you aren't careful. Bird poop stains can be particularly damaging to your car's paint due to their acidity. And it's easy to accidentally scratch your car's finish if you don't know what stain it is and aren't constantly swapping to clean towels and sponges or you aren't rinsing things properly. Learn the most important cleaning tips to get your car fully cleaned without harming the finish.
Use Many Clean Microfiber Towels and Sponges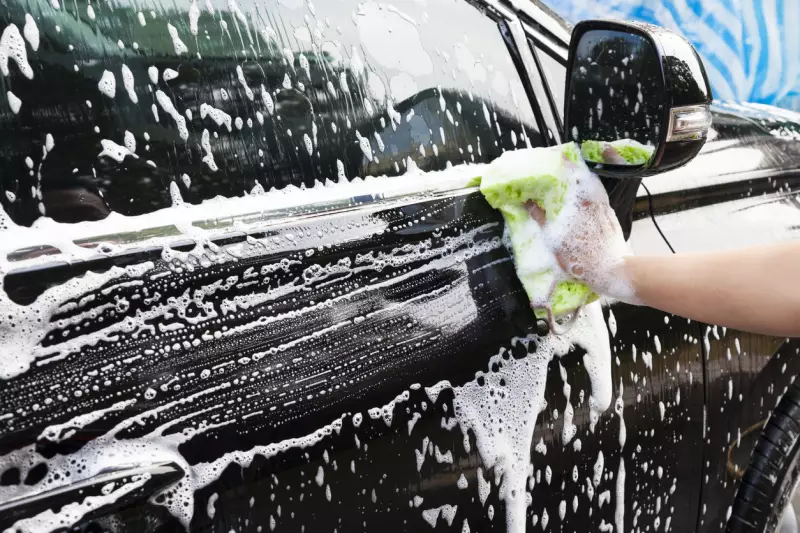 The worst thing you can do is rub a partially soiled sponge or towel around your vehicle while cleaning or drying it. Do this, and you are likely scraping dirt particles or rocks on your paint finish and creating tiny scratches. Use a few different sponges to clean the surface of your vehicle and swapping between them as you finish sections of your car. Rinse your sponge heavily in a separate rinse bucket in-between applying suds and never use a circular motion; always pull in straight lines.
While drying your vehicle, you should use several microfiber towels to carefully remove any little bits of debris left without scraping your ride. Use a different part of your towel when drying each section of your car, and when you run out of clean towel sections swap to a different one to ensure a scratch-free finish. This extra attention to detail will leave your vehicle looking its best, free from scratches and with a flawless shine.
Rinse in a Separate Bucket
Always keep a separate bucket of rinse water to rinse your sponge in between coating sections of your ride. Try and have more rinse water than soapy water to effectively remove any dirt particles that have become trapped.
Fully Rinse the Vehicle Before Drying
Spend time completely rinsing your vehicle with clean water before you dry it. The rinse process is essential for removing any dirt and grime still clinging to the surface of your car. Do this well, and you can safely dry your ride without doing damage to it. You can also reduce your risk of damaging your ride during rinsing by blowing it dry using a leaf blower instead of wiping it down with towels.
Conclusion: Use Auto Soap to Safely Clean Your Vehicle
So many people ask the question, "Can I wash my car with dish soap? Or can you wash your car with dish soap?" that we aren't surprised by the idea any longer. It seems like a convenient solution at first consideration, but it could be a costly mistake. Many used vehicles get scratched because of practices like these. Which is why it's so essential to get a car history report before making a purchase so you can get to know the past owners. You can get a deep clean that doesn't harm your vehicle by investing in high-quality car wash products such as automotive soap, microfiber cloths, specialized car sponges, and more. That's the key to making your vehicle look amazing after every wash.