NADA vs Kelley Blue Book: How to Find a Used Car Value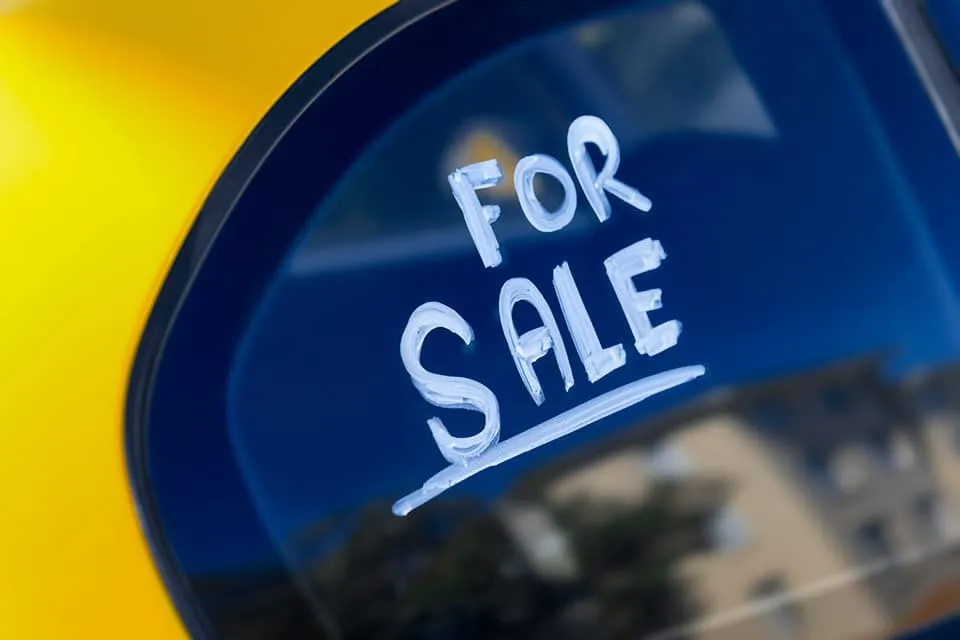 Not knowing a car's value puts you at a disadvantage. Luckily, you don't have to be an actuary in order to get a read on how much a used car is currently worth today . The two methods that most people rely on to learn how much a car is worth are the Kelley Blue Book value (KBB value) and NADA value. Both options offer these perks for pricing out a car's current value:
Both KBB and NADA are highly regarded by dealers.
Both also offer consumer-friendly platforms.
You'll be able to look at both retail and trade-in values using different settings.
The prices displayed reflect up-to-date, dynamic market trends.
When comparing NADA vs KBB, it's also important to know the differences. The two platforms actually use different methods for assessing car value. The NADA guide puts the focus on your vehicle's wholesale price using data gathered from auctions, dealer sales, manufacturers, and more. KBB brakes things down on a more personalized level by weighing factors like your car's condition, warranty details, and mileage in conjunction with the market conditions in your zip code. You might even notice that KBB asks you quite a few more questions about the condition of your car than NADA if you use both platforms. This allows KBB to give you a private Blue Book value that you won't get from NADA.
It's also important to know that both NADA and KBB offer objective estimates. These pricing platforms are not intended to sway or inflate pricing in any specific direction. They provide unbiased pricing information that's based strictly on the market data that's available without any type of preference for specific makes or models. Getting a NADA car value or Blue Book value simply comes down to having a way to access objective information to make personal assessments on used car values before negotiating an offer.
Still undecided about the best place to get used car values? There's still a lot more gas in the tank when it comes to Kelley Blue Book vs NADA. Take a look!
What Is the NADA Used Car Value?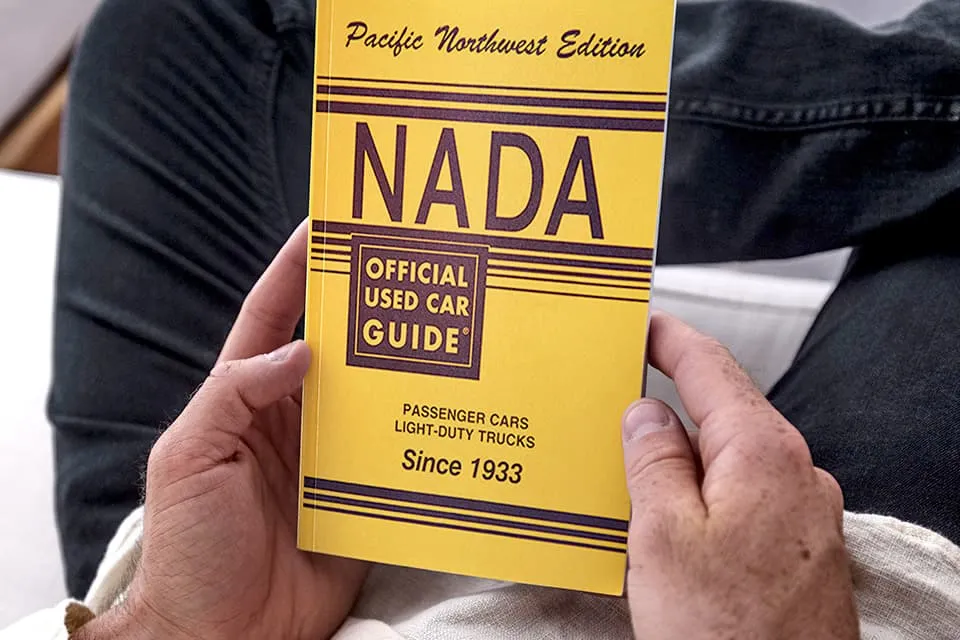 NADA is short for the National Automobile Dealers Association. This trusted trade organization has actually been around since 1993. Some dealers rely on the NADA Official Used Car Guide pretty heavily when making trade-in offers. In addition to providing pricing parameters for both new and used cars, NADA also generates values for classic cars, motorcycles, and recreational vehicles (RVs). It's even used for boats and motor homes.
How Is a Car's NADA Value Determined?
You can get a car's NADA value by plugging in some basic information. NADA uses a pretty straightforward formula that's easy to apply to any car. The core factors that determine a car's NADA value are:
Condition
Location
Accessories
Mileage
Generally, NADA increases the value on vehicles that have any optional features or accessories over the baseline. Values are determined using a number of data points that NADA has access to from across the country. The biggest data point refers to wholesale transactions around the country. However, NADA does also factor in retail transactions and pricing information gathered from the actual dealer management systems of big players like J.D. Power and Auto Trader. That's because NADA is actually owned by J.D. Power.
The goal of getting a NADA value is to get an assessment of the retail value that you could reasonably pay for a vehicle when showing up on a dealer's lot to make an offer. However, getting a NADA value in your hands doesn't mean that the price will be honored by a dealer or seller. NADA values are simply intended to create reasonable expectations based on mainstream data. All prices are entirely subjective.
There is one thing you won't get when looking up a NADA value. NADA doesn't provide values for private sales of used cars. However, the anticipated cost to buy a Certified Pre-Owned (CPO) version of many used vehicles can be provided.
What Is the Kelley Blue Book Value?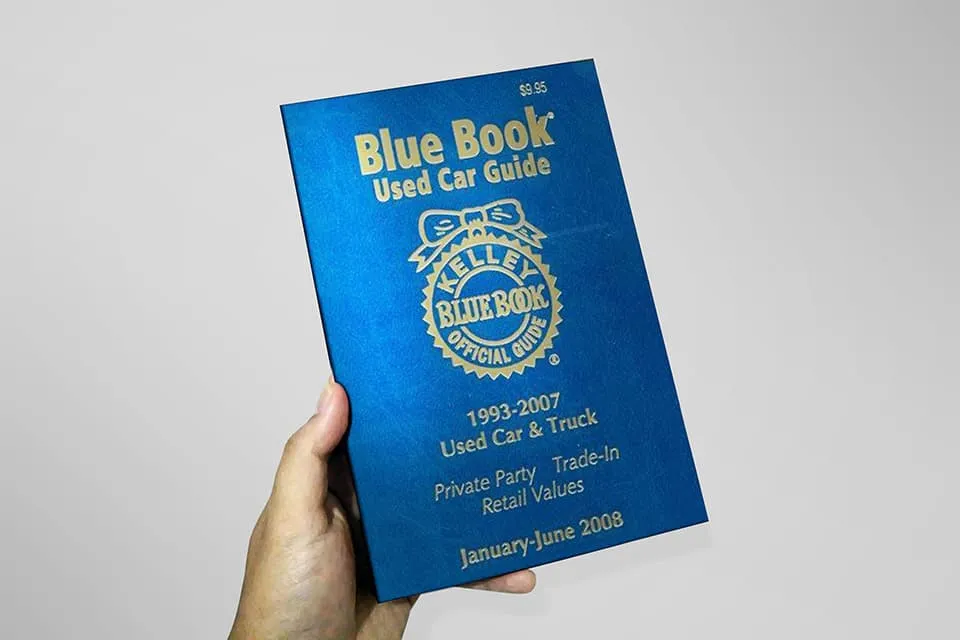 The Kelley Blue Book has been helping people get a feel for car prices ever since it was started back in 1926. Many people consider this to be the go-to for how to find out car value online. The benefit of using the KBB value formula to get the price of a car is that this system uses many different forms of "data intelligence" to provide very customized pricing. In addition, KBB now uses technology to actually provide users with predictive analytics for creating dynamic price-change updates in real time based on what the market is doing. This can be really useful for someone who wants to show up to the negotiation table prepared without the worry of any surprises making it hard to get the best deal possible. In fact, Kelly Blue Book currently boasts that it uses 250 data sources that come from 3 trillion different data points.
How Is a Car's Kelley Blue Book Value Determined?
KBB uses information from real-world pricing to create custom estimates based on the specific details of each vehicle. While the pricing system is somewhat similar to what's used by NADA, most users find that the results feel slightly more specific compared to the broader value estimate provided by NADA. However, being more specific based on the details of a car doesn't necessarily mean that the results will be more accurate than NADA's results.
When assessing car values, KBB leans heavily on private-party value, trade-in value, suggested retail price, and Certified Pre-Owned (CPO) value. KBB gets this information using a mix of real-world sales reports, industry trends, location, and overall economic situations. Here's a look at the pricing points generated with a KBB car value report:
Trade-in value: This represents the price that a person can expect to receive when bringing a car to a dealership for a trade.
Private-party value: This is the amount that a person would expect to get when selling a car to another person through a private sale. It's important to know that this value will almost always be higher than a trade-in value when you're generating a KBB price report. The reason why is that private sales don't involve the extra work required by dealerships sales. You're taking pure profit instead of worrying about the cost of doing business that dealerships need to cover. Of course, the downside to a private sale is that the seller is responsible for handling all marketing and paperwork involved with the process.
Used-car fair purchase price: This is also known as simply being a car's retail value. It's the total that the average customer would reasonably expect to pay when buying a specific used car at any dealership. Generally, the biggest factor that determines any differences in pricing for this category is location. Cars simply hold more value in certain parts of the country than others based on factors like regional economic trends and supply and demand.
Certified Pre-Owned Price (CPO): When determining CPO, Kelley Blue Book looks at any factory-based certifications that would be offered by dealers for some car makes and models. Keep in mind that CPO will essentially always be higher than a pricing estimate for a conventional car. Most buyers can expect to pay 10% for CPO cars when compared to "regular" cars.
Kelley Blue Book value tends to keep current trends in mind. However, rapidly changing economic trends mean that even a trusted platform like KBB can have lags. Checking prices regularly instead of relying on a value estimate that's months old is always recommended.
Frequently Asked Questions
Is Kelley Blue Book Value or NADA Value Better?
While both are highly regarded, there are some differences to know about. KBB focuses on factors that help to determine car value based on vehicle condition, local market conditions, and the demand surrounding a vehicle. NADA tends to use more generalized information based on overall sales prices for a vehicle.
Is Kelly Blue Book Value or NADA Value Higher?
When comparing KBB vs NADA, most people find that Kelley Blue Book values tend to skew lower than NADA values. The simple reason why is that KBB tends to go into more detail about the condition of a vehicle when determining price. NADA generally assumes that all vehicles are in good condition. This can cause estimates to be slightly inflated in cases where vehicles are not actually in good condition.
Do Dealers Honor Kelley Blue Book Value?
Kelley Blue Book value can be a useful tool for people looking to buy or sell a car. The benefit is that KBB value provides a good baseline for setting up expectations. However, dealerships don't typically use Blue Book value when doing valuations. Most have their own formulas and data points that ultimately determine how they negotiate price.
What Is the Blue Book Value of My Car?
Blue Book values aren't posted based on generic make and model details. You'll need to use the KBB website to share details about your vehicle to get a custom valuation.
FREE Vehicle Search
Accidents
Problem Checks
Title Records
Recalls
Values
Specs
InfoPay, Inc. (dba GoodCar) is an Approved NMVTIS Data Provider