What is a Car Title Transfer, and How Does it Work?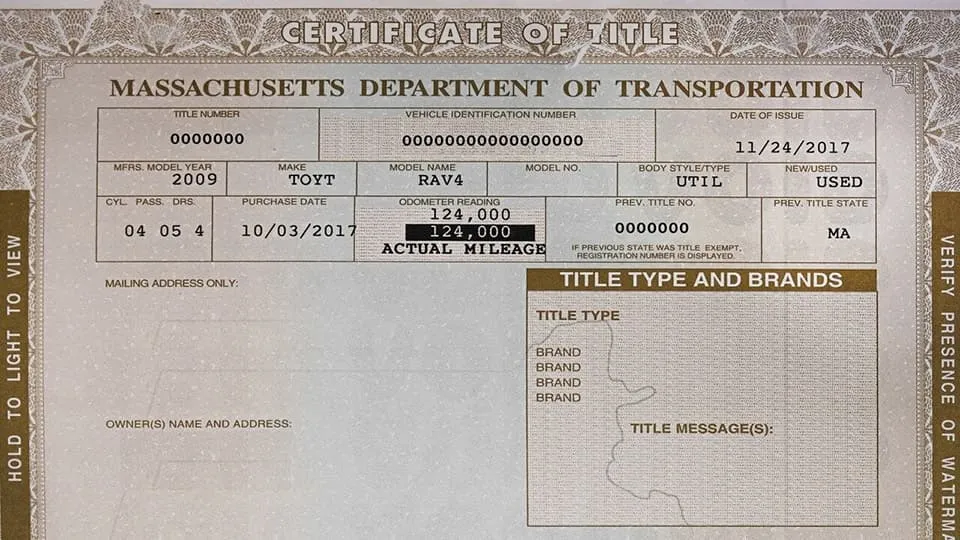 There are various procedures to follow when buying or selling a vehicle, and each is essential if you want to stay compliant with local laws. Whenever a vehicle changes ownership, there needs to be an official exchange in the form of a car title transfer. While the exact procedures for a car title transfer can be found through your local DMV, there is a general process you can follow to acquire the proper documentation. First, let's look at what precisely a car title is.
To prove legal ownership of a vehicle, you'll need to have a car title. This document is registered with the Department of Motor Vehicles (DMV) and is transferred anytime ownership changes hands. It also allows the DMV and other interested parties (governmental or otherwise) to identify the vehicle in various situations. This can be if the car is lost, needs to be sold, or the ownership of the vehicle is being disputed.
A car title will have several important details relating to both the owner and vehicle, including:
Make
Model
Technical information
Full Legal Name
Current Address
VIN Number
Lien Information
License Plate Number
Year
You can check that a title is valid by looking for a few common red flags, including the issuing state, issuing date, VIN, watermark, and type of printing. Fake vehicle titles often have incorrect states or issuing dates and may lack a clear watermark. They will also have the wrong VIN; you can find the correct VIN by running a vehicle history report. These reports can help you avoid getting scammed, as well as assist you in getting the best price for your vehicle.
What is a Car Title Transfer?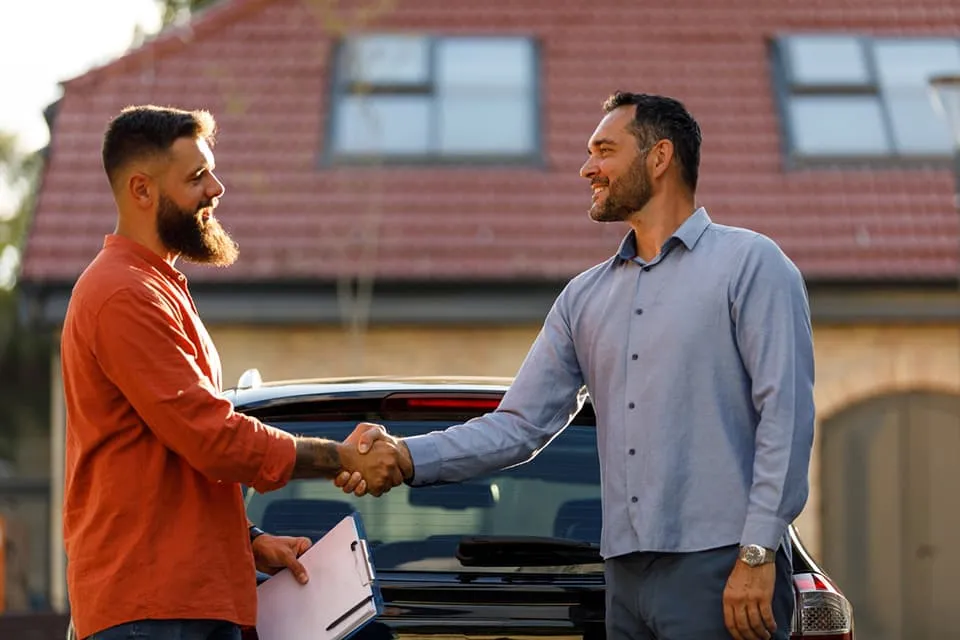 A car title transfer is the process by which a seller transfers legal vehicle ownership to a buyer. This includes providing the proper documentation and information on both sides. Both the buyer and seller have their own responsibility when it comes to a car title transfer.
The seller is responsible for:
Checking local DMV guidelines on what is required
Filling out a transfer of ownership form
Providing a bill of sale to the buyer
Setting a sales price and sharing it with the DMV
Providing an accurate odometer reading
Having all owners of the car sign the appropriate documentation
If the state requires it, having the documents notarized
The buyer has significantly less responsibility but must take the documentation the seller provides to their local DMV. Once you have everything together, you'll be able to start the title transfer process.
How Does a Car Title Transfer Work?
You can follow a few simple steps to complete a car title transfer.
Step #1: Assemble all related paperwork
All of the paperwork mentioned in the section above is necessary to complete a car title transfer. This means getting a transfer of ownership form, a bill of sale, odometer reading, and anything else your jurisdiction requires and bringing it to your local DMV.
Step #2: The seller and buyer must sign the title to release ownership.
The title needs to be signed by a seller before another party can legally own the car, so ensure this is done before visiting the DMV. The buyer will also need to sign the title to complete the transaction. The section in which the buyer should sign is labeled "signature(s) of all purchaser(s)", with the seller signing section located right next to it. Both the seller and buyer must also print their names on the following line. Once this is completed, you can bring all of your documentation to the DMV.
Step #3: The buyer needs to take the signed title to the DMV, where they will be issued a new title and registration.
With all your signed documents (which you may need to get notarized, depending on your area), head to the local DMV and start the title and registration process. You may receive temporary copies of these documents while your official ones come in the mail later; these should work to help you legally drive, though you may get some questions if you get pulled over. Your official documents should arrive in the next few weeks, and the process is complete.
Car Title Transfer Frequently Asked Questions
How to Transfer Title of Car?
You can transfer the title of a car by having the seller and buyer sign it, then take it to the DMV with all other required documents. Once the process is complete, the DMV will issue a new title and registration to the current owner.
How to Transfer a Car Title to a Family member?
Transferring a car to a family member is the same as a regular title transfer. The former owner of the vehicle and seller will sign the title, bring paperwork into the DMV, and then a new title and registration will be issued to the current owner.
Can You Register a Car With No Title?
In most states, you cannot register a car without a title. You'll need to have the original owner go through the title replacement process before they can legally transfer ownership over to you or another buyer.
Do I Need to Get a Notary for a Title Transfer?
Some states do require the documentation for a title transfer to be notarized. Check the guidelines on your local DMV website, or go into a physical location to ask whether getting a notary is necessary.
Can I Get a Copy of My Car Title Online?
Whether or not your area offers online title copies depends on the jurisdiction your car is registered within. You can check whether this service is provided by checking your local DMV website. Usually, you can get a copy or replacement of your title online, in-person at the DMV, and by mail.
How Much Do Title Transfers Cost?
The exact cost of a title transfer depends on the state your car is registered in. Title transfers can cost anywhere from $15 to $100, though this number is subject to change as pricing is updated yearly.
FREE Vehicle Search
Accidents
Problem Checks
Title Records
Recalls
Values
Specs
InfoPay, Inc. (dba GoodCar) is an Approved NMVTIS Data Provider