How to Decode a VIN Number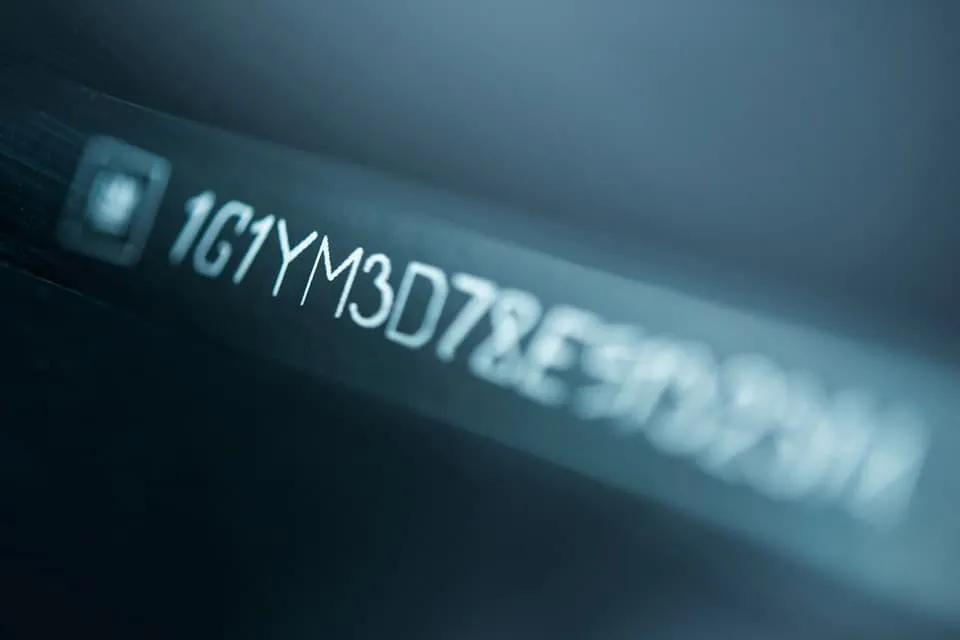 Decoding a VIN (vehicle identification number) can help you find out all sorts of information about the vehicle. It's relatively easy to do using one of many online VIN decoders like GoodCar.
A VIN is a unique identifier assigned to each motor vehicle when it's manufactured. The VIN consists of 17 characters (letters and numbers) with no spaces. VINs do not contain the letters Q, I, or O because these can be confused with other letters and numbers. The VIN is a code that, when broken down, specifies the vehicle's year, make, model, country, factory, serial number, and other critical information about it. Recalls, accidents, and branded titles are also linked to VINs.
Where is the VIN Located?
Typically, a VIN can be found in one of four locations: on the front of the engine block under the hood, the driver's side dash, the front end of the frame, and the inside of the driver's side door. You can usually look inside the windshield from the outside to see the VIN.
What Each Digit in a VIN Means
Each digit or group of characters within the VIN stands for something. The breakdown is as follows:

WMI - World Manufacturer Identifier
The first three digits of a VIN are collectively known as the World Manufacturer Identifier or WMI. The first digit also designates the country of origin where the vehicle was manufactured. The numbers 1, 4, and 5 represent the U.S. The number 2 means the car was made in Canada, and the number 3 equals Mexico. Consult the list below for all the country codes.
AA- AH - South Africa
CA- CE - Benin
DL- DR - Zambia
AJ - AN - Cote d'Ivoire
CF- CK - Madagascar
EA- EE - Ethiopia
BA - BE - Angola
CL- CR - Tunisia
EF- EK - Mozambique
BF- BK - Kenya
DA- DE - Egypt
FA- FE - Ghana
BL- BR - Tanzania
DF- DK - Morocco
FF- FK - Nigeria
J - Japan
MF-MK - Indonesia
PF- PK - Singapore
KA- KE - Sri- Lanka
ML- MR - Thailand
PL- PR - Malaysia
KF- KK - Israel
MS- M0 - Myanmar
RA- RE - United Arab Emirates
KL- KR - South Korea
NA- NE - Iran
RF- RK - Taiwan
KS- K0 - Kazakhstan
NF- NK - Pakistan
RL- RR - Vietnam
L - China
NL- NR - Turkey
RS- R0 - Saudi Arabia
MA- ME - India
PA- PE - Philippines
SA- SM - United Kingdom
VA- VE - Austria
X3-X0 - Russia
SN- ST - Germany
VF- VR - France
YA-YE - Belgium
SU- SZ - Poland
VS- VW - Spain
YF-YK - Finland
S1- S4 - Latvia
VX- V2 - Serbia
YL-YR - Malta
TA- TH - Switzerland
V3- V5 - Croatia
YS-YW - Sweden
TJ- TP - Czech Republic
V6- V0 - Estonia
YX-Y2 - Norway
TR- TV - Hungary
W - Germany
Y3-Y5 - Belarus
TW- T1 - Portugal
XA- XE - Bulgaria
Y6-Y0 - Ukraine
UH- UM - Denmark
XF- XK - Greece
ZA-ZR - Italy
UN- UT - Ireland
XL- XR - Netherlands
ZX-Z2 - Slovenia
UU- UZ - Romania
XS- XW - Russia(formerly USSR)
Z3-Z5 - Lithuania
U5- U7 - Slovakia
XX- X2 - Luxembourg
1, 4, or 5 - United States
8A-8E - Argentina
9F-9K - Colombia
2 - Canada
8F-8K - Chile
9L-9R - Paraguay
3A-3W - Mexico
8L-8R - Ecuador
9S-9W - Uruguay
3X-37 - Costa Rica
8S-8W - Peru
9X-92 - Trinidad & Tobago
38-39 - Cayman Islands
8X-82 - Venezuela
93–99 - Brazil
9A-9E - Brazil
6 - Australia
7 - New Zealand
The second digit of a VIN represents the manufacturer such as GM, Ford, Chevrolet, BMW, etc. Below are the codes for U.S. manufacturers.
1B - Dodge
1C - Chrysler
1F - Ford
1G - General Motors
1G1 - Chevrolet
1G3 - Oldsmobile
1G4 - Buick
1G6 - Cadillac
1G9 - Google
1GB - Chevrolet Incomplete Vehicles
1GC - Chevrolet
1GD - GMC Incomplete Vehicles
1GM - Pontiac
1HG - Honda
1J - Jeep
1L - Lincoln
1M - Mercury
1MR - Continental
1N - Nissan
1VW - Volkswagen
1YV - Mazda
1ZV - Ford
19U - Honda
The third digit combined with the first two shows the type of vehicle like a truck, SUV, or passenger car.
---
Vehicle Descriptor
Digits four through eight of the VIN are called the vehicle descriptor. It shows information about the car's model, braking system, engine type, restraint system, body type, and transmission details.
---
Check Digit
The ninth character in a VIN is the "check digit", which is a security feature to validate the VIN. The manufacturer generates the check digit to ensure that the VIN is authentic.
---
Vehicle Identification Section (VIS)
Digits ten through seventeen are the vehicle identification section. The tenth character designates the model year (see table below):
A: 1980 or 2010
B: 1981 or 2011
C: 1982 or 2012
D: 1983 or 2013
E: 1984 or 2014
F: 1985 or 2015
G: 1986 or 2016
H: 1987 or 2017
J: 1988 or 2018
K: 1989 or 2019
L: 1990 or 2020
M: 1991
N: 1992
P: 1993
R: 1994
S: 1995
T: 1996
V: 1997
W: 1998
X: 1999
Y: 2000
1: 2001
2: 2002
3: 2003
4: 2004
5: 2005
6: 2006
7: 2007
8: 2008
9: 2009
---
Plant Code
The eleventh digit shows the plant code where the vehicle was made. Each manufacturing plant has its own code.
---
Serial Number
The final digits twelve through seventeen make up the vehicle's serial number which the manufacturer automatically generates. These numbers are sequential as they come off the production line. Therefore, a manufacturer can easily identify one of its vehicles using this code.
You can manually decode a vehicle by using the information above, or you can simply enter the VIN into GoodCar's decoder and see all the details instantly. We take the work out of decoding a VIN for you and, as a bonus, show you much more information that is connected to the VIN.
Whenever you go to purchase a new or used vehicle, it can be helpful to find out as much information about the car or truck as possible. Using the VIN, not only can you see the year, make, model, and specifics about the construction, you can also find out much more using a detailed vehicle history report which can show you title records, mileage, odometer readings, problems, branded titles, accident history, pricing and residual value, fair market value, sales history, recalls, crash test data, and much more. Before making a decision about purchasing any vehicle, use a vehicle decoder to get all the facts.
Frequently Asked Questions About Decoding a VIN
How Do You Decode a VIN Number?
Decoding a VIN number is very easy. You don't have to look up lists of manufacturers or country codes. Instead, all you need to do is enter the VIN in GoodCar's search tool and review the information that comes up. GoodCar's VIN decoder is completely free to use and will show most all vehicles that have been manufactured since 1981.
Are There Any Free VIN Decoders?
Yes, there are plenty of free VIN decoders online. GoodCar offers so much extra information along with the make, model, year, and specs. You can also find recalls, accidents, branded titles, residual value, market details, and much more!
What Does Each Digit Mean in a VIN?
Consult the information above to find out what each digit in a VIN means and how to decode it manually. However, it is much easier to enter the VIN into a decoder and let the database do the work for you.
What is the Best FREE VIN Decoder?
There are dozens of VIN decoders online. Some like the NHTSA VIN decoder are no-frills and will give you only the basic information. Others like GoodCar will provide much more detail related to the vehicle in question.
How to Decode a 13-Digit VIN
VINs with 13 digits relate to vehicles manufactured before 1981. The first digit is the country of origin and the second the manufacturer. The third digit represents the vehicle type, and the fourth through the eighth designates the engine type, braking system, body style, and restraint system. The ninth digit is a check-digit and a security feature. The tenth shows the model year, and the eleventh shows the plant where the vehicle was manufactured. Finally, the twelfth and thirteenth are the unique serial number for the car.
FREE Vehicle Search
Accidents
Problem Checks
Title Records
Recalls
Values
Specs
InfoPay, Inc. (dba GoodCar) is an Approved NMVTIS Data Provider