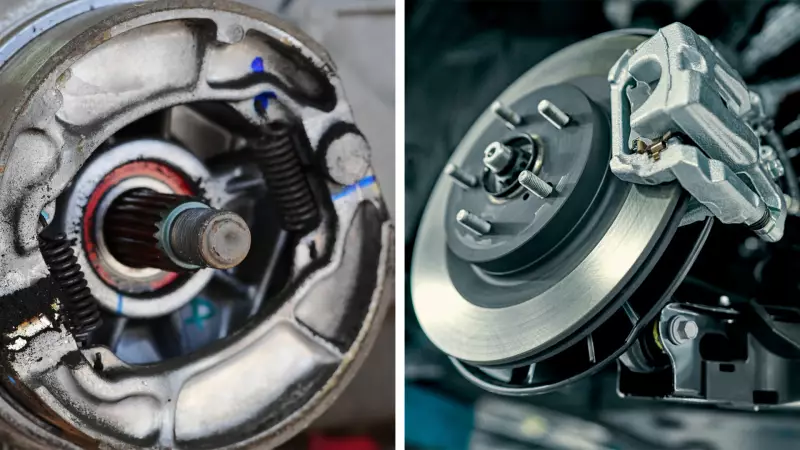 Without question, safety is a primary concern for both vehicle manufacturers and buyers when it comes to automobiles. The braking system is a crucial part of a car's safety system. Drum brakes and disc brakes are the two basic categories of brakes. To make an informed choice when buying an automobile, it's critical to recognize the differences between each option and each option's respective benefits and drawbacks. Here at GoodCar we want to help you understand what these differences are and what they mean for you.
What Are Drum Brakes?
Let's begin with a closer examination of drum brakes. Drum brakes have been a common feature of most vehicles for more than a century. They are made up of a set of brake shoes inside a brake drum that is connected to the wheel. By pushing the brake shoes and drum together when you press the brake pedal, hydraulic pressure slows down the moving car.
Pros and Cons of Drum Brakes
One of the significant advantages of drum brakes' is their simplicity. Compared to disc brakes, they have fewer moving components, making them easier to maintain and less prone to malfunction. Drum brakes are self-adjusting, which means that when the brake shoes deteriorate, they correct themselves automatically. Because the brakes don't need to be adjusted as regularly as they would with disc brakes, this can save car owners time and money on maintenance. Moreover, due to its greater holding strength compared to disc brakes, drum brakes are frequently employed as parking brakes. Drum brakes' design enables them to exert greater pressure on the wheels, which helps stop the automobile from rolling when it is parked on an incline or slope. Finally, because they cost less to produce, drum brakes are often a more economical option which may appeal to automobile purchasers on a tight budget.
Yet there are certain drawbacks to using drum brakes as well. One is that they frequently get too hot. The closed drum in which the brake shoes are housed prevents heat from dissipating as quickly as it can with disc brakes, which can eventually cause the brakes to fade and lose their efficacy. Also, drum brakes often perform less swiftly than disc brakes, which might be problematic in emergency situations.
What Are Disc Brakes?
Now let's take a look at the other side of the coin: disc brakes. Unlike its aforementioned cousin the drum brake, disc brakes are a more contemporary stopping mechanism that are now seen on the majority of automobiles. They are made up of a brake caliper with brake pads inside that squeeze the brake rotor when the brake pedal is depressed and a rotor linked to the wheel. This causes friction, which causes the car to slow down.
Pros and Cons of Disc Brakes
The higher stopping force of disc brakes is one of its key advantages. They are far quicker than drum brakes in bringing a car to a complete stop, which is useful in emergencies. Disc brakes also tend to last longer because they are less likely to fade and lose their potency over time since they are more heat-resistant. What is more, as a result of having fewer parts and being more readily accessible, disc brakes are often simpler to repair than drum brakes. It is often more difficult and time-intensive to adjust and replace brake shoes on drum brakes than brake pads and rotors on disc brakes.
Despite their many shining advantages, disc brakes have certain drawbacks as well. Their complexity is one. Compared to drum brakes, they have more moving components, which increases the likelihood that they may malfunction and need more maintenance. Also, they cost more to produce, which may make them a less desirable choice for automobile purchasers on a tighter budget.
So, Which is Better: Drum brakes or Disc Brakes?
The answer is that it depends on the driver's individual requirements and priorities. The preferable choice is disc brakes for the majority of drivers because they provide better stopping power and are less prone to deteriorate with time, both of which are important in emergency situations. Drum brakes, though, could be a better option if you're searching for a car that's less expensive to maintain or less expensive to buy.
Your driving habits are another factor to take into account. Disc brakes may be a better choice if you frequently travel in stop-and-go traffic or in a region with a lot of hills and bends since they function better in these conditions. Drum brakes could be enough if you generally travel at modest speeds on flat, straight highways.
It's also important to keep in mind that certain vehicles include both drum and disc brakes. In these scenarios, the front wheels will frequently have disc brakes, whereas the rear wheels would generally have drum brakes. This is due to the fact that the front wheels get most of the braking force, making it crucial to have the best braking system in place.
Keep Your Brakes Running Well By Keeping Them Maintained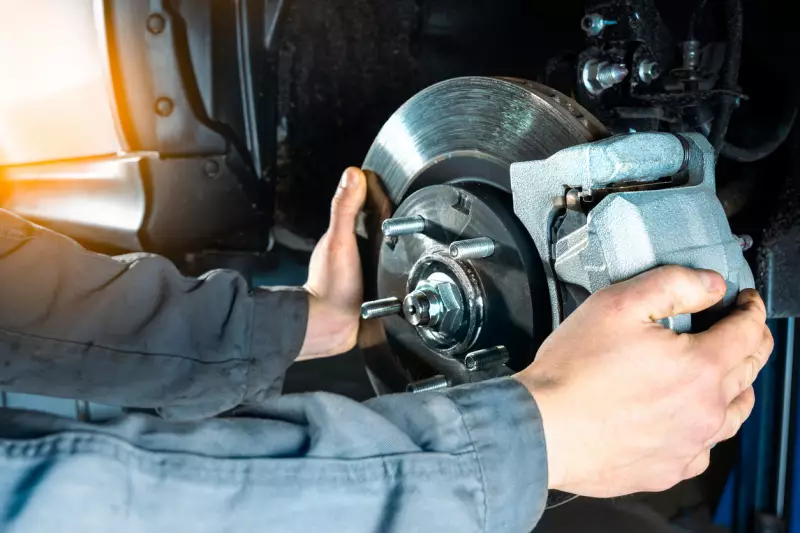 No matter what kind of brakes your vehicle has, it's critical to consistently maintain and repair them to make sure they are functioning correctly. Squeaking or grinding noises, a spongy or soft brake pedal, or a pulsing or vibrating feeling when you use the brakes are some indications that your brakes may require maintenance. Drum brake routine maintenance normally includes adjusting the brake shoes and changing out worn brake pads. In contrast, typical disc brake maintenance includes changing out old brake pads and, in the event that the rotors become deformed or uneven, resurfacing them. Both kinds of brakes should also be routinely checked for leakage or other problems that can impair their functionality.
It's crucial to take your automobile to a trained technician if you require brake repair or replacement. Your car's brakes are a crucial part of safety, so a poor repair job might endanger you and other drivers.
Let GoodCar Help Guide You to the Maintenance Your Vehicle Needs
Despite the fact that both disc brakes and drum brakes have advantages and downsides, most drivers believe that disc brakes are the better choice. They provide better stopping power and are less prone to deteriorate with time, both of which are primary considerations during an emergency. Drum brakes, though, could be a better option if you're searching for a car that's less expensive to maintain or less expensive to buy. No matter what kind of brakes your automobile has, it's critical to constantly maintain and repair them to make sure they are functional and keep you safe while driving.