What is a Vehicle Inspection?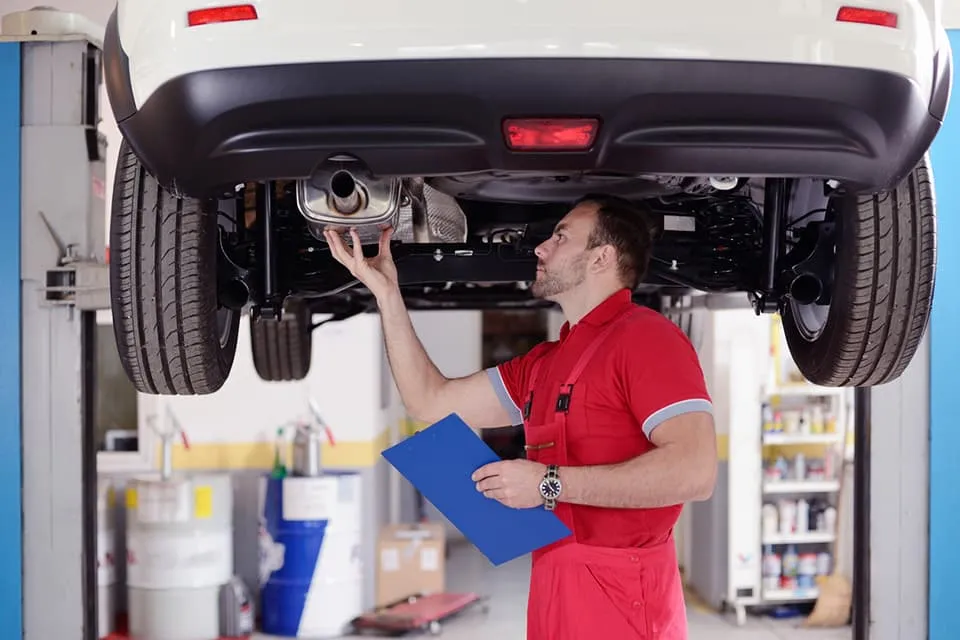 Often referred to as a car inspection or routine auto service, a vehicle inspection is an examination conducted by an automotive professional or licensed repair technician. To pass the inspection your vehicle must meet a certain criteria set by both the automotive professional and the state your car is registered in. The technician will inspect numerous components vital to your car's operation, checking them for both proper function and emission compliance.
What is Examined During a Car Inspection?
Nearly every system within your vehicle will be examined to some degree during a vehicle inspection. The exact components that your automotive technician will inspect depends on both their criteria and the state's, but most vehicle inspections will include:
Exhaust System
Motor, Serial, or Identification Number
Exhaust Emission System
Horn
Brakes
Brake Pads
Tire Rotation
Catalytic Converter
Bulbs (Turn Signals, Brake Lights, And Headlights)
Parking Brake
Tires
Windshield Wipers
Steering
Mirrors
Wheel Assembly
Is a Vehicle Inspection Required in My State?
Depending on your state, you may not be required to get a car inspection at all. At the time of writing, eighteen states currently require either an annual or biennial vehicle inspection.
States That Require Vehicle Inspections:
Delaware (Required every one to two years, depending on vehicle title)
District of Columbia (Required every two years)
Hawaii (Required annually, or for public service vehicles, every six months)
Maine (Required every year, with specific emissions tests in Cumberland County)
Louisiana (Required every year, with specific emissions tests in Baton Rouge Metro)
Massachusetts (Required annually with the exception of vehicles made before 1996)
New Hampshire (Required every year)
Missouri (Required every two years, with specific emissions tests in St. Louis)
New Jersey (Required every two years, or four years for new vehicles)
New York (Required annually, with various emissions requirements for New York City, Nassau, Suffolk, West Chester, and Rockland)
North Carolina (Required every year, with emissions testing in 48 of 100 counties)
Pennsylvania (Required annually for most vehicles, every six months for certain service vehicles)
Texas (Required every year, with emissions tests in Houston, Dallas, Austin, San Antonio, and El Paso)
Rhode Island (Required every two years)
Utah (Required every two years for the first eight years, then required annually)
Vermont (Required every year)
Virginia (Required every year, with specific requirements for Northern Virginia)
West Virginia (Required every year)
In addition, Maryland requires an inspection only when a car is sold or transferred and Alabama requires a VIN inspection if the vehicle is transferred from another state.
What Do I Need to Get My Car Inspected?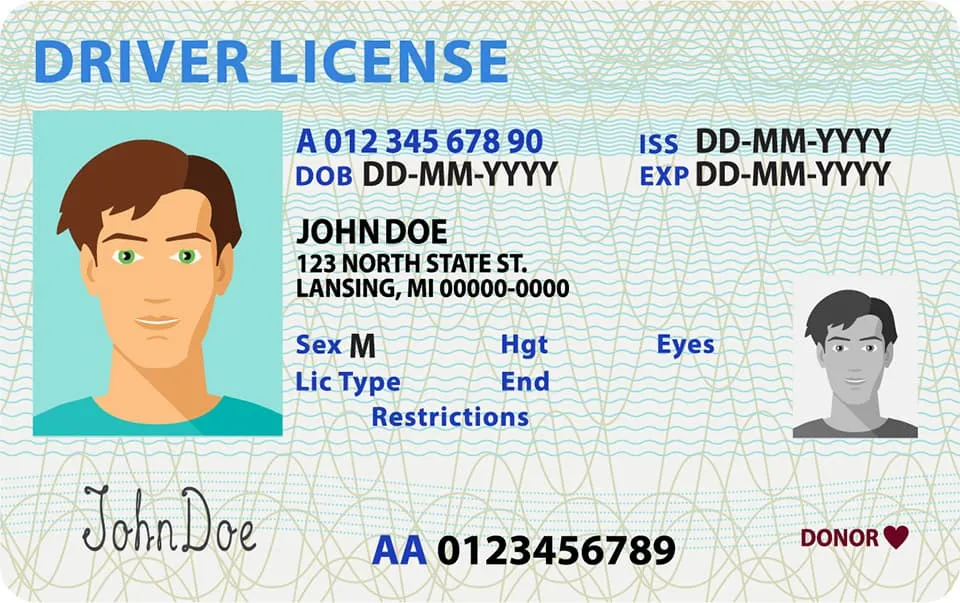 You'll need several important pieces of paperwork to help with identification, including:
Valid driver's license or other form of photo ID
Proof of payment (either bill of sale or monthly payments statement)
Proof of liability insurance
Your specific state or county may require other documents to get a vehicle inspection; to find this information, visit your local DMV either in person or online to get the exact criteria. Make sure you have all your documents ready when you arrive at your inspection. You may also be asked to participate by operating the turn signals, windshield wipers, horns, and lights.
The inspector will then go over the outside of the vehicle before turning to internal features like the seat belts, brakes, and seat adjustment mechanism. Afterwards you will be asked to sign an inspection log legally stating you have liability insurance, and then you'll be provided (depending on your state) with a tag indicating your car has been inspected.
Where Can I Get My Vehicle Inspected?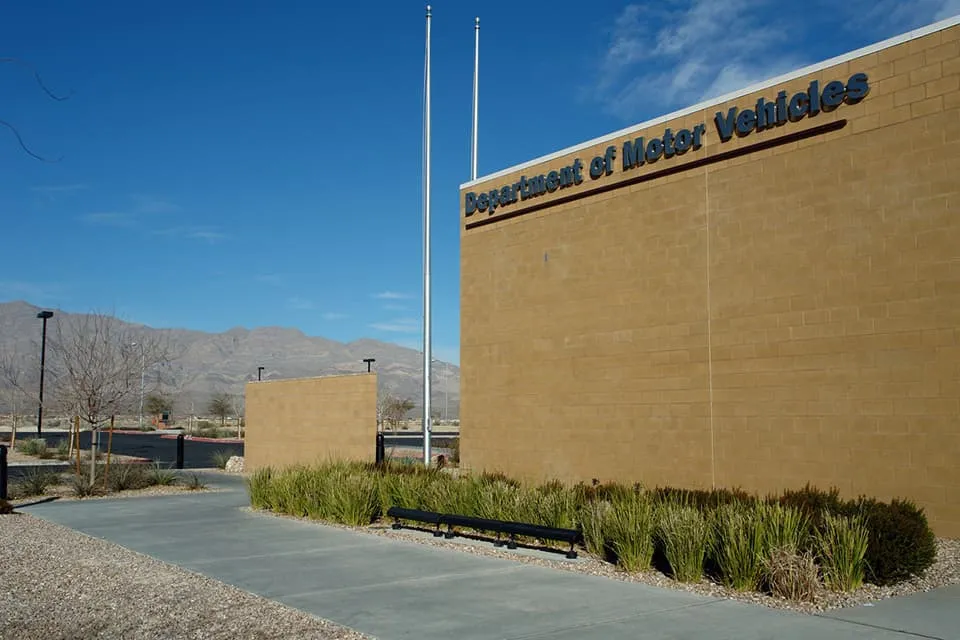 Your local Department of Licencing (DOL) or Department of Motor Vehicles (DMV) will determine where you can get your vehicle inspected. These are called Qualified Inspection Stations, and you should be able to find a list of approved stations on the DMV website listed by county. Qualified Inspection Stations can be either businesses dedicated entirely to car inspection or business the DMV has deemed qualified (dealerships being a common example.)
Most of these businesses will follow the same procedure, first taking the paperwork you provide and verifying the information. The examination itself will depend on what type of inspection you are getting, whether that be one for safety or one specifically to test your vehicle for emissions. Some stations are far more strict than others, with drivers complaining of even the smallest damage failing their vehicle. Like you should with anything related to your vehicle, shop around a bit and look at reviews to see what station will work best for you.
Vehicle Inspection Frequently Asked Questions
How Much Does a Vehicle Inspection Cost?
A safety inspection for a vehicle will cost anywhere from $10 to $60 depending on what state your vehicle is registered in. Emissions tests vary from state to state as well: in Louisiana, for example, a smog check will cost you $18 and be valid for one year.
How Long Is a Car Inspection Good For?
Car inspection tabs and stickers are valid for varying amounts of time depending on what state your vehicle is registered in. Check your local DMV, either by going in-person or visiting their website online. Most inspections are good for one to two years, with some states like Texas requiring you to get your inspection before your registration expires (in the case of Texas, you'll need to get the renewal 90 days before expiration).
How Can I Find Qualified Inspection Stations Near Me?
A list of all of the Qualified Inspection Stations in your immediate area can be found on your local DMV's website. After navigating to the vehicle inspection section, most DMV sites will have "Qualified Inspection Stations" listed near the top of their page. From there, you can locate a station by county or parish. Qualified Inspection Stations should also be searched on services like Google or Yelp beforehand so you can look at a list of reviews. Not all inspection services are the same, and some stations may miss important details about your safety inspection. This could result in an accident, or worse, injury, if the component they missed becomes defective.
How Do You Pass A Car Inspection?
There are a series of steps you can take to improve your chances of passing a car inspection. While the exact criteria varies on both a county and state level, some tasks will be beneficial regardless.
Oil and Oil Filter: Make sure to get an oil change before an inspection with the correct type of oil your car requires (e.g. 5w-20, 5w-30, 10w-30, etc)
Air Filter: A clean air filter will allow your pistons to function correctly.
Tires: If your tires are bald or incredibly worn down, that may fail your vehicle. Make sure to keep track of your tires mileage, replacing them before they get too close to their limit.
Lights: Make sure to check all the light systems on your vehicle, including your stop lights, tail lights, headlights, and high beams.
Windshield Wipers: Your windshield wipers should be able to travel across your windshield uninterrupted, effectively removing water and debris from the glass. This means they can't be cracked or decaying when you go in for your inspection.
Horn: While some forget its importance, the horn is an essential safety device that allows you to alert other drivers prior to a collision. Make sure your horn is functioning before you go into an inspection.
Check Engine Light: If possible, go in and find out why your check engine light is on before an inspection. If you are lucky, it's nothing; if your vehicle does require repair, you should do so if it fits within your budget.
How Can You Tell A Vehicle Has Been Inspected?
Many states and counties have their own individual ways to show whether a vehicle has valid inspection credentials. Some places, like Louisiana, call these brake tags, while other states like Massachusetts call them state inspection stickers. These identifying documents usually involve a colorful laminated piece of paper with both the state listed and the expiration date. Some inspection stickers also include information about the car's make or model along with a serial number or barcode. The paper usually includes an adhesive that allows you to stick the tag to your license plate; every time you get a new tag, you'll need to place the new one over the old one so a law enforcement officer doesn't mistake it for out of date.
What Happens if Your Car Fails the Inspection?
If your vehicle fails the inspection, you will have to make the repairs, and you won't be able to get the inspection sticker until you do. You may have to return to the same inspection station to get your sticker after completing the repairs.
Where Can I Get More Information About My Vehicle?
Whether you are going in to get your vehicle inspected, trying to get a lease on a new vehicle, or purchasing a used one, the best way to get more information about a vehicle is through a vehicle history report. Vehicle history reports are a great way to learn numerous essential facts and figures about your car; much of the information you receive can help you find indicators that predict inspection failure.
These reports can give you important details like:
Title Records
Junk/Salvage Records
Insurer "Total Loss" Records
Pricing
Sales History
Problem Checks
Auto Specs
Location History
NHTSA Crash Test Ratings
NHTSA Recalls
Awards and Accolades
Manufacturer Information
FREE Vehicle Search
Accidents
Problem Checks
Title Records
Recalls
Values
Specs
InfoPay, Inc. (dba GoodCar) is an Approved NMVTIS Data Provider